Title
Specialties
Walt Disney World® Resort; Disneyland® Resort; Disney Cruise Line; Universal Orlando Resort™
My Story
Trish grew up going to Walt Disney World® Resort and fell in love with it at a very early age. In the late 90's she met a fellow Disney fan, and they embarked on a twenty-five-year journey together and more than seventy vacations at Disney theme parks and resorts. A mother to four children, Trish has a unique perspective on what it means to be a Disney Mom and knows the ins and outs of just about every notable kid-friendly aspect of the park. In addition, she is unique in that she can boast of having stayed in every Disney resort hotel in the continental United States. Ask her about how she has even managed to spend a night in Cinderella's Castle!
Vacationing at Walt Disney World Resort was not enough for Trish, so she and her family now live in the Orlando area and visit the theme parks several times a week. This proximity to the parks gives Trish unprecedented insights into maximizing your Disney vacation and the ability to experience every aspect of the Walt Disney World Resort. From shopping to dining to behind-the-scenes tours, Trish has seen and done it all.
Nothing delights Trish more than helping other families plan their magical Disney getaways. She has an infectious love for Disney that shines through in all of her client interactions. When it comes to getting the most out of your time at the resort, Trish can help ensure that your Disney vacation is as magical a time as you have ever dreamed of!
---
Testimonials for Trish Mitchell
"We just returned from our magical Disney World Vacation. This trip would not have been as perfect if not for the amazing Trish Mitchell. From the first contact over a year ago, every email, every question she answered, every suggestion she made, was what really made our trip. I knew kind of what I wanted, she helped fill in the pieces, make sure we hit the right spots for our young kids in Disney World…Trish went above and beyond to make sure we had the most amazing vacation ever. She was even available to us during our vacation, helping me make a few changes along the way, even though she was on vacation herself! I know when we are ready to start planning our next Disney Vacation, Trish, and Glass Sliper Concierge will be our first stop!"

Genny Colby, Henderson, CO
"Trish Mitchell has booked many Disney trips for my family and my friend's family. Trish is always easy to get in touch with, happy to assist, is very knowledgeable, and navigates Disney like no other. Trish always lets me know she can book dining and activity reservations, in addition to our room and parks reservation. In fact, we are going to Disney in a few weeks because Trish kept looking for a room to open up at a resort that would fit our budget. If it had not been for Trish going the extra mile, we would not be going.

Thank you Trish for helping our family to make many good Disney memories!"

Julie Ritsema, Wayne, NJ
"Thank you, Trish, for your outstanding support and planning expertise for our WDW trip. Your support when we had to shift our days due to COVID restrictions was outstanding and we are so glad we went. You kept us informed and handled everything which was one less thing we had to handle and worry about during these crazy times. Your hotel recommendation was perfect for our specific trip and family. We greatly appreciated your professionalism and proactivity. Can't wait to book again!"

Laura Mackey LeGower, Lower Gwynedd, PA
"My family's journey to Disney started 3+ years ago and you have been there with us every step along the way. When we decided that our youngest son wasn't quite ready, you were understanding. When Covid-19 hit, you fielded all of our what-ifs and made us feel comfortable with delaying the trip yet again.

The week we decided to travel is the same week that Hurricane Ian decided to visit Orlando as well. As we were panicking about what we were going to do, bracing for the hurricane and its impact on the parks, I reached out to you. Even while preparing for the storm yourself, you managed to make the stress of everything melt away. The hurricane came and went without making us feel like our vacation was ruined. We had the absolute best two days of our vacation after the hurricane thanks to your ability to find solutions to all of our questions.

I cannot thank you enough for carrying us every step along the way, from the infancy of planning to the moment we arrived home. You were able to take this overwhelming idea of a Disney vacation and make it into a stress free, wonderful vacation that our family will never forget!"

Tim Hucke, Louisville, KY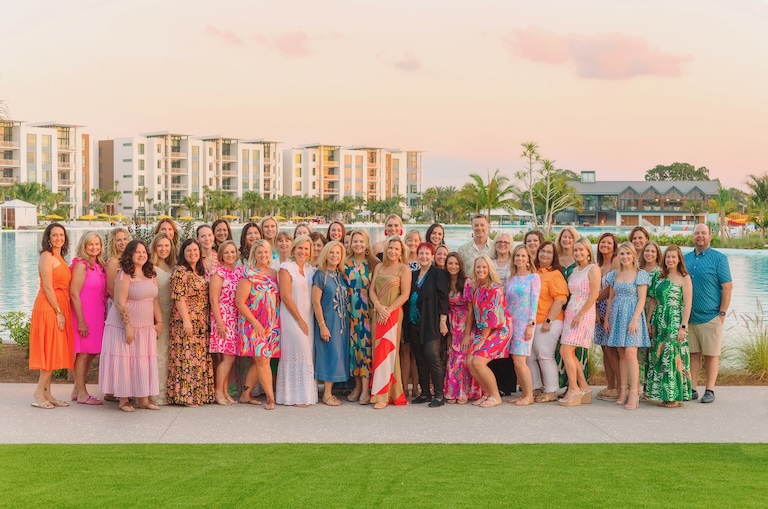 Interested in Joining Our Team?
Do you love Disney (and we mean love it!) and have an affinity for helping people plan unforgettable vacations along with a commitment to over-the-top customer service?
Apply Now