Destination
Walt Disney World® Resort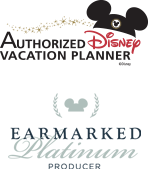 Since 1971 the Walt Disney World® Resort has delighted guests of all ages. Inspired by Disneyland® Resort, Walt Disney World Resort was built with the vision of being a true family vacation destination, offering an abundance of entertainment, uniquely-themed resort hotels, and recreational options.
It started with one theme park, Magic Kingdom® Park, three resort hotels, and plenty of room to expand. Fast forward to today, and Walt Disney World Resort, located just outside of Orlando, Florida, now offers four iconic theme parks, two water parks, 32 on-site resort hotels, over 200 restaurants, an outdoor shopping, dining and entertainment complex, four award-winning golf courses, a sports complex, and tons of other recreational venues.
While a lot has changed through the years, one thing that has undoubtedly remained the same is Disney's commitment to providing world-class family entertainment.
Our commitment at Glass Slipper Concierge® is to guide our clients through planning a luxury Walt Disney World Resort vacation that exceeds every expectation. With a total area twice the size of Manhattan, Walt Disney World Resort can be overwhelming. Fortunately, our travel advisors know every nook and cranny and are equipped to create totally customized vacation itineraries to ensure that you don't miss a thing.
Where should I stay? What resorts offer the most luxurious accommodations? When are the parks least crowded? What attractions are suitable for my children? Which character dining experiences should I book? What resort has the best pool? What are the must-try Signature Restaurants? Can you plan private transportation? How do VIP Tours work? Our travel specialists can answer these questions and hundreds more, letting you sit back and enjoy your vacation from the moment the planning begins until you return home.