Title
Specialties
Walt Disney World® Resort; Disneyland® Resort; Adventures by Disney®; Aulani; Universal Orlando Resort™
My Story
Erin Karpenko loves Walt Disney World® Resort. In fact, she visited for the very first time before she was even born! A family tradition for as far as she can remember, Erin, along with her two older sisters and extended family, visited Walt Disney World Resort every couple of years. From the holidays to high summer, they stayed anywhere from the cabins at Disney's Fort Wilderness Resort and Campground to Moderate and Deluxe Resorts.
As soon as she was old enough to utilize her organizational prowess, Erin began creating itineraries for her family trips. And since they traveled with as many as fifteen family members and friends, she learned at a very young age how to plan fun experiences for large groups and families to share.
Erin has mastered planning everything from infant to teen experiences at Walt Disney World Resort, Disney Cruise Line, and Aulani. And because her parents sometimes travel along, she's learned about what grandparents love to do, and great ways for them to spend time with the kids while the adults have a date night! Disney isn't just for kids, you know.
As a travel planner, Erin enjoys understanding her client's expectations and how they like to vacation. With this knowledge, she organizes client trips using Extra Magic Hours, park crowd predictions, even knowing which rides to hit first and which restaurants offer the best dining for each family. And if her clients simply want a few pointers before they set off, she can do that too! As long as she knows they are prepared, Erin is happy.
Her motto is, "Do what you like, like what you do!" She lives it every day as she makes magic for her clients!
---
Testimonials for Erin Karpenko
"Erin (Karpenko)~ The [Adventures By Disney] trip was unbelievable. The opposite of traumatic. Euphoric may be close. All of it was wonderful. What I find difficult is expressing all of the experiences to others because we did such a ridiculous number of things! I need more adventures in my everyday life!

My kids had a most wonderful time. You have us for life. I will do as many of these as possible."

Heidi Bosek, Norfolk, CT
"Hi Erin (Karpenko). We had an AMAZING time in Disney and much due to your incredible help and planning. Having our first nights dinner at Cinderella royal table was incredibly special so thank you for that recommendation. Actually all of the dinners were great calls and so fortunate you brought them to my attention and planned them for us. My kids LOVED Chef Mickeys and seeing all the characters. Not much we would have done differently, we got to experience all the parks, had great character dinners and our room with a few of the fireworks was perfect!!!

Thank you again and we will definitely keep in touch for our next visit–and good to know that you do other trips."

Kelley Gilligan, New Canaan, CT
"If you are planning a trip to Walt Disney World, as we did, DO NOT HESITATE for one moment to use this amazing Concierge service. My agent, Erin Karpenko, was just a jewel from start to finish. I could not have planned this trip by myself. My husband and I took our two adult children with their spouses and our five grandchildren. The trip was a once in a lifetime experience that we will never forget. Thank you Erin and thank you Glass Slipper Concierge! And thank you WDW for a Magical Experience.

Jo Anne Harrington, Seagraves, TX
"Erin, I wanted to thank you for making our vacation a truly magical experience. Your knowledge of Walt Disney World and Universal Studios was astounding and allowed us to maximize our experience. Your recommendations on the Dessert party and Star Wars tour was exceptional. Because of your knowledge, professionalism, and attention to detail we had a truly amazing trip."

John M. Schroeder, Tolland, CT
"The VIP Tour was a real game changer for our family. We spent both days together enjoying ourselves. There was zero stress! I had no idea how much time and energy is used just figuring out where to go next and where the closest bathroom is located. And I think that's worse when there are such huge holiday crowds. We will definitely use the VIP Tour again and are even thinking of how we could bring family or friends. Thank you, also, for arranging all of the driving for us. That took another layer of stress away from my husband.
Erin, you truly helped our family have the Disney trip of a lifetime. You took care of everything and used your knowledge and expertise to make it absolutely magical. We will never go back to planning our own Disney vacations again. We can't thank you enough!"

JJ Frederickson, Burlington, WI
"Erin made our trip to Disney seamless. We were a large group with many aspects to take into consideration. Erin helped take all the stress out of planning and went above and beyond what we could have imagined for this trip. Her attention to detail and tips allowed us to move with ease through the parks. I couldn't have asked for a better experience in working with Erin."

Rachel C., Marlton, NJ
"We are overwhelmed with how much you did to make this the most wonderful, memorable vacation! Your attention to detail, planning the shows and experiences for us based on what we wanted made all the difference in making this trip beyond anything we ever could have expected. YOU are the reason why this trip was so seamless and was stress free! Your guidance and insight during the planning process was invaluable! We cannot thank you enough for your detailed itinerary, scheduling our experiences/ shows, and getting back to us right away with questions we had. I have been telling everyone (family, friends, and colleagues) how amazing this trip was because of YOU! Going forward, we will be planning all future Disney vacations with you. You truly exceeded our expectations and we are forever grateful for all you did in making our vacation a dream!"

Kate DePalma, Bolton, CT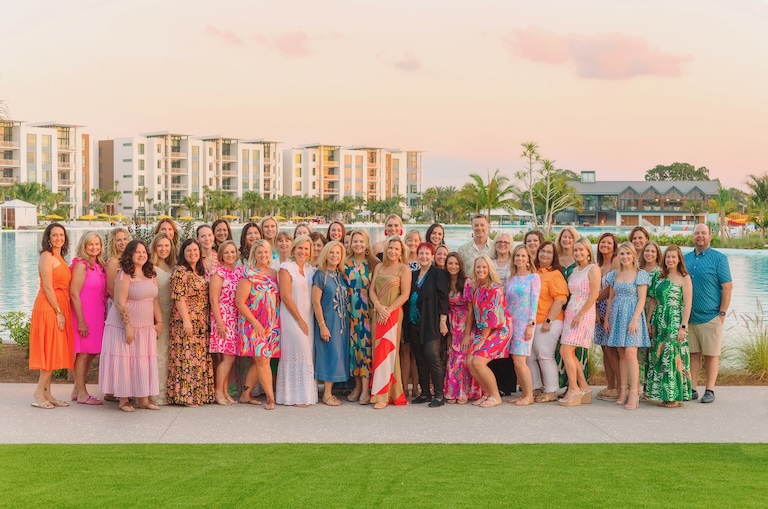 Interested in Joining Our Team?
Do you love Disney (and we mean love it!) and have an affinity for helping people plan unforgettable vacations along with a commitment to over-the-top customer service?
Apply Now