Specialties
Walt Disney World® Resort; Disney Groups/Disney Youth Groups; Disney Cruise Line; Disneyland® Resort; Adventures by Disney®; ResortUniversal Orlando Resort™
My Story
Dana Nethery is a long-time fan of the Walt Disney World® Resort franchise. She loved visiting the parks as a child, on her honeymoon, and many times with her family. And since 2011, Dana has spread the magic to many families, big or small, as an advisor with Glass Slipper Concierge. She understands the importance of having a detailed itinerary to minimize wait times at the most popular attractions and enhance your resort and park experience.
As a frequent visitor throughout the year–spring, summer, fall, and winter–Dana knows all things Disney. She frequently goes to Walt Disney World Resort with her family but has also had other unique experiences across the Walt Disney Company. She has visited Disneyland® Resort, Aulani in Hawai'i, sailed on Disney Cruise Line, and traveled internationally with Adventures by Disney®.
In addition, Dana has also participated in many of the exclusive experiences available in the parks. She has attended the Epcot International Flower and Garden Festival, Epcot International Food and Wine Festival, and special ticket events such as Mickey's Not So Scary Halloween Party and Mickey's Very Merry Christmas Party. She has also partaken in dessert parties for exclusive firework showings. In addition, Dana has been on VIP tours where you can seamlessly visit multiple parks on the same day and visit your favorite attractions efficiently.
Her hands-on familiarity with Disney uniquely qualifies her for taking care of all the details, including staying up to date on current discounts, planning your itinerary and dining, and being available if you need information during your stay at any Disney vacation destination. In short, Dana will leave nothing to chance to assure you and your family of a magical, memorable vacation.
---
Testimonials for Dana Nethery
"Hi Dana! I just wanted to say thank you SO much for helping us make this the best vacation ever. This was the first Disney trip I've ever planned. Having only been there once about 12 years ago, I honestly had no clue where to start besides the budget! This was my son's first trip, and I also just got married so this was definitely a big celebration for us. From the beginning you were phenomenal. You were so flexible with getting back to me, whether it was during the day or my last minute questions at night. The itinerary you provided was extremely helpful and all of your suggestions really made the trip so much fun!

I also want to thank you for making yourself available in every possible way while we were there, especially with the system issues causing a delayed check-in. You were so supportive of us as clients and really showed us that you cared!

We cannot wait to plan our next trip and look forward to working with you for all of our vacation planning in Disney!"

Meghan and Sean Hadden, Hammonton, NJ
"My family traveled to Disney World and we selected Dana for our booking because of her reputation in the area we live for helping people book great Disney trips. We were blown away by the detail that Dana provided us. She booked all of our fast passes for us and planned out days where we could move through the parks in a timely manner. She is very detailed in her job. She provided us with some great tips and hints from making sure we get some Dole Whip in Magic Kingdom to where to stand to see fireworks in different parks without being in the middle of the huge crowds.

We had planned out itineraries for each day as well as planned free time so we could pick and choose other rides or attractions at each park. Dana gave us great advice about what each ride and attraction was like and going by what we told her our family liked, she planned an awesome trip for us and one that we will remember for years to come. Our trip was full of fun, excitement and enough down time to enjoy the pools at our resort. No stone was left unturned and we feel as if we got the most bang for our buck by using Dana. We have recommended her service to several of our friends and many have used her for booking their upcoming trips to Disney as well."

Curtis Wright, Trenton, GA
"Dana, My family and I had a fabulous trip and we are very grateful for all of your help in planning our getaway. I promise to keep you in mind for any future travel and I have already passed your name along to two of my friends who are contemplating Disney adventures in the near future. You get a gold (platinum!) star in my book!

Many thanks, again ... and I hope to be in touch when we start planning our next adventure.

Angela, Milton, GA
"I must admit I was initially nervous booking with online agent, however after our first family Disney Cruise. I am so thankful for all that our agent, Dana Nethery, did to make our vacation special. She is very knowledgeable about the Disney cruise line. She booked our cruise, registered my family online (when we went to check in at the cruise port, the service associate was impressed that our entire registration was complete!!), booked our shore excursions and even some Disney character meet and greet events!!! It was such an easy and seamless process working with her. She was prompt in her email and phone responses. The tips that she provided about the cruise was most valuable and we were able to maximize all the cruise had to offer. Our Disney cruise experience was unforgettable and magical. Dana is the best!

JB, Westchester County, NY.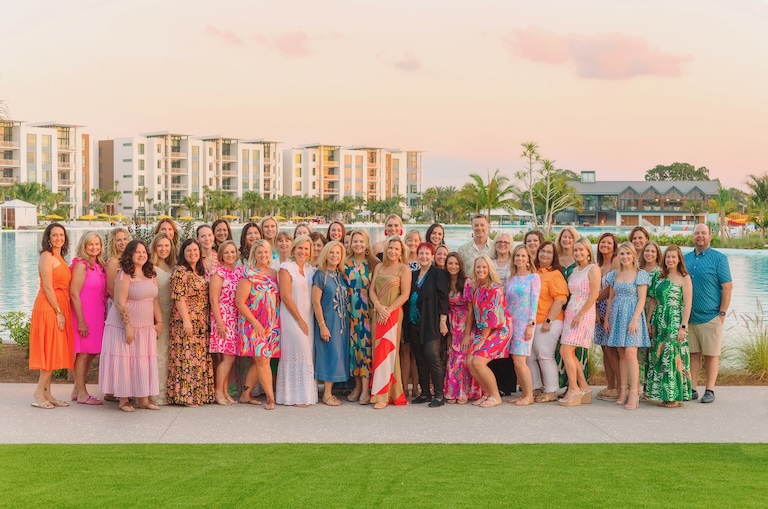 Interested in Joining Our Team?
Do you love Disney (and we mean love it!) and have an affinity for helping people plan unforgettable vacations along with a commitment to over-the-top customer service?
Apply Now