Tucked away on the monorail side of Disney's Polynesian Village Resort's Tonga longhouse are two Ambassador Suites: one on the first floor and one on the second, with a preference on request only.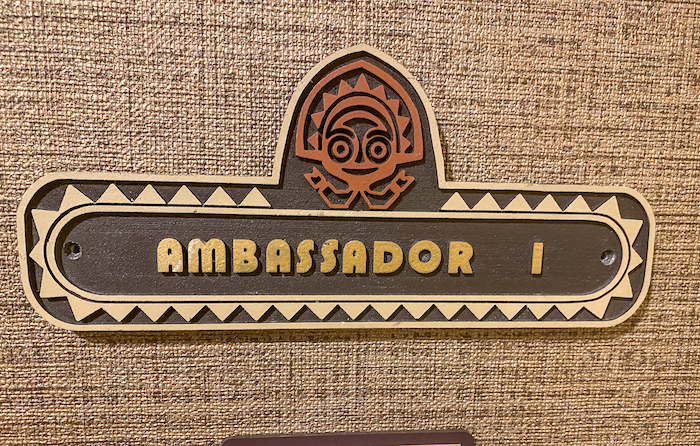 These spacious accommodations are a popular choice for luxury travelers wanting the convenience of the monorail with easy access to Magic Kingdom and Epcot. The downstairs suite faces a small fenced garden; the upstairs Ambassador II suite, which is hearing accessible, looks at a slice of the parking lot and a lovely garden view. Both view the monorail but come with much less traffic than those suites that face the marina.
These two-bedroom, three-bath suites offer 1,513 square feet and feature hardwood flooring throughout, topped with colorful tropical-motif area rugs in rust, teal, and cream. In the living area are a beige queen sleeper sofa, two lava-colored easy chairs with aqua throw pillows, two round teak coffee tables in front of the sofa, an entertainment bureau with a large TV, and a dining table for eight, and a garden-view balcony or patio.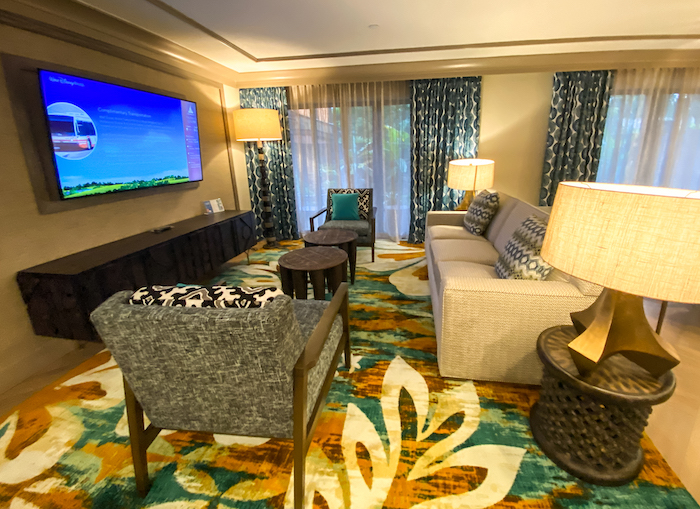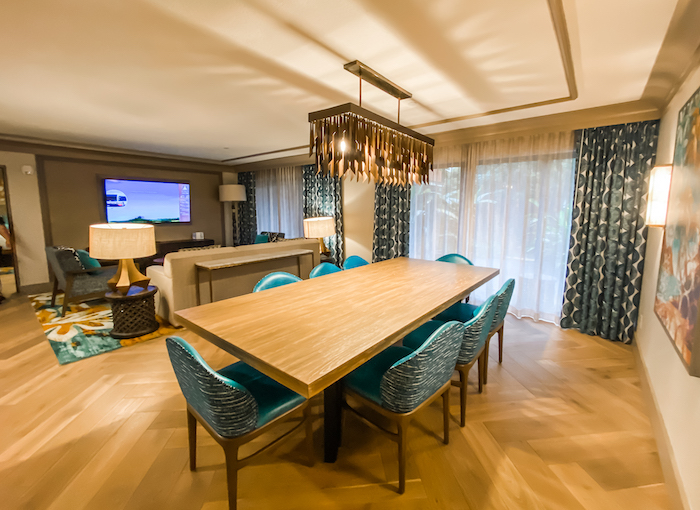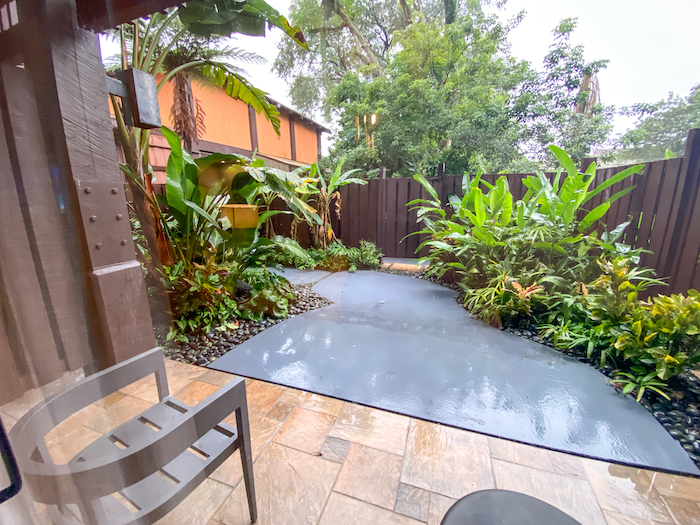 Off the entry hall is a full bath with a shower and separate toilet area, and a kitchen with an under-counter refrigerator, Wolf drawer microwave, Nespresso machine, and sink (not open to the living/dining room).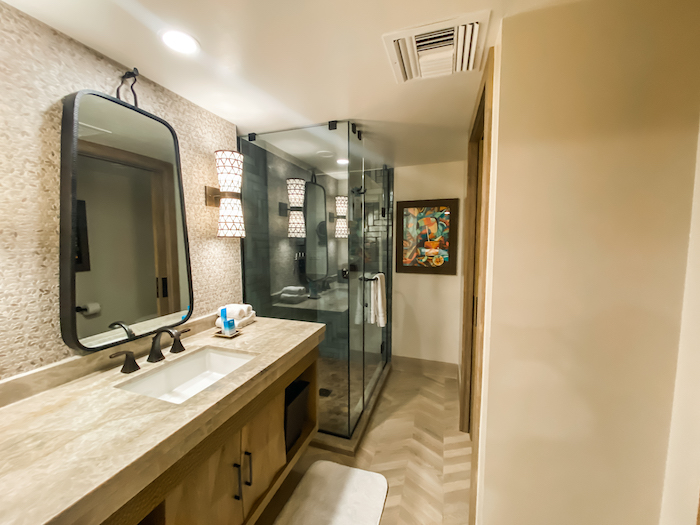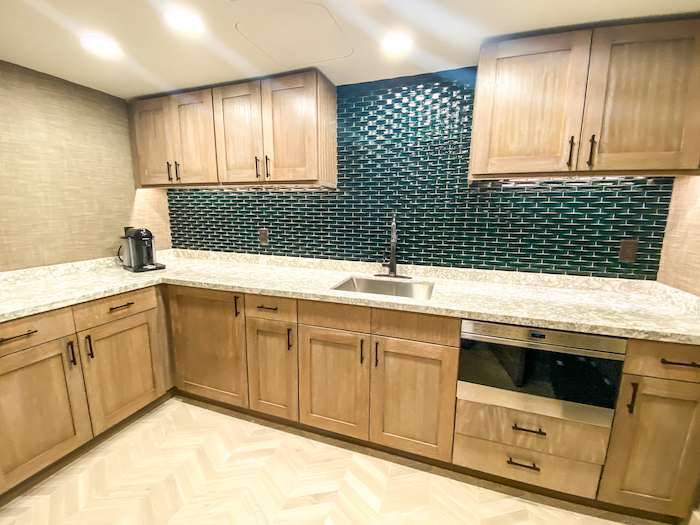 The oversized master features a white-sheeted king bed with peridot and purple pillows, a floral fabric mural, bureau and TV, a large easy chair and ottoman, and another patio or balcony.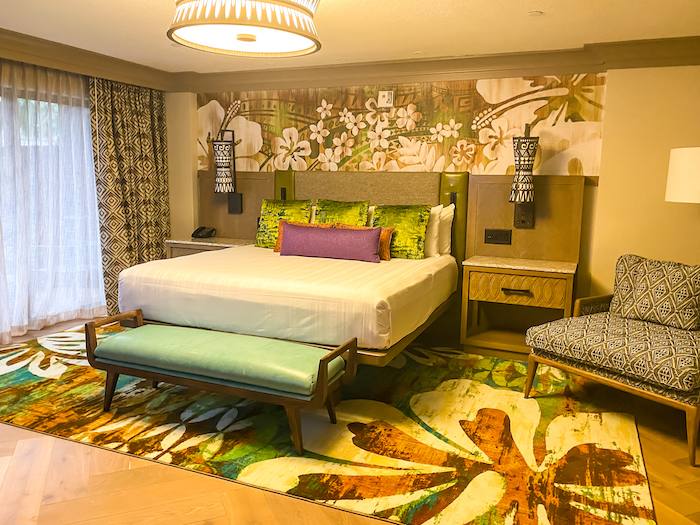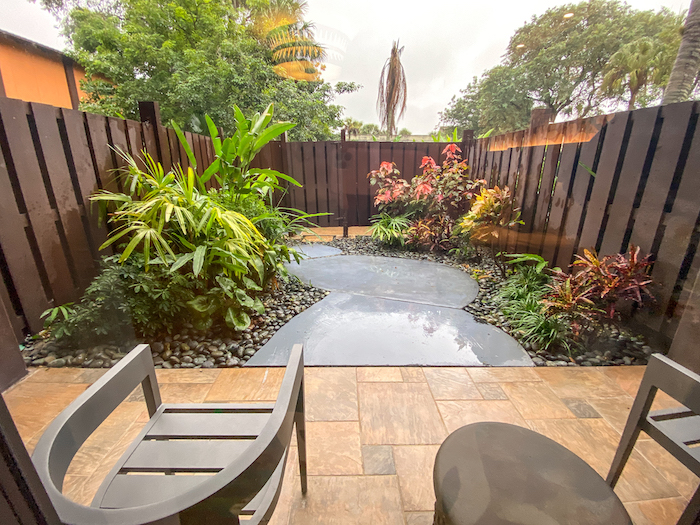 The entry hall off the master bath holds the standard-type closet, and in the bath are two sinks in a marble vanity with a mosaic rock backsplash, a sea green-tiled oversized shower, and a separate toilet area.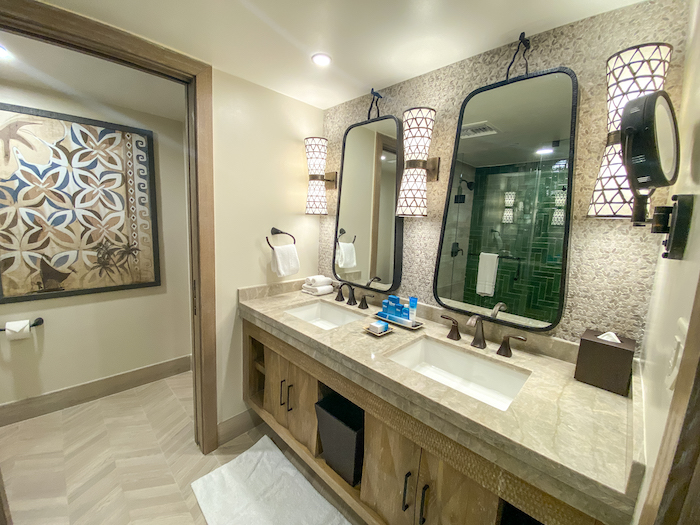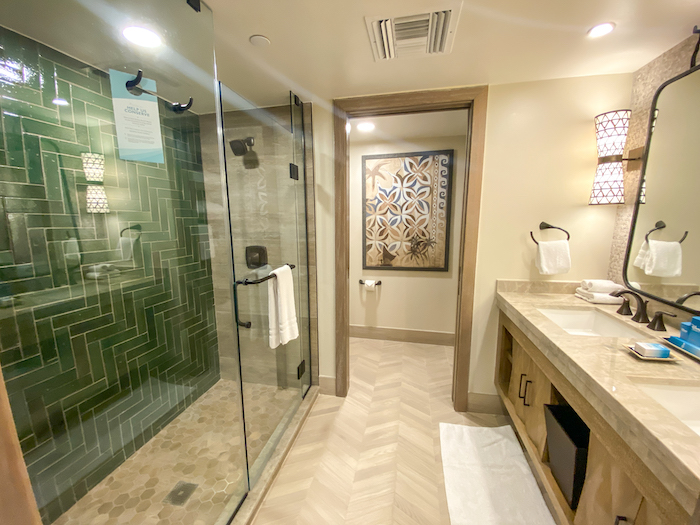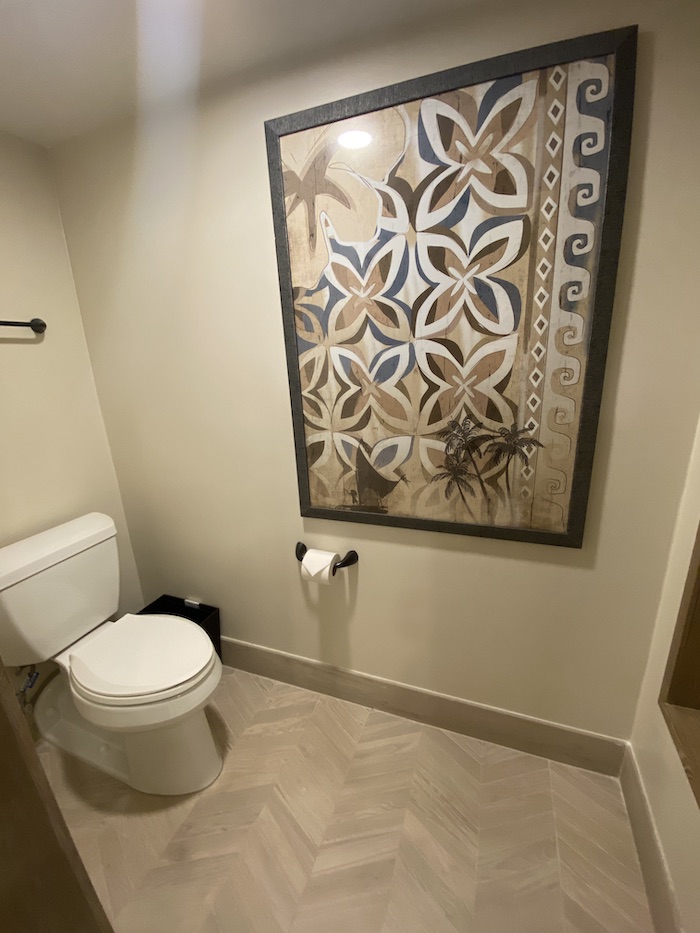 The second bedroom is larger than a standard guest room with two queen beds topped with teal leather throw pillows, leather and fabric headboards, and a fabric shell-themed mural—also an easy chair, bureau with TV, and another patio or balcony. The guest bath comes with a glass-enclosed shower/tub combination, a marble vanity with two sinks, and a separate toilet area.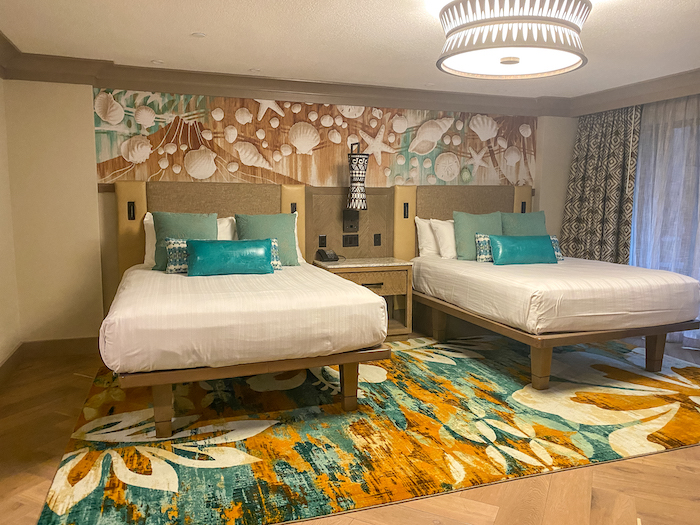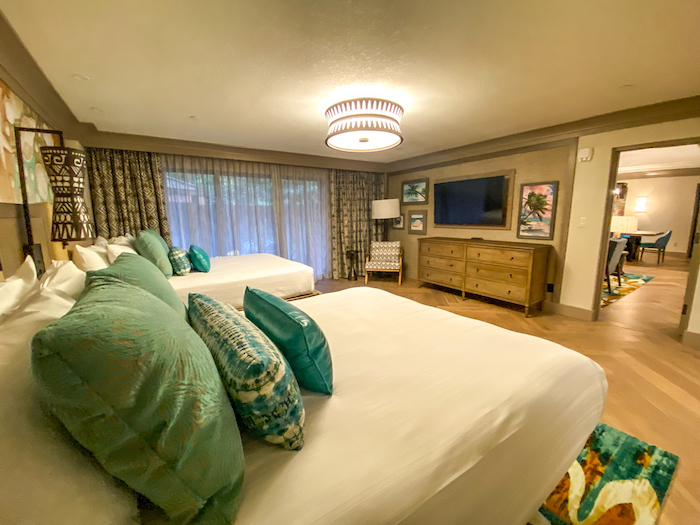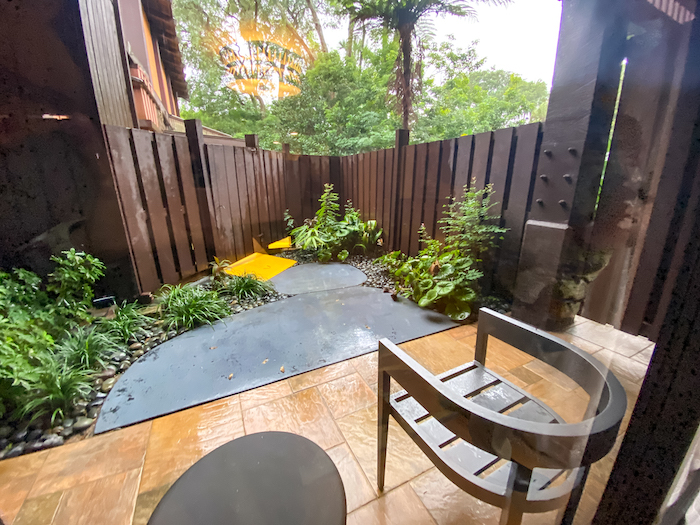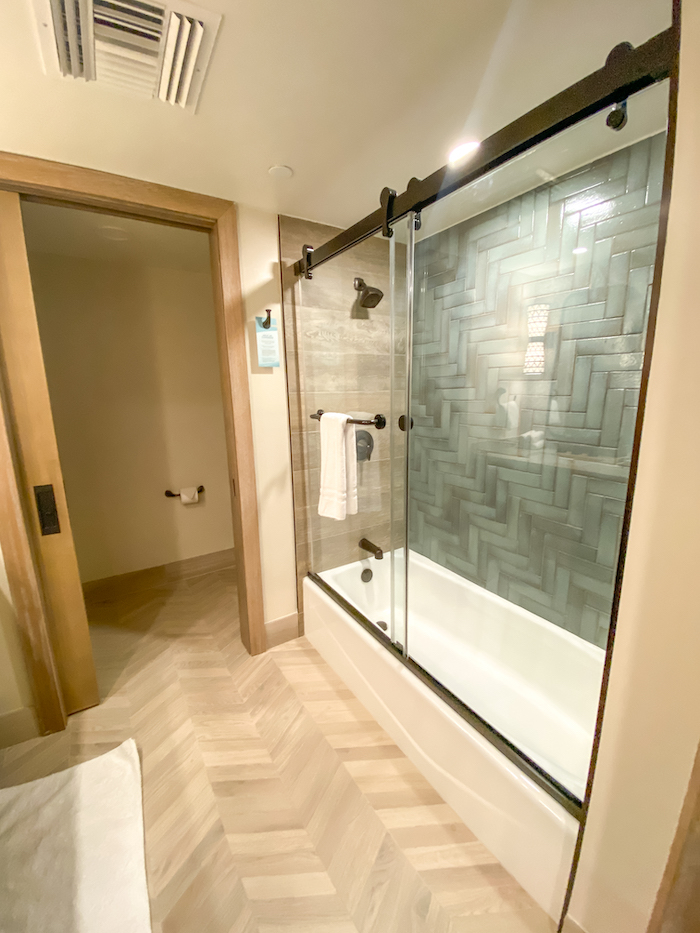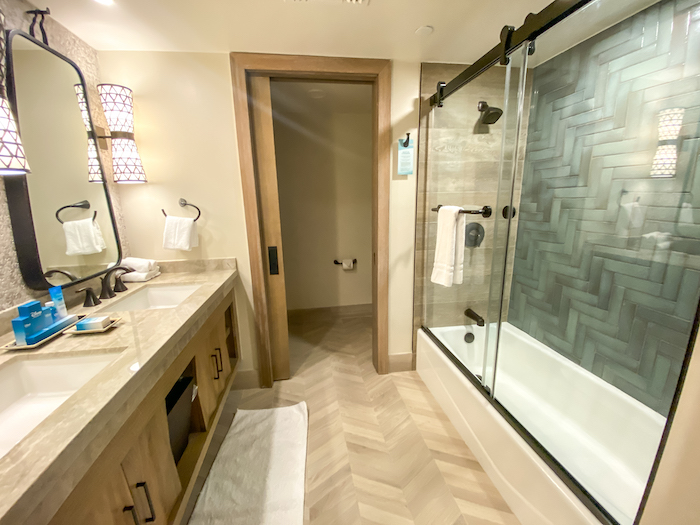 View Disney's Polynesian Village Resort's Ambassador Suite on the Glass Slipper Concierge YouTube channel.