Star Wars Galactic Starcruiser is unlike any other. In an immersive 2-night experience, choose your own pathway and delve further into the adventure of Star Wars than you ever dreamed possible.
Arrival at the Galactic Starcruiser terminal is pretty low-key, where you'll check-in and stand in line (I would suggest arriving at 2 PM or later since everyone seems to show up at once for the 1 PM opening) to board a launch pod to rendezvous with the Halcyon starcruiser, your residence for the next two nights. I traveled with my daughter and two grandsons (ages 7 and 9) which proved to be a great choice given how much the boys adored this experience. Tour Star Wars Galactic Starcruiser on the Glass Slipper Concierge YouTube channel.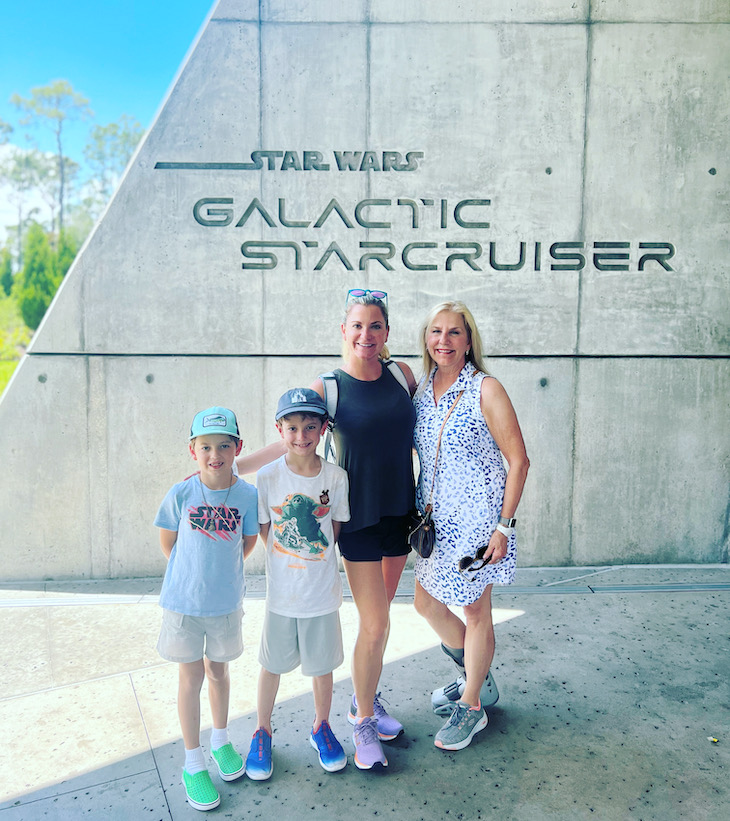 Use your Datapad (available on your mobile device—we were able to check out a special Datapad for each child to use) to plan your unique mission, interacting along the way with an exotic group of characters as your story deepens, depending on the choices you make. Will you follow the First Order or join up with the Resistance? It's up to you!
Much of what takes place on board is found in the Atrium, the central hub of the Halcyon. You'll find yourselves back here constantly for much of the action. Off the Atrium is the fascinating Bridge where you'll get the chance to learn exactly how things work during Bridge Training.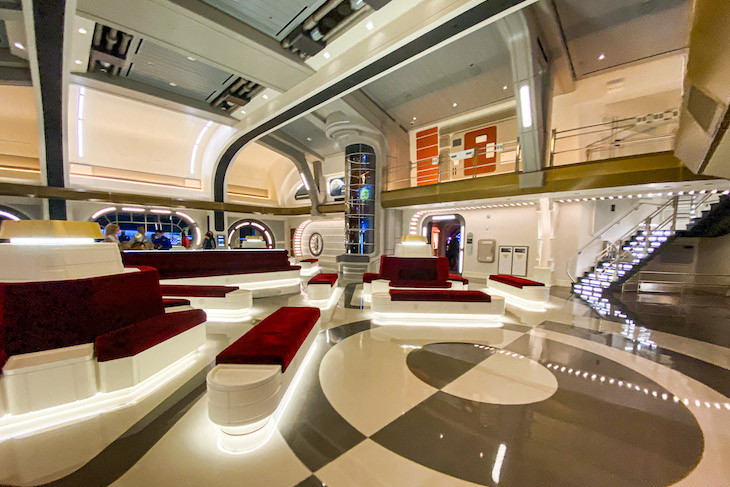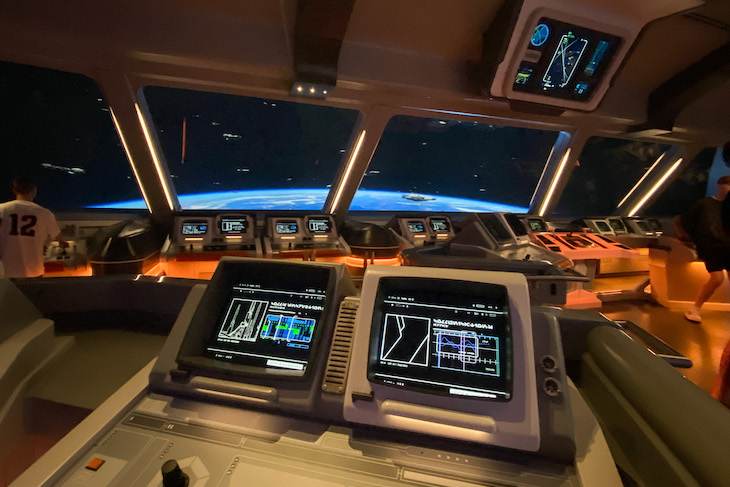 On the first night, you are introduced to the Captain and the onboard team along with a few unwanted guests.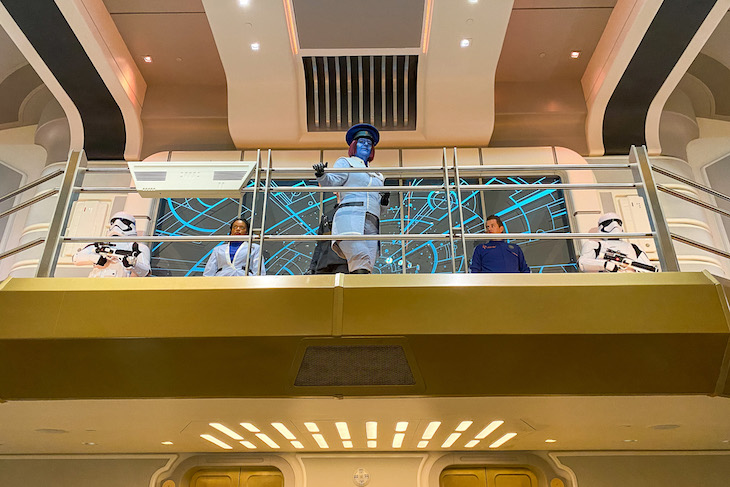 On the second day, take a transport to the planet Batuu, where your mission continues as you interweave Lighting Lane access to top attractions in Star Wars Galaxy's Edge. We followed our mission with many tasks along the way and quickly rode Rise of the Resistance and Millennium Falcon: Smugglers Run. A stop at Oga's Cantina, something pre-reserved for us, had us picking up a special souvenir given only to Starcruiser guests.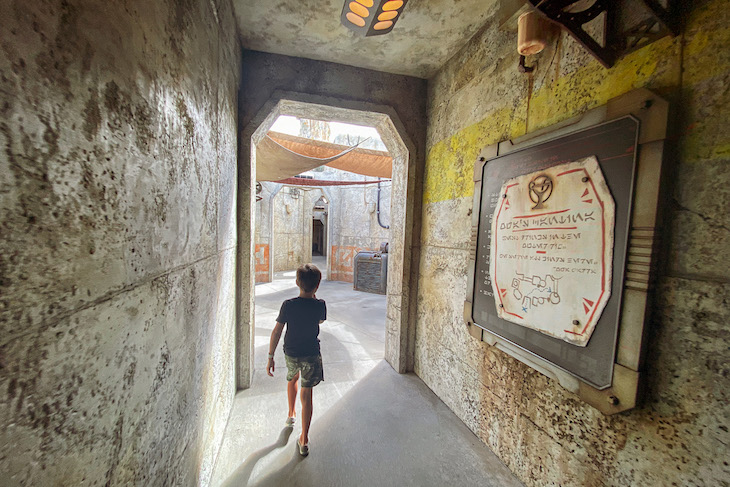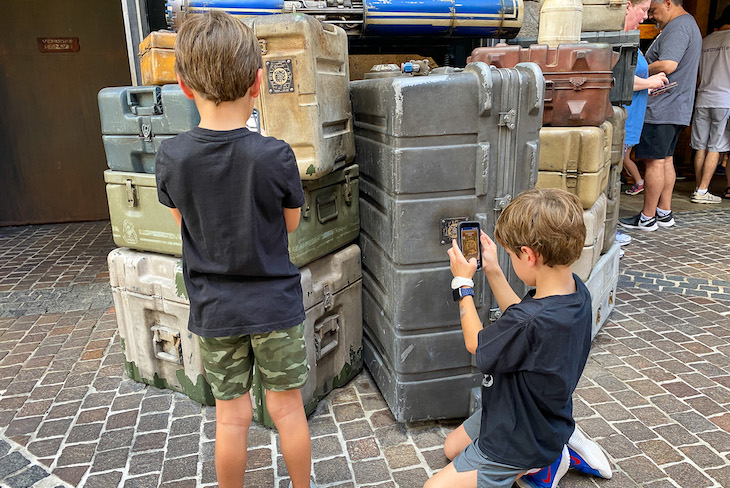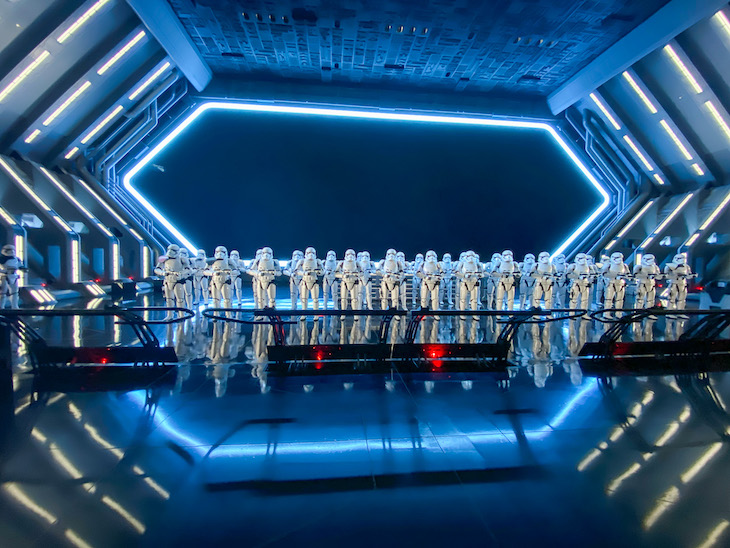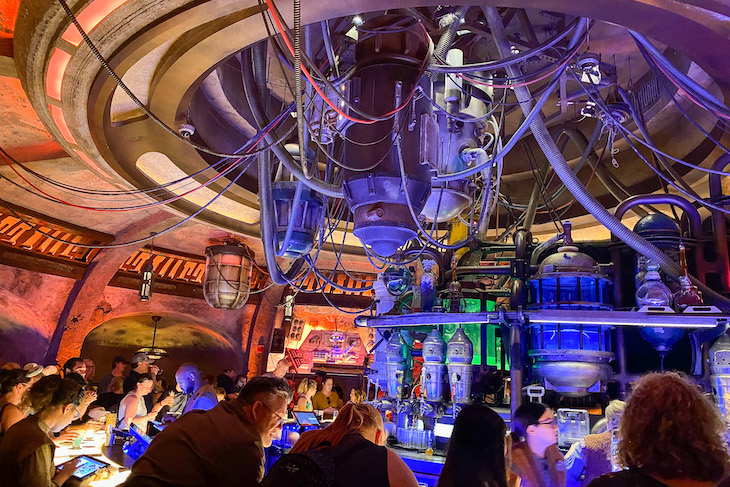 Memorable experiences are pre-scheduled for you, so keep an eye on your schedule posted on your Datapad in order not to miss such things as bridge training, lightsaber training, atrium experiences, and more. And don't skip the Engineering Room, where you'll find not only the inner workings of the ship but secret meetings and surprise characters.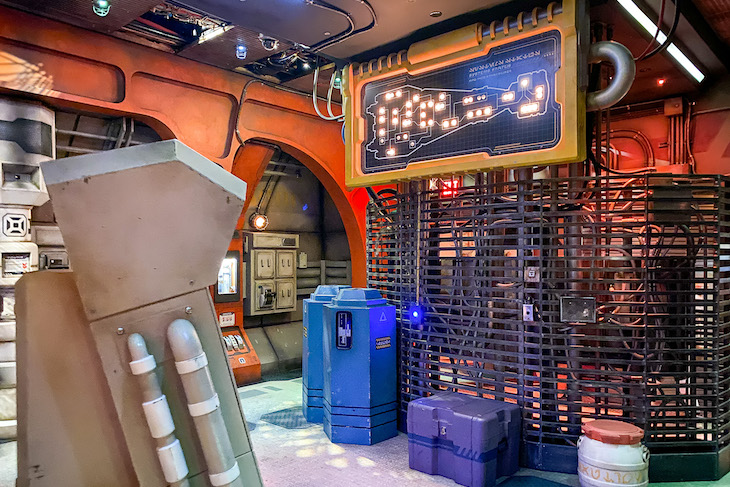 Expect plenty of plots and twists along the way and one exhilarating finale on the last night of your voyage.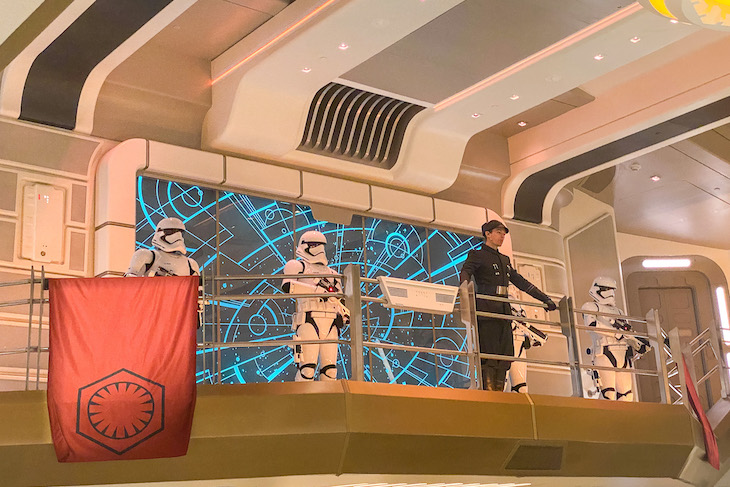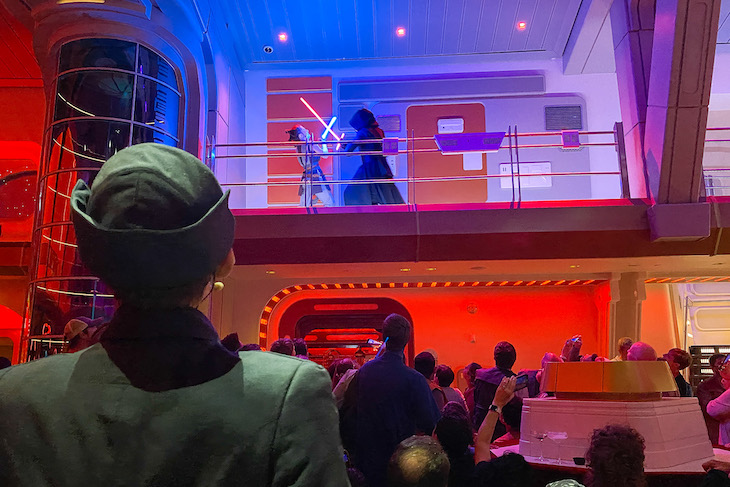 Dining is in the futuristic Crown of Corellia Dining Room, with breakfast and lunch served in a help-yourself style, with each serving plated and ready to grab. At dinner, it's showtime, and the waitstaff parade out each course that has already been chosen for you. A variety of appetizers followed by several entree choices with sides served family-style. Not the best food I've had, but tasty enough and undoubtedly unusual. Wait until you see the blue shrimp! Evening entertainment during dinner the first night is courtesy of Gaya, a galactic superstar singer at the top of her game.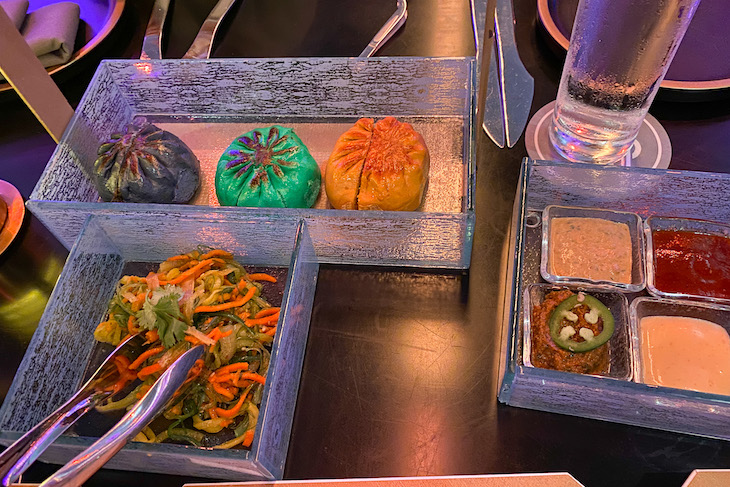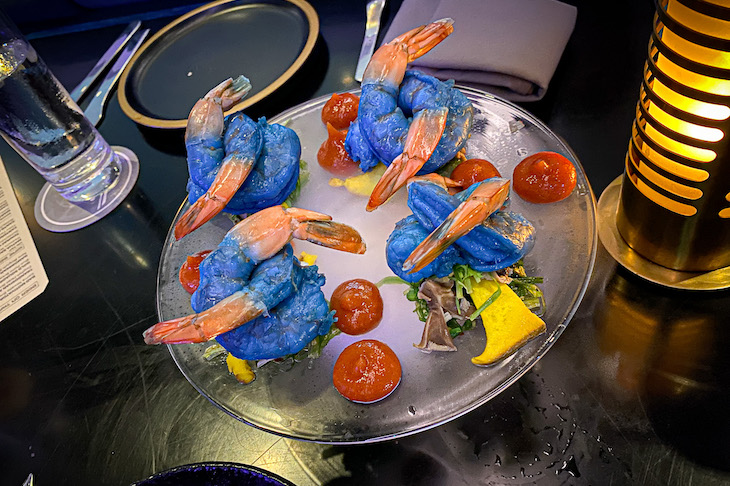 If you want an elevated experience, grab the Captain's Table, which needs to be booked as soon as your Starcruiser reservation is first made. It sells out quickly and is quite popular. Here, for an additional charge, you will enjoy extra courses—the captain's favorite dishes—while seated in a prime location in the center of the Crown of Corellia Dining Room.
Then there's the Sublight Lounge, a place you will escape to time and time again for sparkling cocktails, lite bites, and plenty of action. Sabaac, a holographic card game, is a very popular pastime here, and all sorts of plots and subplots are launched if you take the time to sit and listen. And you never know who you might run into when you least expect it!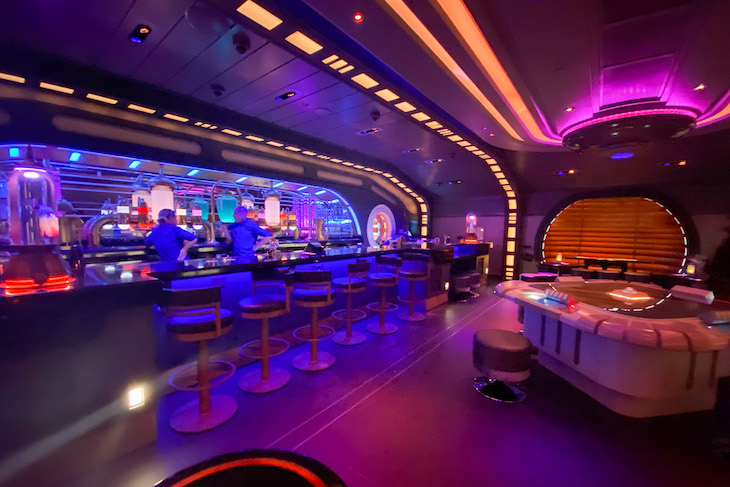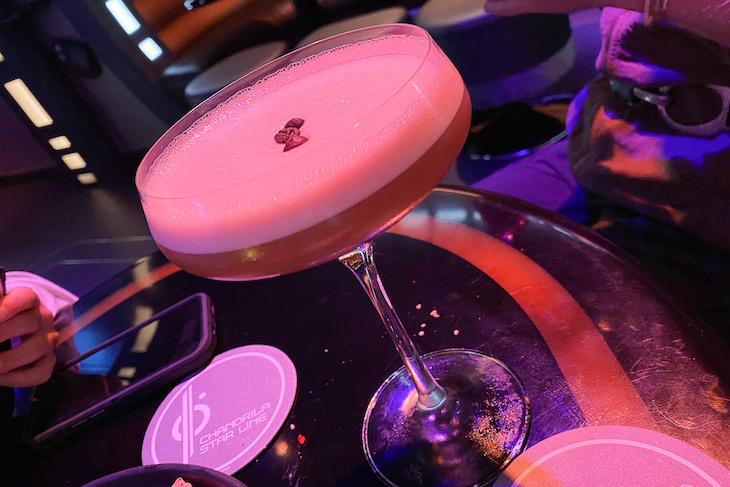 All in all, a spectacular experience for the right person. You don't necessarily have to be a Star Wars fanatic, but a strong interest is helpful. Or do like me and take your grandchildren along—according to them, it was the very best thing they had ever done!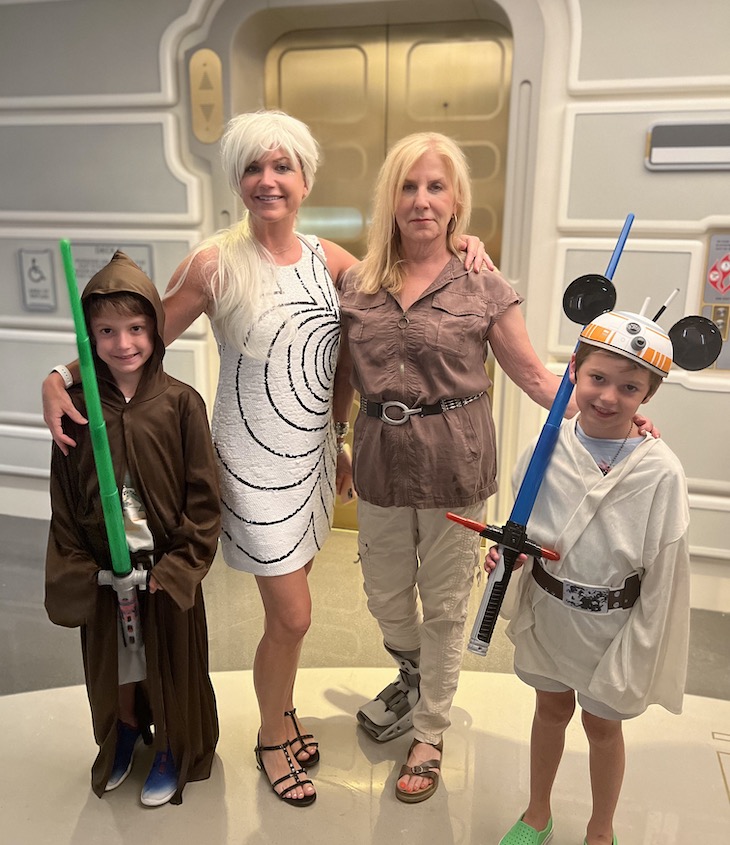 Standard Cabins
Cabins on board the Halcyon are quite exciting! Sleeping up to 5 passengers, you'll find a queen bed, two single berths, and a twin wall pull-down bed. Very much resembling what you think interspace living accommodations might look like, it's undoubtedly one of the highlights of the trip. Decked out in grey with orange accents and plenty of stainless steel, it's definitely cozy, but you spend very little time here, so busy are you with your missions.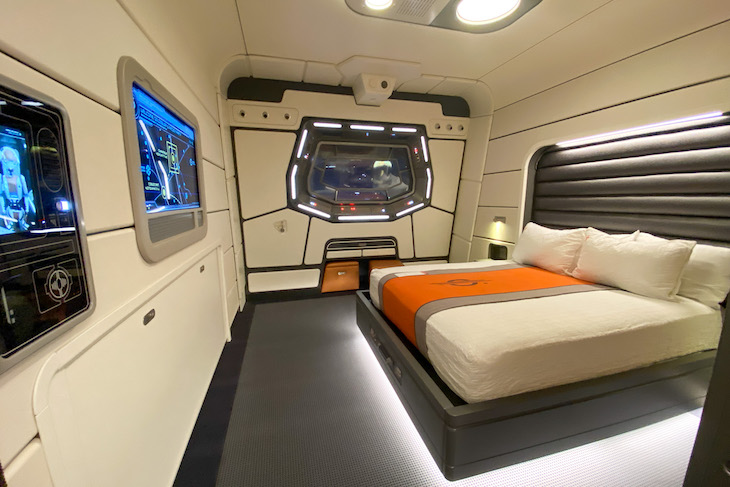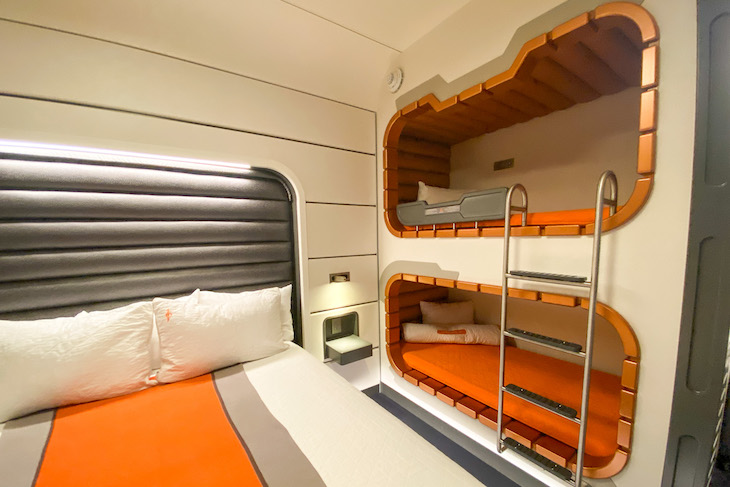 Kids love the berths, and the queen bed is quite comfortable. The cabin's viewport shutters are a window to the "universe" that can be closed when it's time for sleep. And your interactive droid, D3, can be accessed on the cabin's link panel for hours of entertainment. There's a hidden pull-out table and two seating cubes that also provide storage space inside.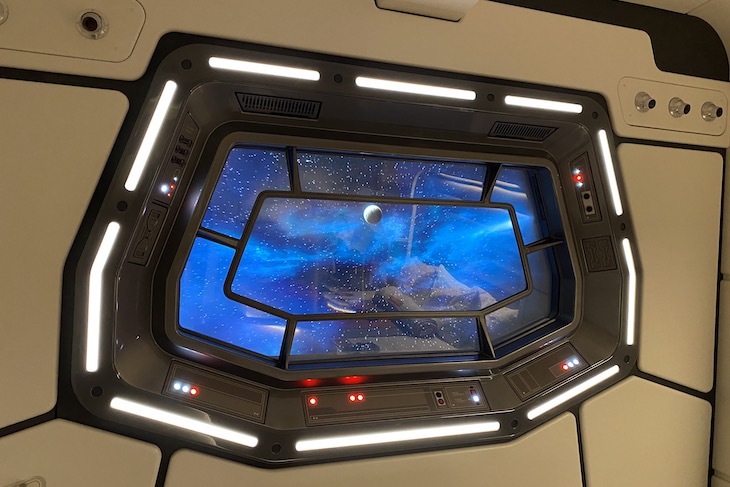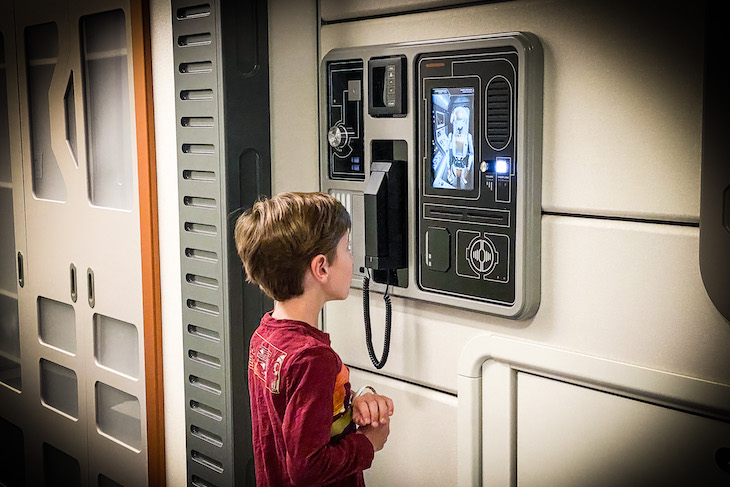 The bath layout of a single sink and the shower opposite with a separate commode area can be a challenge for everyone trying to get ready simultaneously. It will be necessary to do a bit of planning for bath time, so everyone has a chance for privacy.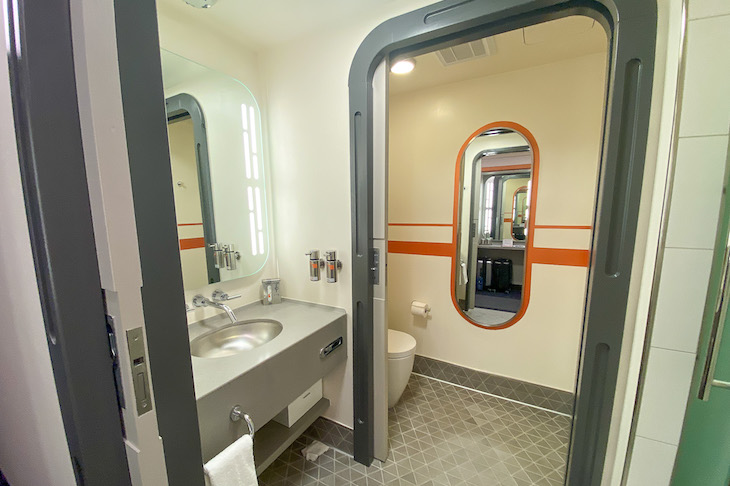 An interactive TV includes regular programming, dining and activity information, transportation options, and Batuu info. The small closet is fine if you just bring along what you need for the two nights, but those that pack more will want to leave what isn't needed in your luggage that can be stored under the bed. Two robes are provided, but no iron and board in the cabins—you can call for an iron or steamer, and it will be promptly brought to you.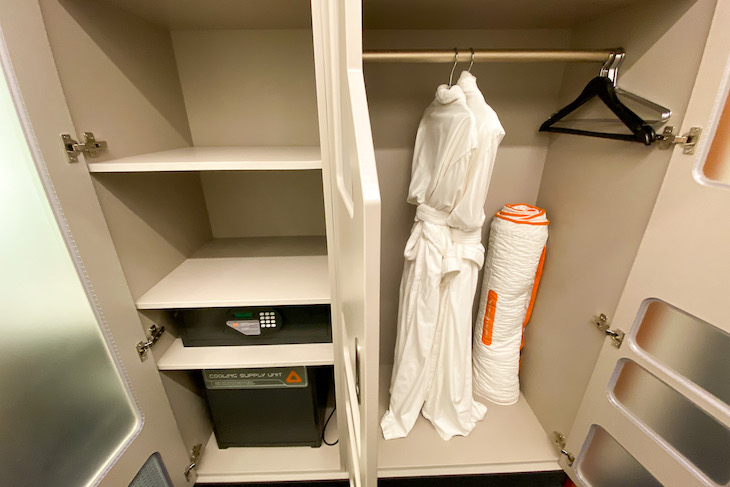 Additional amenities include H2O Plus bath products, hairdryer, mini-refrigerator, electronic safe, and daily housekeeping. Tour Star Wars Galactic Starcruiser Standard Cabin at the Glass Slipper Concierge YouTube channel.