I've been dreaming of being on a cruise ship again, and when the chance came up to sail onboard my favorite cruise line on a Disney cruise, it certainly felt like a dream come true!
After over a year's absence, Disney Dream began sailing again in early August. What a treat to be one of the first back on board! And better yet, it proved to be the "sweet spot" of cruising times, with the passenger count being less than 50%, translating into practically empty public areas, super short waits in line to meet the characters, spaced-out tables in the restaurants, and proper protocol in place throughout the ship to assure a safe vacation.
The Dream looks gorgeous and in tip-top shape. Everything is spiffy, polished, and almost like new. Disney Cruise Line's new safety protocols begin on arrival at the terminal, where vaccinated and non-vaccinated lines form before entering the cruise terminal. However, since my sailing, all passengers ages 12 and older must be vaccinated to sail, and all passengers, regardless of vaccination status, must take a Covid test before entering the terminal.
Only 40 or so passengers at a time are allowed to board the ship, where there is a welcome show in the ship's Atrium featuring Captain Mickey and Minnie.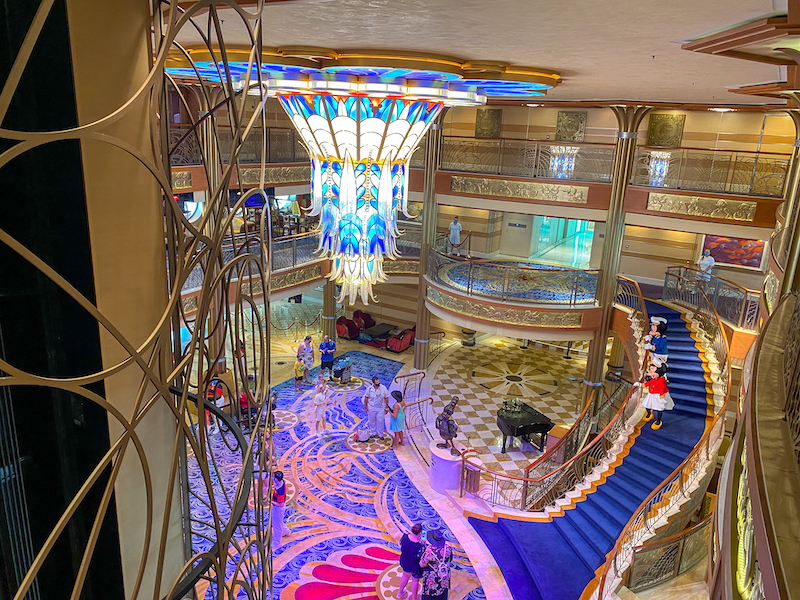 And instead of the usual, crowded Muster Drill, each passenger must go to their designated location found on their stateroom card, where the attending Cast Member scans their card and marks that they have been there. So easy!
With so few passengers onboard, waits in line were almost non-existent, particularly when seeing the characters. So fun to walk out of dinner each evening and check out the Atrium where you can find the likes of Minnie and Mickey, Ariel, Cinderella, Belle, Chip 'n' Dale, and Goofy both downstairs in the Main Atrium and upstairs near Vista Café, even near the elevators. Characters seem to be everywhere standing behind a red velvet rope and never are there more than three or four families in line to see them. There is plenty of time allowed to chat them up and then have your photo taken standing in front of the rope with them behind it. You'll find character schedules on your Disney Cruise Line Navigator App.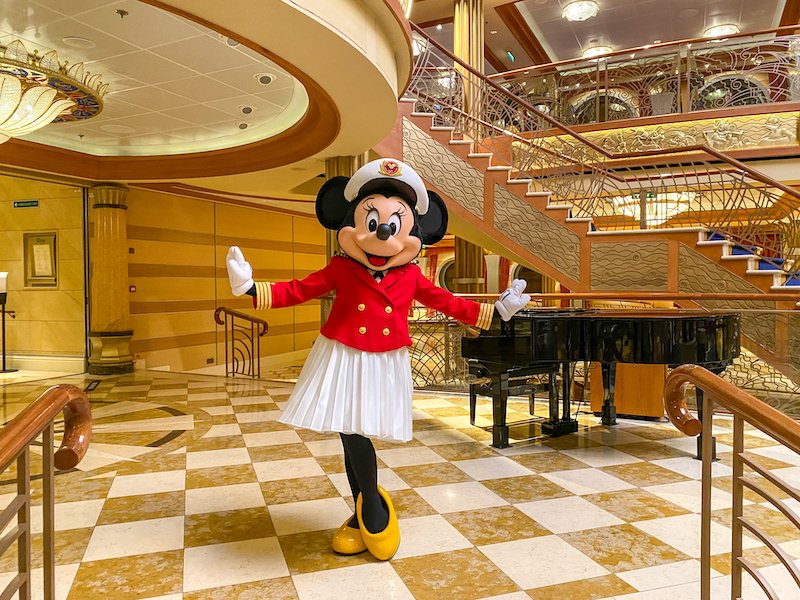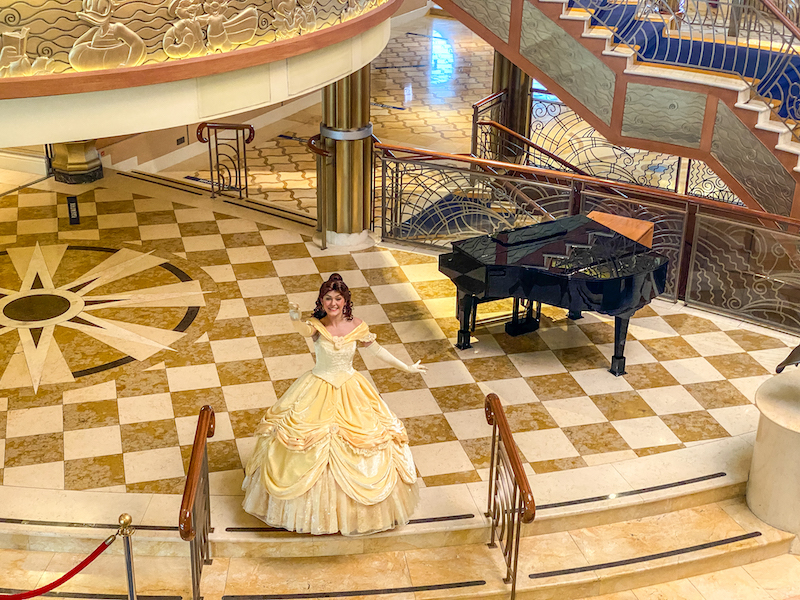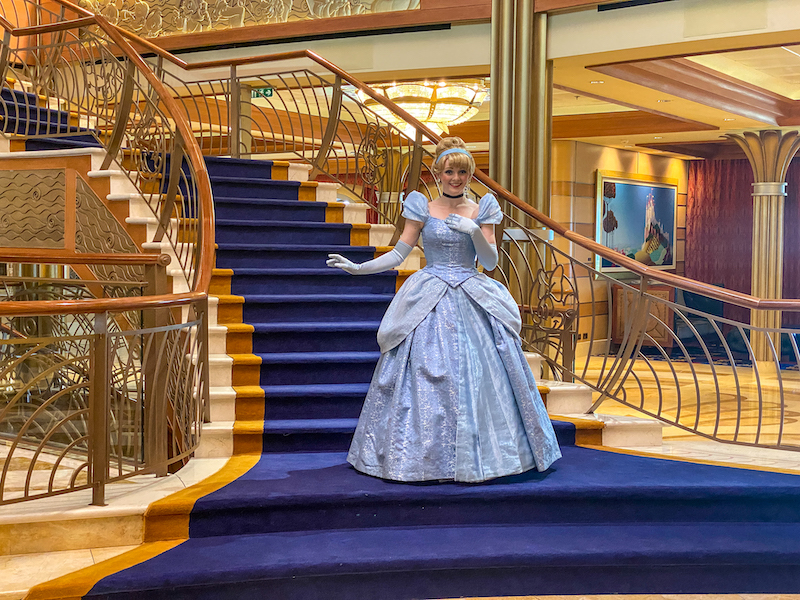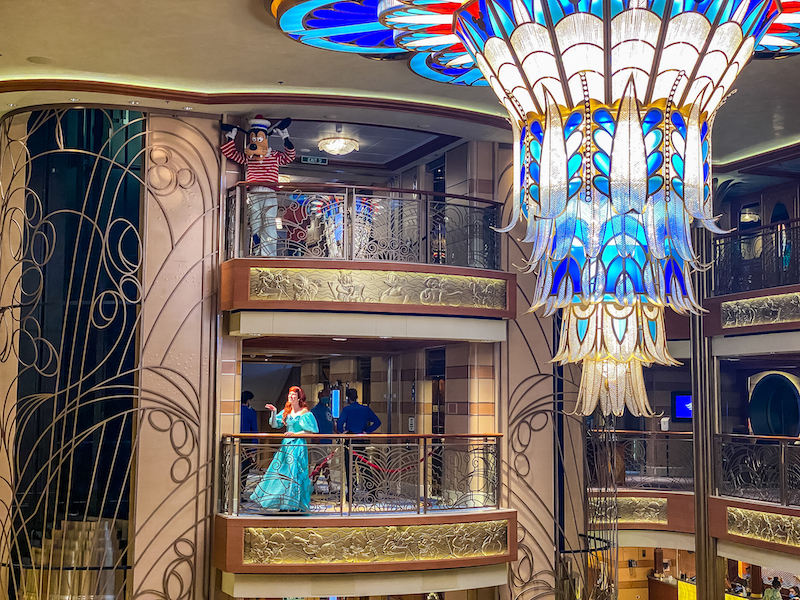 I have to say that I've always wanted to do a double-dip at Castaway Cay, and this time around, it was a reality! You will need to join a virtual queue on your Navigator App in order to leave the ship, but if you wait an hour or so after the ship docks, it's just a matter of minutes before you are allowed to disembark.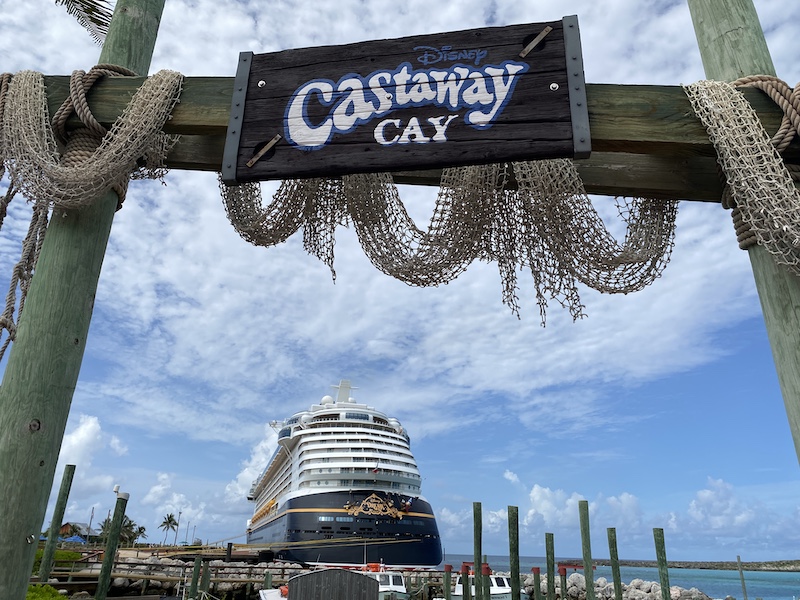 Again, with such low occupancy, everything is a breeze. Castaway Cay is as charming as ever, and you'll find not only characters along the walk to the Family Beach but also Character Cavalcades rocking down the roadway.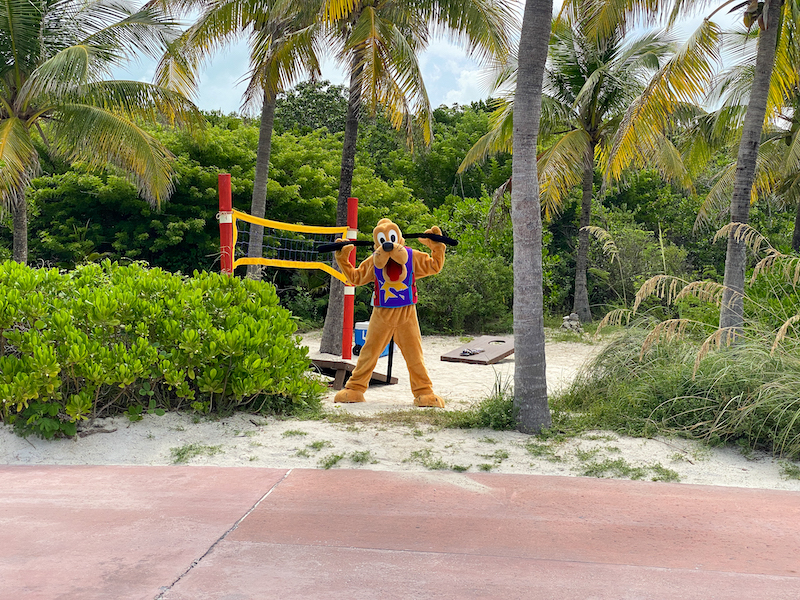 And reboarding from the island on the first day, you can look forward to the very next day back. On our second day, we had the fun of spending time in the Grand Cabana, the very last cabana located on the Family Beach, with gorgeous vistas of the entire beach and the ship in the distance.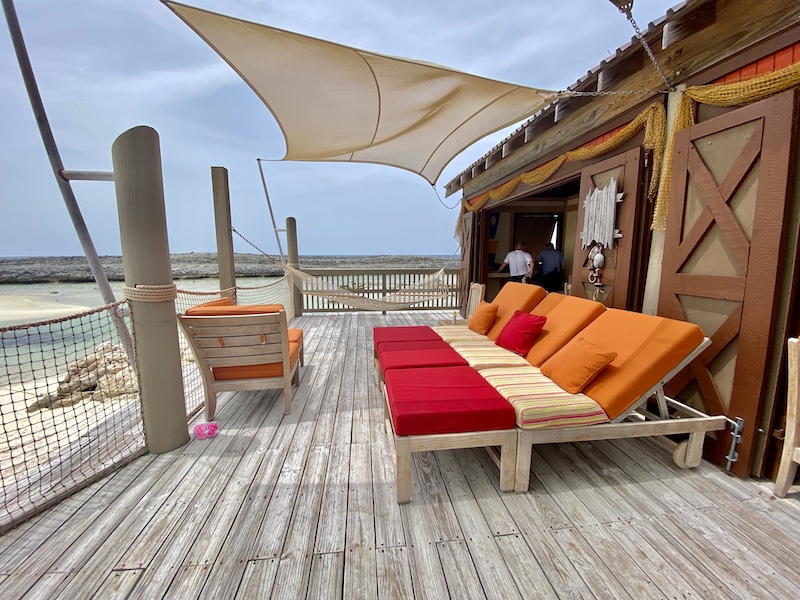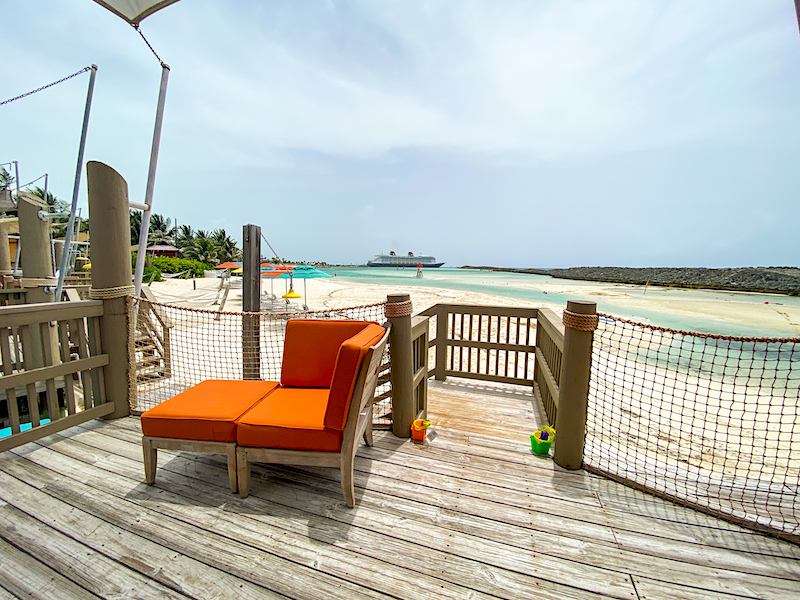 Palo and Remy were both exceptional, and since were are traveling with just adults this time, there was plenty of time to sit back and enjoy our meals at a leisurely pace. What I love is that now an a la carte option is available at both restaurants, so those of us who don't want a multi-course meal can just pick and choose one or two courses making the meal not only more affordable but more pleasant than before.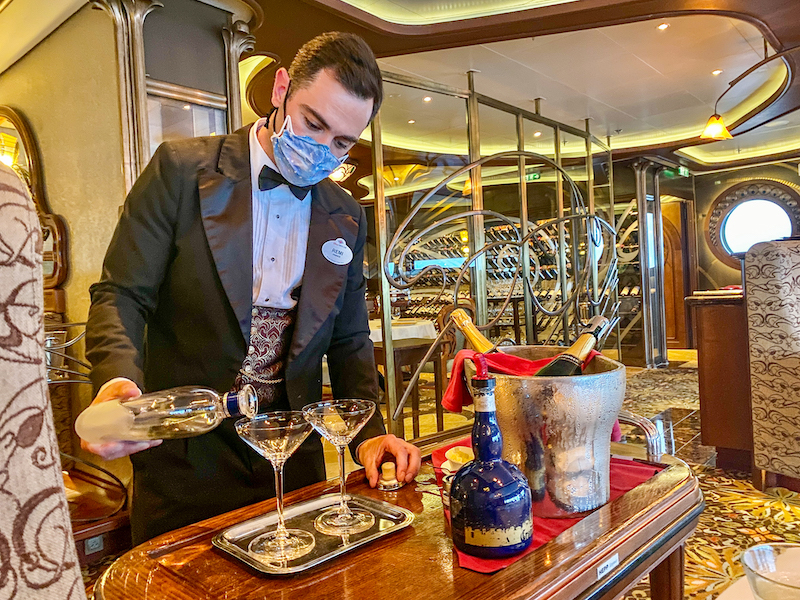 We ordered a la carte at Palo and Remy and will probably never return to ordering the prix fixe option. Leo, our waiter at Palo, was perhaps the very best ever on all the Disney cruise ships I've sailed, and Chef de Cuisine Matteo came out and greeted every table. Time your arrival for about 20 minutes before sunset on the first night out sailing to Castaway, and you will get a delightful view!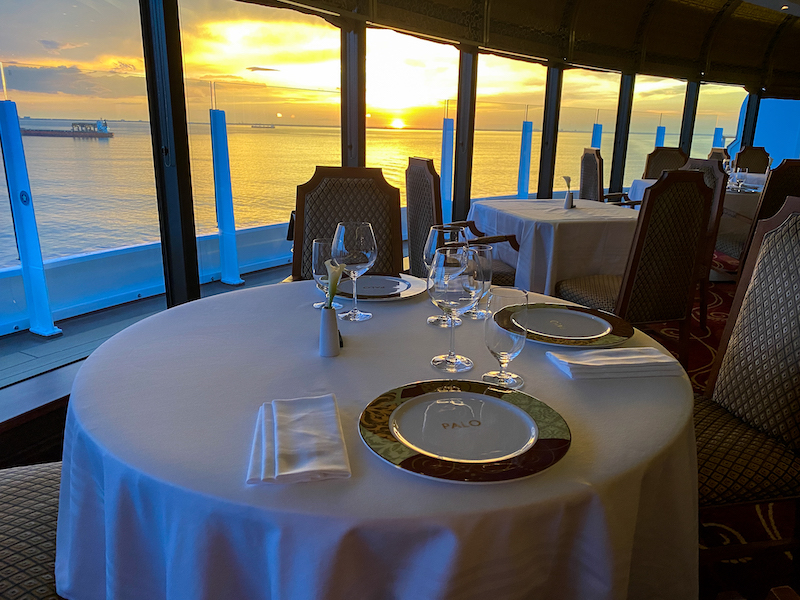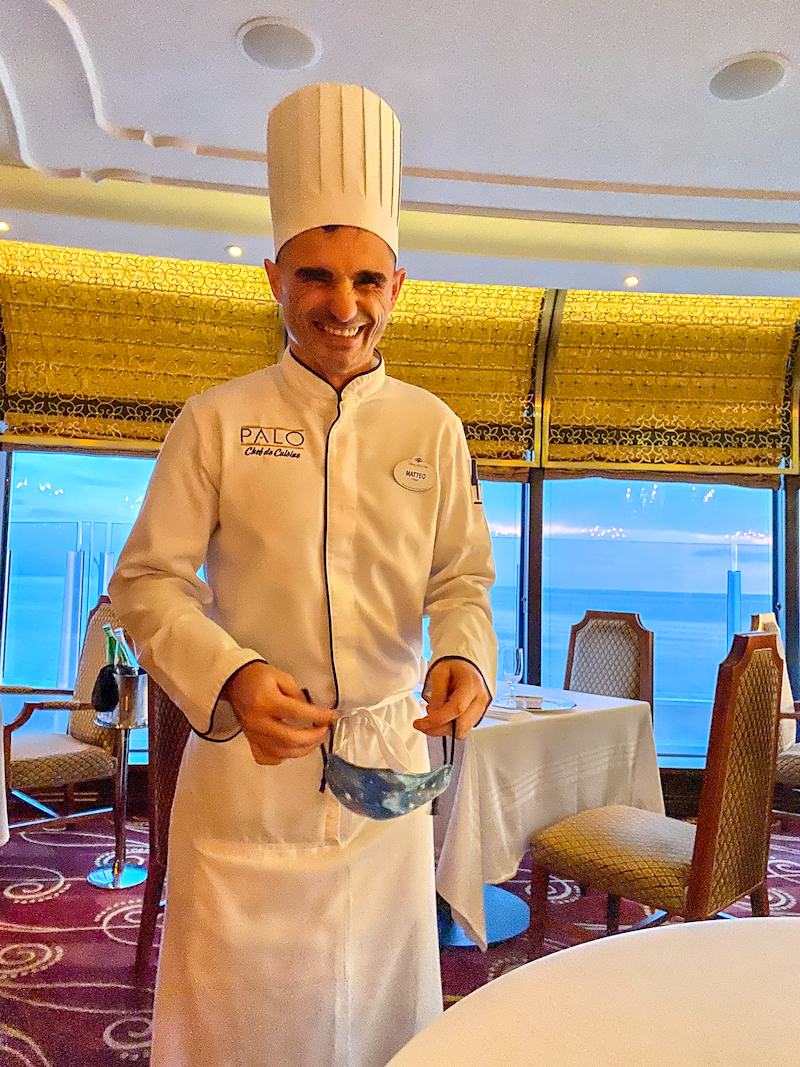 All the usual activities were in high gear, with the pool deck much more reasonable in terms of crowds than ever before. You must wait in line to swim in the family pools with a rotation in and out every 15 minutes. However, at Quiet Cove, the adult-only pool, no formal lines at all for a dip.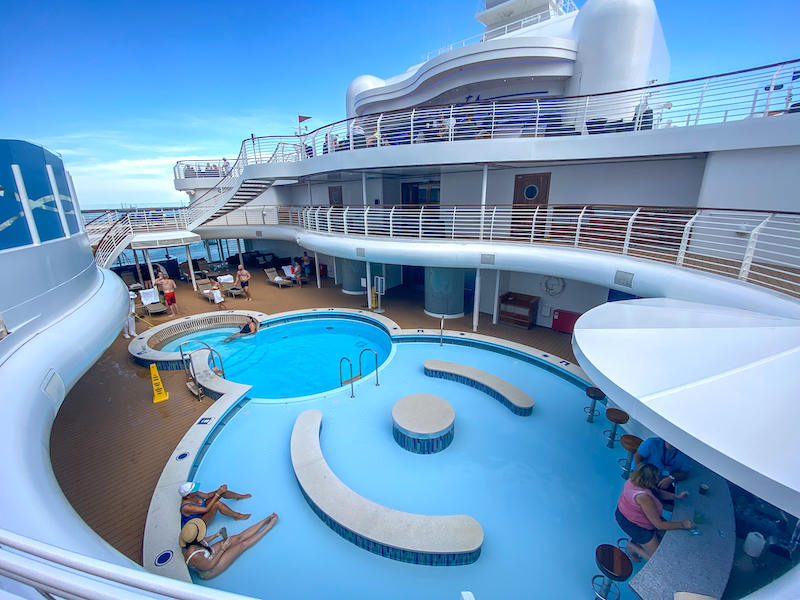 We waited until late afternoon to ride AquaDuck for about a 15-minute wait, but nowhere near the time it usually takes to stand in line. For a shorter wait, try riding while everyone is on Castaway Cay.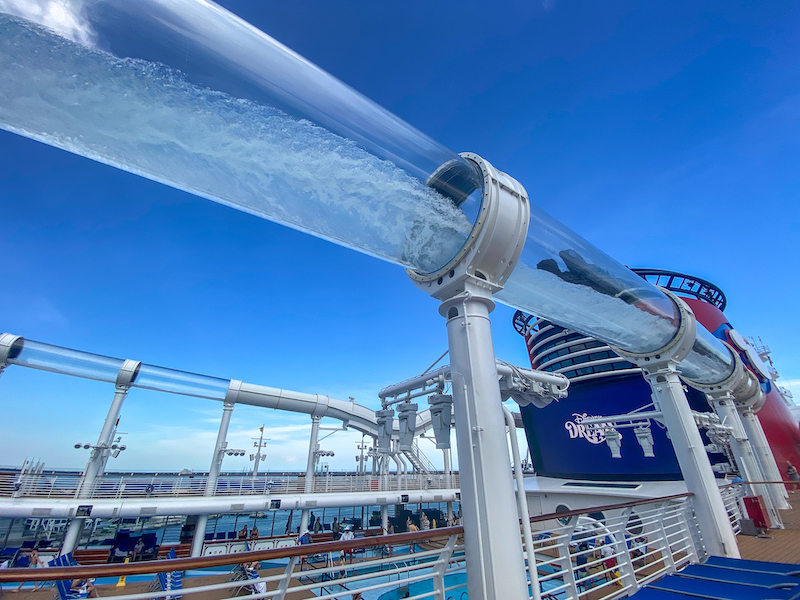 An Animation Class was on our agenda one morning, the first I've ever taken on a Disney cruise. No reservations are necessary; just walk in and enjoy.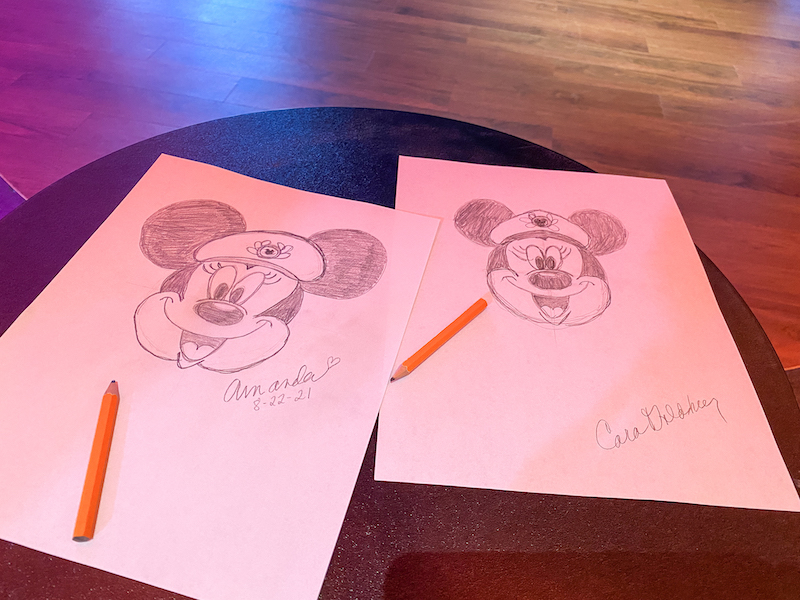 There are plenty of first-run movies scheduled at Buena Vista Theater, and our pick was Raya and the Last Dragon. So fun! Beauty and the Beast is on the schedule over several nights at the Walt Disney Theater, so plenty of time to catch the show. Seaters socially distance each party and close the theater once capacity is reached, but arriving about 15 minutes before showtime will more than likely assure you a seat.
I love, love the Disney Cruise Line adult-exclusive lounges, with Pink on the Dream being one of my very favorites. We discovered the Pomegranate Passion there, a heady concoction of pomegranate liqueur, passion fruit puree, and Moet, and it became our drink of choice for the entire cruise.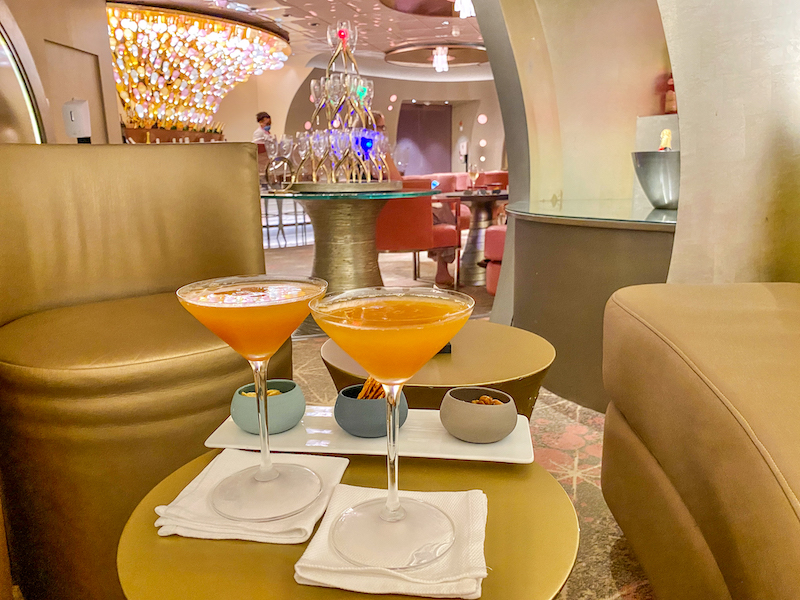 Running a close second is Meridian, a sophisticated bar located between Palo and Remy on Deck 12. Here you'll find exceptional wines and champagnes as well as classic cocktails in a refined atmosphere. There's even open-air seating with ocean views if you so choose.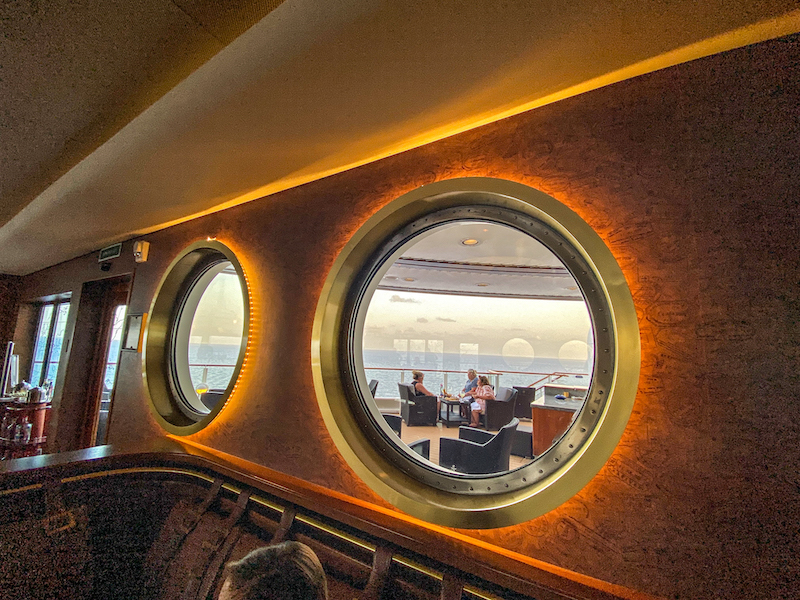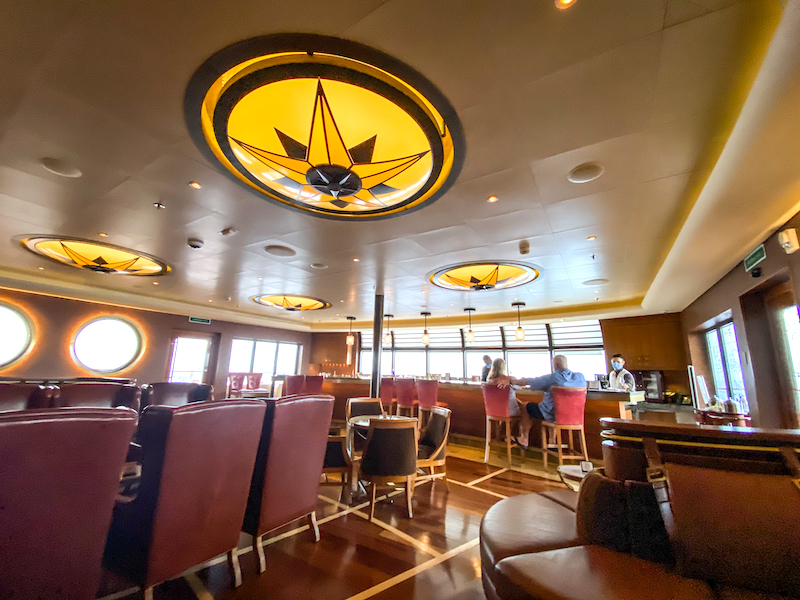 All in all, a perfect back-to-cruising experience. As usual, Disney does it right, and our time onboard was one of the most memorable ever!
Ready to get started on planning your magical Disney vacation? Request a Consultation today!