Lovely and spacious accommodations, fabulous sunrise views, and the bonus of the 14th floor Tower Club concierge are definitely great reasons to choose Disney's Contemporary Resort's Vice Presidential Suite for your next luxury vacation to Walt Disney World® Resort.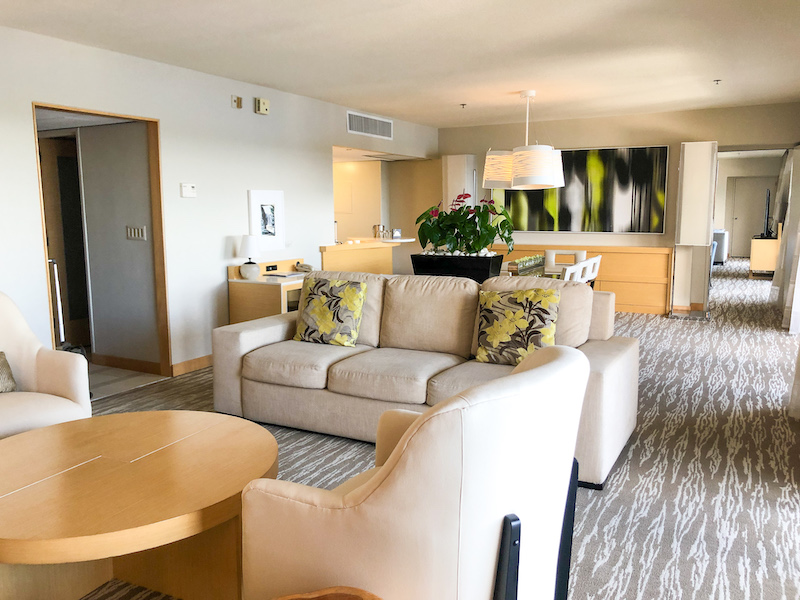 What a wonderful feeling it is to leave the din of the bustling 4th-floor atrium's restaurant and shopping area to then step off the elevator on the 14thfloor, an oasis of luxury with a serene atmosphere.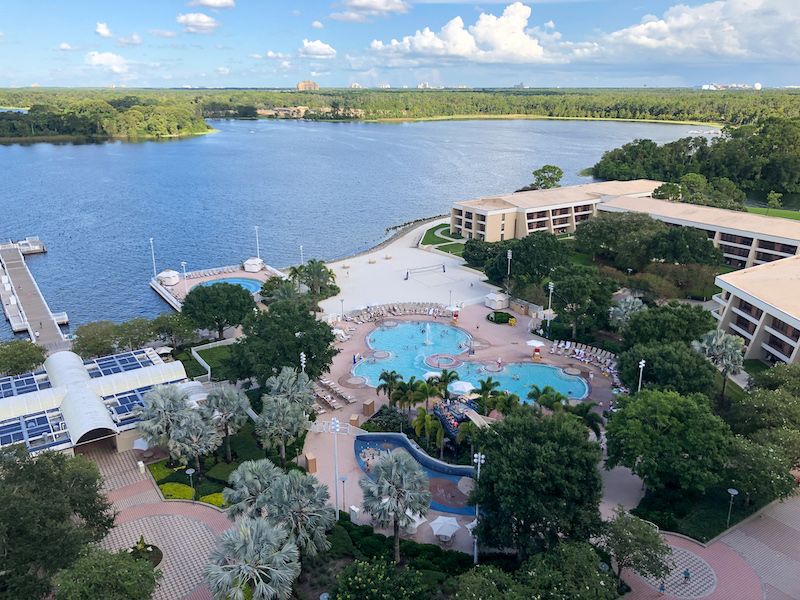 Located on the Bay Lake side of the 14th floor Tower with magnificent views of the pool area, beautiful Bay Lake, and a sweeping vista including Spaceship Earth, the VP Suite is definitely one of Disney's top accommodations.
A marble entry includes two closets, one with an electronic safe, and a full-size bath with a single sink and shower. Then enter the spacious great room with its living area, dining room, and service kitchen.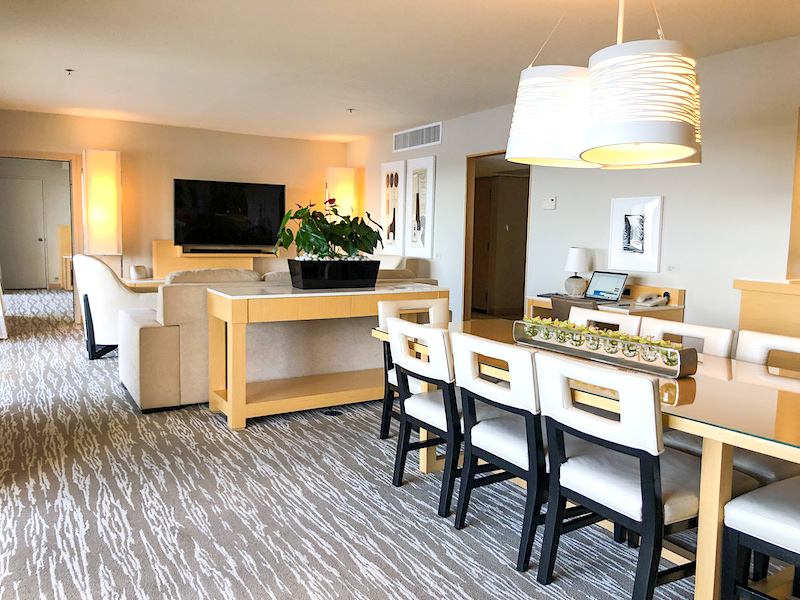 The living area features creamy white furnishings, blond wood, and hints of canary yellow in the queen-size sleeper sofa, two easy chairs, work desk, a round coffee table which breaks apart into sections that can be moved around for convenience, and a sofa table that visually divides the living area with the dining room. A massive TV hangs on the wall. The décor is, of course, contemporary with several pieces of interesting original artwork. In the dining area, the 8-person table is adorned with a row of fresh orchards, beautiful in their simplicity.
The kitchen features a Bosch full-size refrigerator, a super Nespresso coffee machine, microwave, and small sink but nothing more in the way of dishes, etc. The fridge is stocked with sodas and drinks—if you want them replenished, just let the concierge staff know and voila…it's done.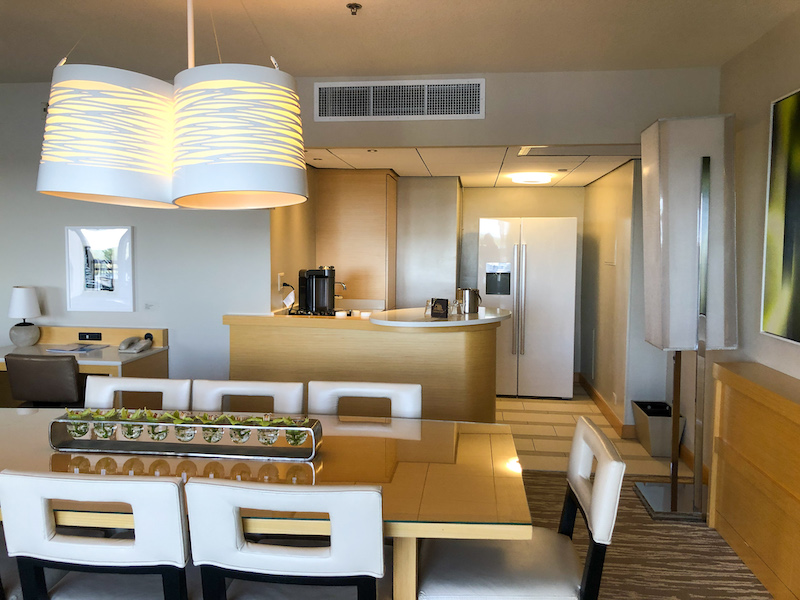 Deep balconies furnished with a variety of tables and lounging chairs run the full length of the suite with access from the living area, dining area, and both bedrooms. Morning time here is impressive, with superb views of the sunrise.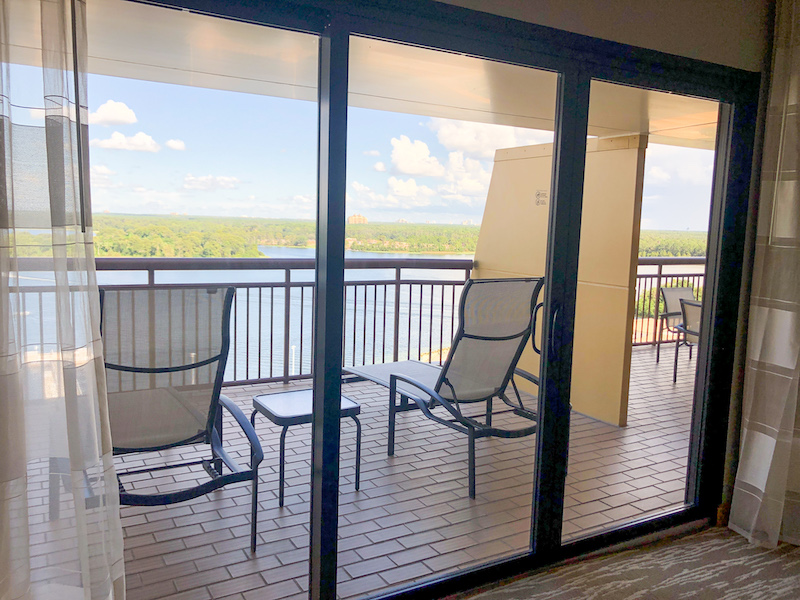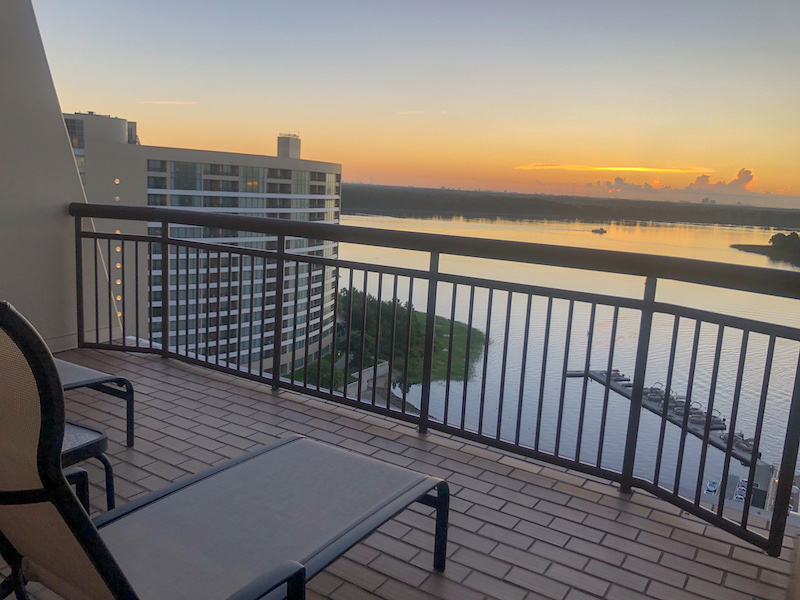 In the very spacious master bedroom, you'll find a king bed, sitting area with a queen sleeper sofa and coffee table, and a small easy chair. On the opposite side of the bed is a chaise lounge and bureau, and another huge TV hangs on the wall facing the bed.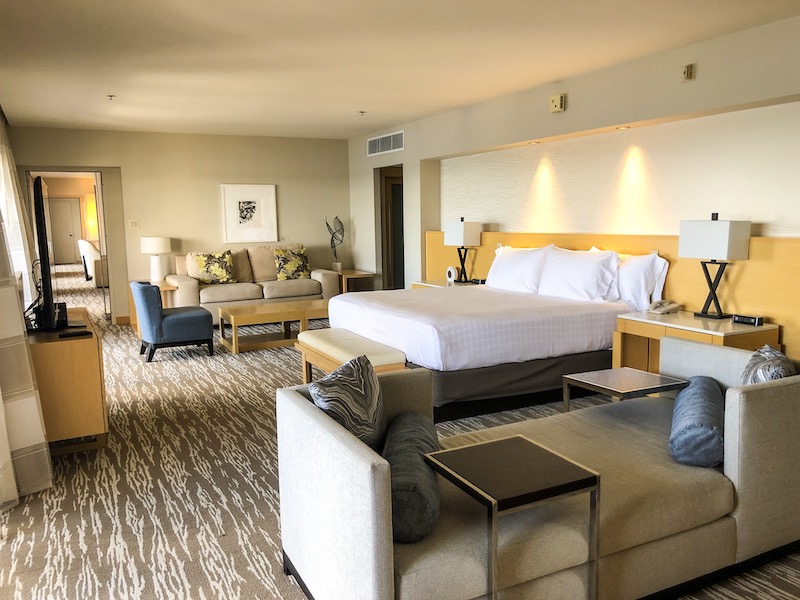 The master bath is split: one side off a hallway (the closet here does not hold hanging clothes) is a bath containing a single sink, cream Quartz vanity with inferior lighting, oversized shower, and separate toilet and bidet area.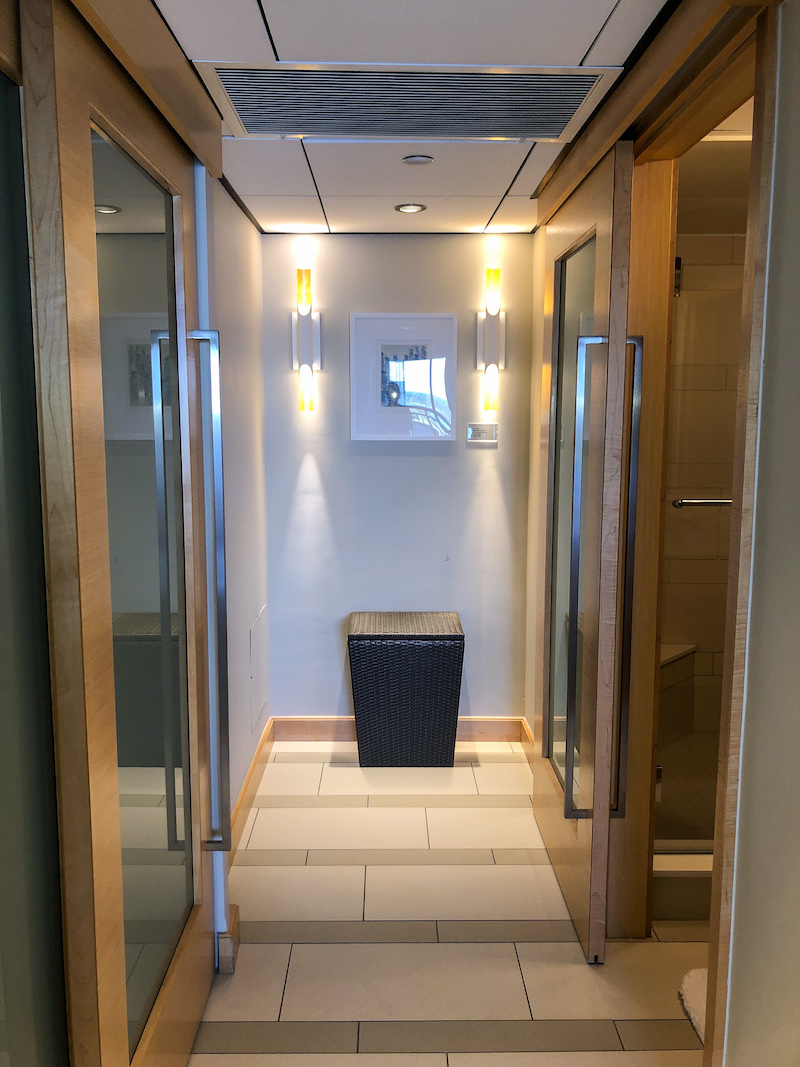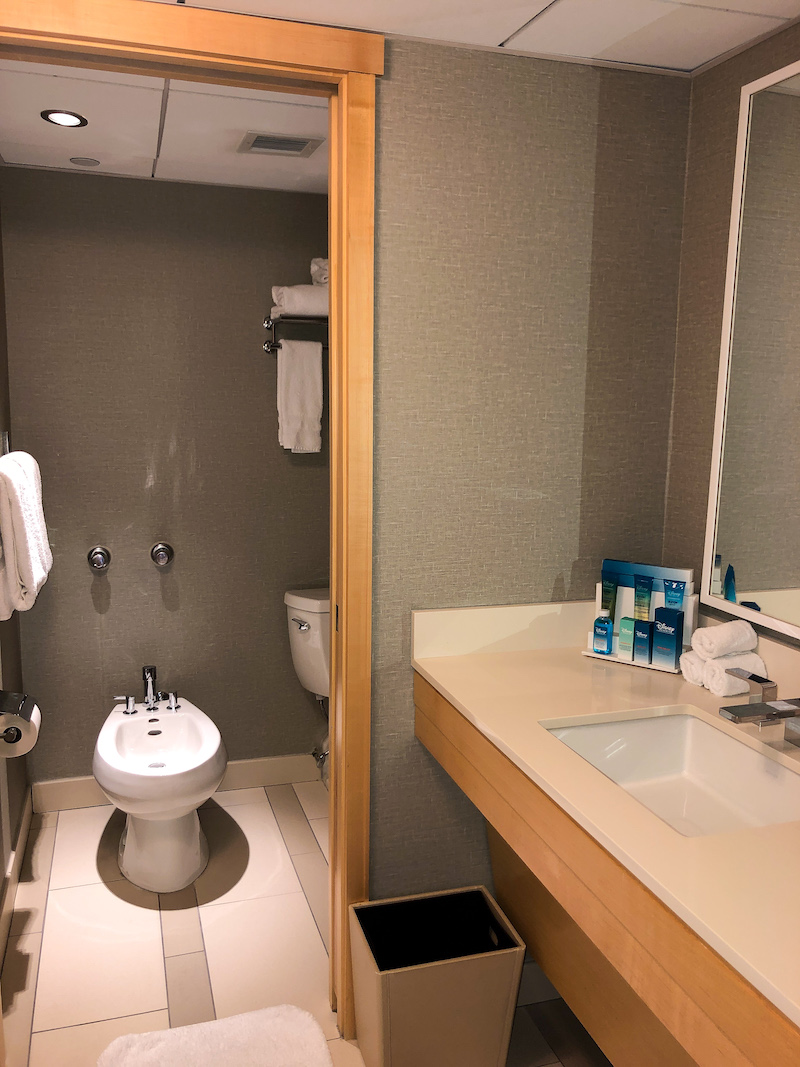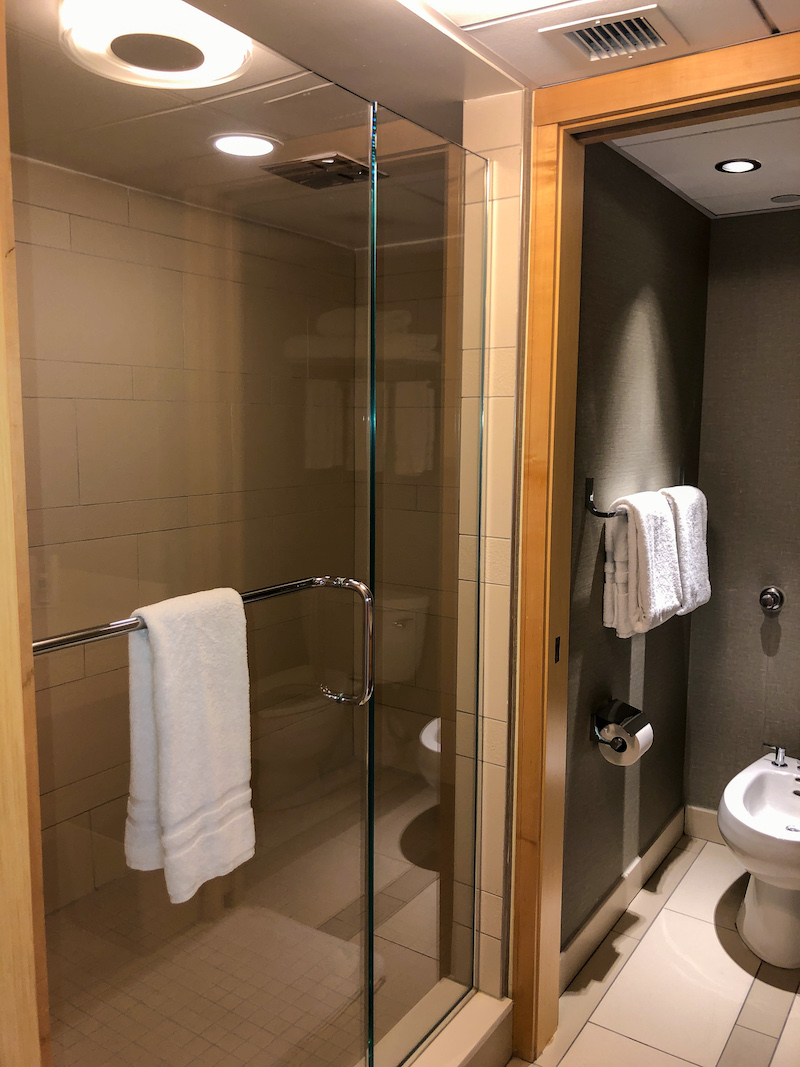 The other side is also a hallway with a closet (suitable for hanging clothes and also with an electronic safe, iron and board), bath with a single sink, tub/shower combo, separate shower, and toilet in an alcove. There is a backlit mirror with an in-mirror TV, but strangely enough, the TV is located right where you would typically be looking into the mirror, necessitating that you stand to one side or the other to see.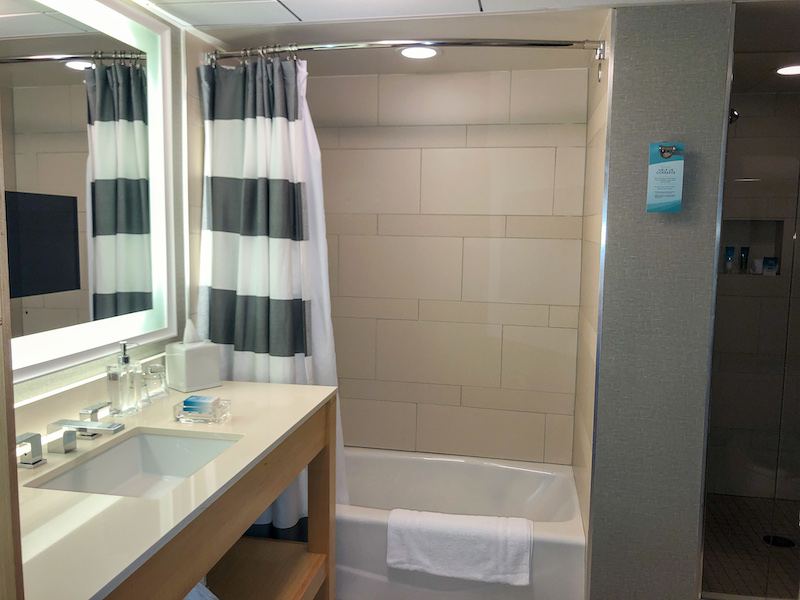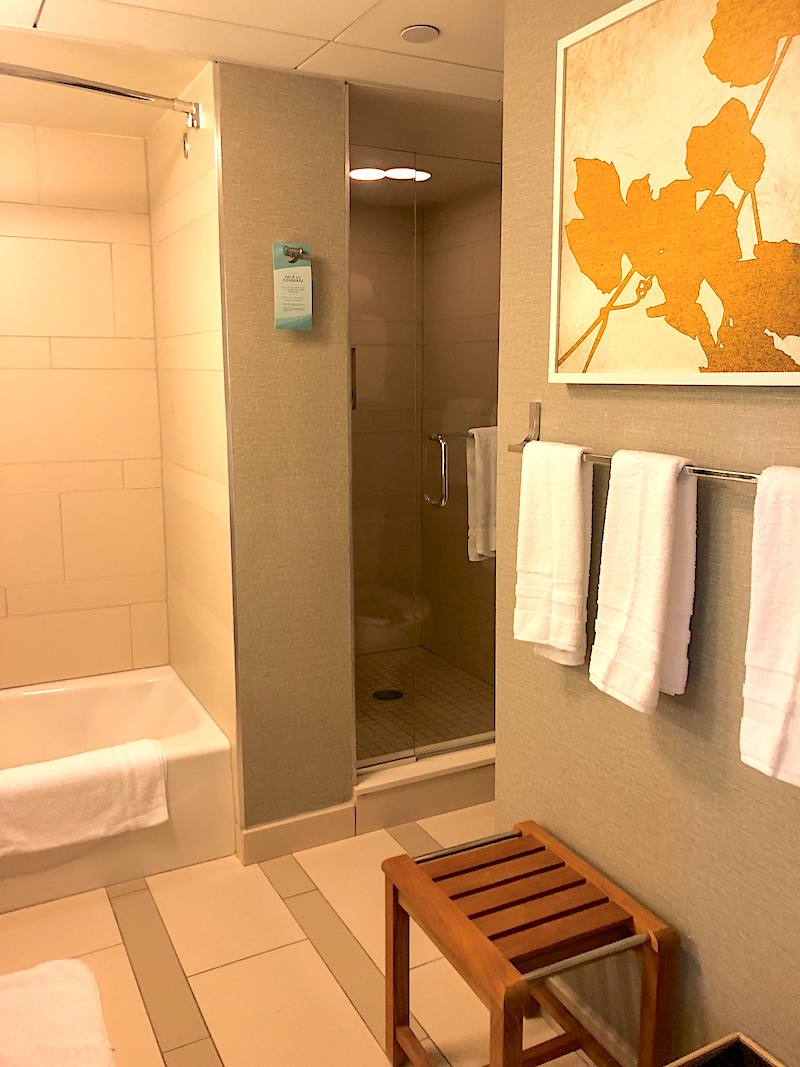 The guest bedroom holds a king bed, oversized TV, a bureau encompassing a desk and drawers, and another closet not deep enough for hanging clothing. The bath has a single sink with a tub/shower combination, and in the toilet area you'll find yet another sink.
Do consider this suite when a fantastic view, huge living and sleeping spaces, and a sense of magic are your top priorities.
View the Vice Presidential Suite on Glass Slipper Concierge's YouTube channel and check out another of our blog posts featuring the Tower Club 14th floor concierge lounge.
Tour Disney's Contemporary Resort on the Glass Slipper Concierge YouTube channel!
Ready to get started on planning your magical Disney vacation? Request a Consultation with Glass Slipper Concierge today!