Blog
Strolling Along at Walt Disney World
Author: Carrie Bradley | Comments: 0 | Categories: WALT DISNEY WORLD®
When traveling to Walt Disney World® Resort with young children, a stroller is a necessity. While the parks rent strollers, daily rentals can become expensive and Disney's strollers have hard plastic seats, small sun shields, and do not recline. Strollers can be rented upon entering the theme parks and at Downtown Disney; they are not available at the Water Parks or resorts. Park rentals are $15 per day or $13 per day for the length of your stay. Double stroller rentals are $31 per day or $27 per day for a length of stay rental. Also inconvenient is the fact that strollers can be used only in the park where it was rented. If you park hop it will be necessary to turn in your stroller at the first park, and then get a new one at the next park. You won't have use of a stroller while at your resort or when returning after a long day in the park.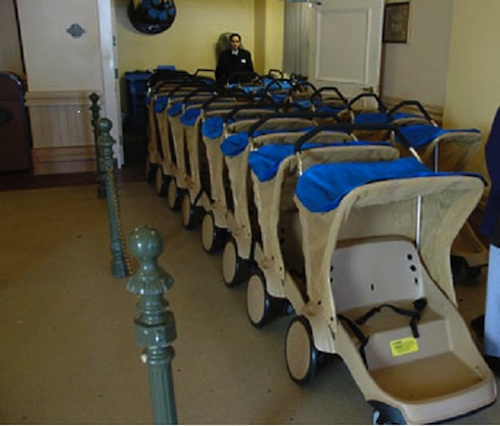 Another option for parents is to rent a stroller from an off-site company. There are several companies to pick from and reservations can be made in advance on the company's websites. Kingdom Strollers, Magic Strollers, Orlando Stroller Rentals, and Baby Wheels Orlando are some of the more popular stroller rental companies in the Orlando area.
Bringing your own stroller will save quite a bit of money and ensure that you have the stroller available when needed. I prefer taking my own double jogging stroller on our trips to Walt Disney World so that my children will be comfortable. The soft fabric seats recline and are more conducive for napping. The sun shield is large and protects them from the hot Florida sun, and the storage compartment under the seat will hold a soft-sided cooler for water and snacks. The bike tires and rotating front wheel making it easy to navigate crowds of people in the parks.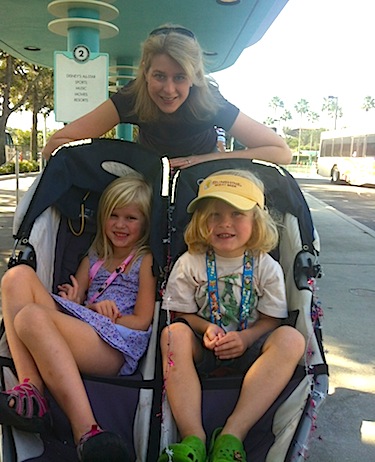 There are drawbacks, however, to bringing your own stroller to the parks. A stroller, especially a large, double jogging stroller can make it difficult to use Disney's bus transportation. Passengers must fold up their strollers before boarding, carry them on, and hold them while being transported. Manipulating a large stroller through a bus door and holding on to it while the bus is moving, and standing if the seats are taken, can be a feat in itself. Unfortunately, Disney buses were not designed with a separate holding area for strollers, and passengers must hold on to them while traveling.
Because of the difficulty of riding the bus with a stroller, I always advise my clients traveling with young children to stay at a Deluxe monorail resort, something that is definitely worth the extra money. On the monorail, strollers can be wheeled on instead of folded up which makes it easier to transport sleeping children without having to worry about unpacking belongings from the pockets and underside of a stroller, making a monorail resort super convenient for families with younger children. But on transportation boats you will always be asked to remove your child from the stroller before boarding, and on smaller transportation boats you'll be asked to fold the stroller as well.
Many parents don't think their kids need a stroller because they don't use one at home. WRONG! An average day can involve 10 miles of walking and long periods of standing so don't assume that an older child, say 6 or 7 years old, has outgrown a stroller. The parks are large and the Florida heat can be grueling. You can keep a pretty good pace in the parks and even stay to see a fireworks show while your child is asleep in the stroller.
Whether you bring your own stroller, or rent one at the parks, make sure you customize your stroller handle with a colorful ribbon or scarf. There will be numerous times you will need to pick yours from a sea of strollers as you exit an attraction, and many will look exactly like yours.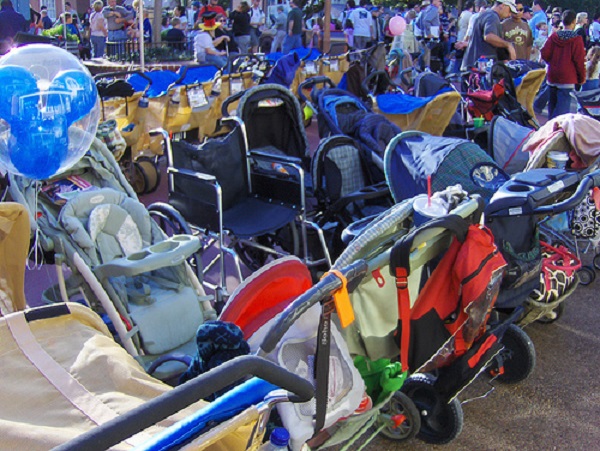 Disney's theme parks are huge, and they look even bigger from a child's viewpoint when it comes to walking. A stroller allows kids to conserve energy so they last longer and stay in a much better mood. Happier kids mean happier parents and a better experience for everyone!
Carrie Bradley's knowledge of Disney provides her with the unique ability to transform your family vacation into a cherished, one-of-a-kind family vacation filled with memories you and your children will share for a lifetime. Known for her personalized approach, Carrie provides families with custom-tailored experiences and activities as an agent with Glass Slipper Concierge.
Comments
There are no comments for this entry yet. Be the first!
Leave a Comment