Blog
Ravello at Four Seasons Resort Orlando Isn't Trying To Be Cool, It Just Is
Author: Cara Goldsbury | Comments: 0 | Categories: WALT DISNEY WORLD® , WALT DISNEY WORLD® DINING
My pick for the area's best Italian restaurant is Ravello at the Four Seasons Orlando at Walt Disney World® Resort. The updated Italian classic menu is pretty much a winner no matter what you decide to order. Honestly, I kept trying to find a dish I didn't care for, and it just didn't happen.
With its stylish yet minimalistic ambience—think stark white walls, industrial ceilings, loads of wood finishes, metal dining area divisions, even a wall of stacked wood—it isn't trying to be cool, it just is.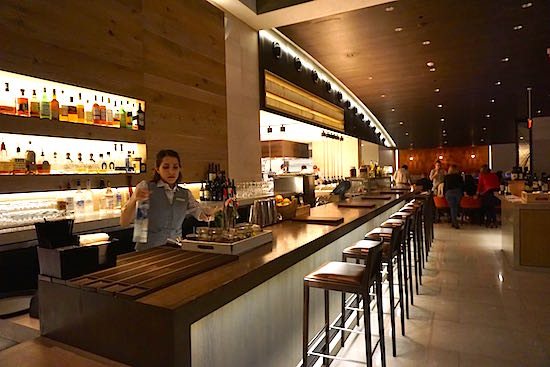 Expect low atmospheric lighting, but don't worry . . . Ravello accommodates with a back-lit menu and a soft spotlight at each table. And if you prefer there's even limited outdoor seating overlooking the resort's pool, lake, and fountains. If your table isn't quite ready, while away the time at the restaurant's chic bar with an inventive hand-crafted cocktail or nice glass of bubbly.
You'll be wowed by the choice of innovative small plates. Simple but brilliant are the polpettine, luscious meatballs made with mortadella, prosciutto, veal, and beef in a beautiful fresh tomato sauce with a scoop of mascarpone to add creaminess to the dish, served with a slices of of crispy grilled bread.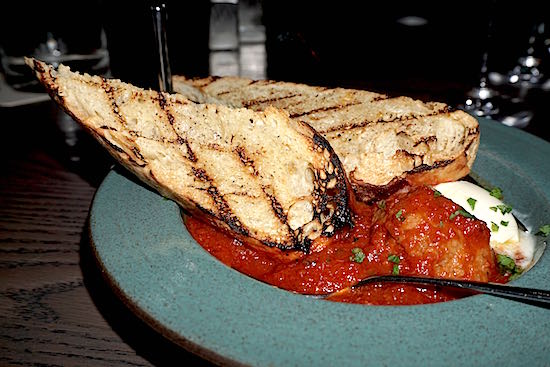 The mushroom salad is all it promises to be—chopped meaty portobello mushrooms, blood orange segments, fresh artichokes, red peppers, and olives, drizzled with red wine vinaigrette then scattered with crispy polenta.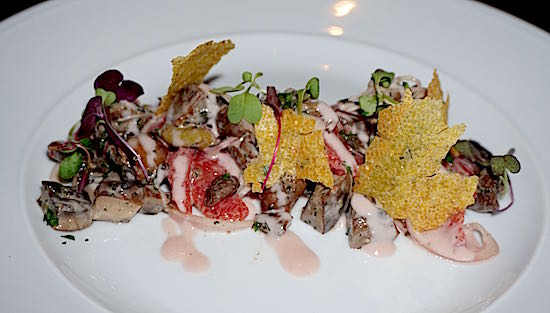 The capesante dish is a seafood lover's dream. Two beautiful, big fat, seared scallops, each with a dollop of key lime basil vinaigrette, sit on a bed of lentils, strewn with micro greens and centered with roasted carrot strips.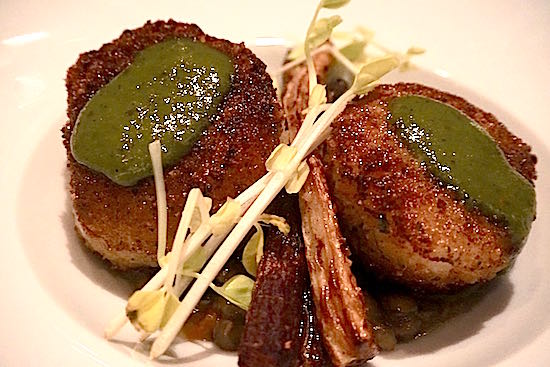 And Ravello's Caesar salad is made special with crunchy focaccia croutons and white anchovies.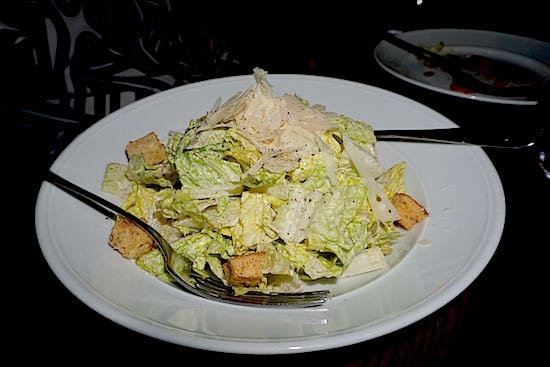 The restaurant makes all their pasta in-house so it's mandatory that at least one person order a pasta choice. Personally, I am captivated by the spinach and ricotta-stuffed veal ravioli. Festooned with wild mushrooms swimming in a truffled, buttery broth, it's rich and spectacular.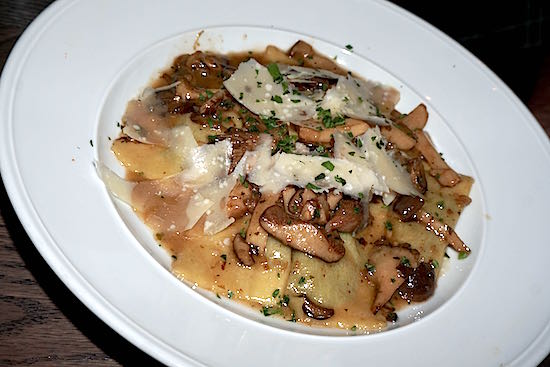 But let's talk more veal . . . the vitello main dish veal is inspired by the traditional veal Parmesan, but lighter in that it is missing the gooey cheese that typically tops it. The breading is barely there, and what stands out is the flavor of the meat and the gorgeous light red sauce. Better yet are the dish's sides of roasted fresh baby artichokes and lightly seared spinach/ricotta gnocchi dumplings.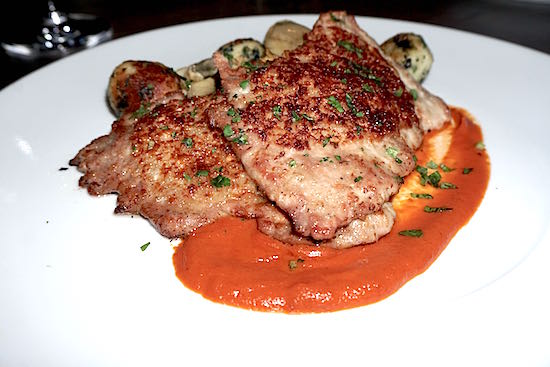 And then there's the Mediterranean seabass (branzino), pan seared, crispy skinned, super moist, stuffed with bunches of rosemary and thyme along with slices of citrus and celery hearts (never knew celery hearts could add so much to a dish!) resting beside flavorful, garlicky Borlotti beans tossed in olive oil. Phenomenal!
Seriously it's tough to find room for dessert, but find it I did and not sorry in the least. The stracciatella tortoni, a semifreddo-like cake made with white chocolate mousse and a graham almond crust is crowned with edible flowers and bits of amaretto cookie crisp, dotted with pools of espresso fudge sauce. Phenomenal! And I always choose from the Iconoclast wines (Chardonnay and Cabernet), branded specifically for the Four Seasons as my drink of choice.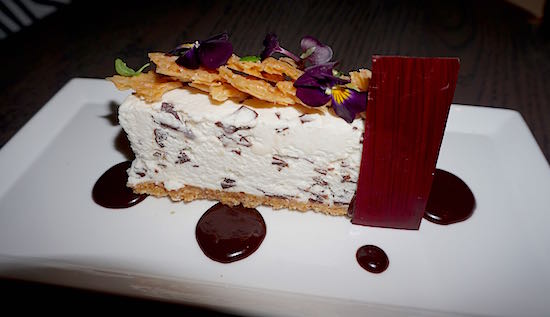 Let Us Help You in Planning an Extraordinary Luxury Disney Vacation!
Our expert Glass Slipper Concierge® travel advisors' unrivaled knowledge of Disney Destinations can only be matched by their passion for delivering white-glove service. We're committed to personalizing a completely unique, luxury Disney vacation experience that surpasses every expectation for each of our clients. Please submit an online consultation request to begin.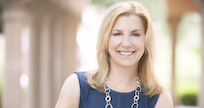 Cara Goldsbury is the author of The Luxury Guide to Disney Vacations and The Luxury Guide to Walt Disney World Resort. She is Chief Executive Concierge at Glass Slipper Concierge®, a travel agency specializing in selling Disney vacations, and has appeared as a leading Disney expert on two Travel Channel specials, Disney Splurge! and Disney Royalty. She has also been cited numerous times in national news articles, in such notable publications as Forbes Traveler, as an expert on the Walt Disney World® Resort.
Comments
There are no comments for this entry yet. Be the first!
Leave a Comment