Blog
Hilltops and Highlights…A Central European Vacation with Adventures by Disney®
Author: Staci Kimball | Comments: 0 | Categories: ADVENTURES BY DISNEY®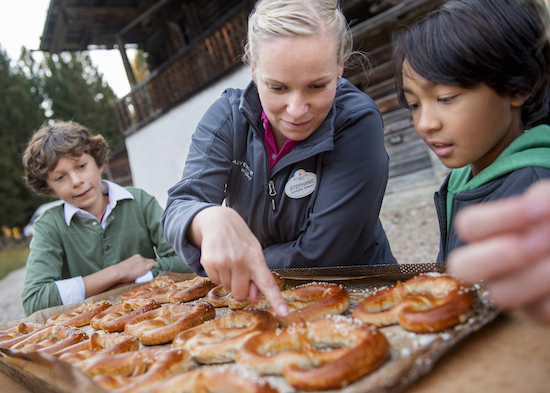 Last June my husband Ross and I set off on the adventure of a lifetime, a 9-day tour through Central Europe with Adventures by Disney. Not only was this our first guided group travel experience, but it was also my first time traveling abroad. As a travel advisor who specializes in selling Disney vacations, I couldn't imagine a better way to be introduced to Europe than with Disney as my guide!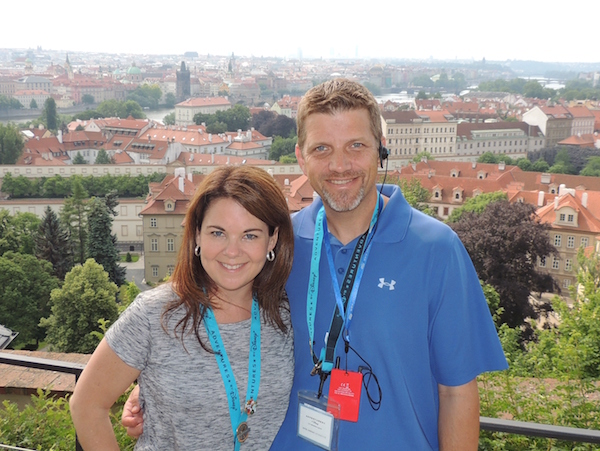 St. Wenceslas Vineyard, Prague
Planning for our European Adventure was a breeze! The pre-set itinerary included all of our accommodations, transfers, tours, most meals, and many special experiences exclusive only to Adventures by Disney guests. Disney's air concierge team even booked our flights . . . at a much lower rate than we were able to find on our own. A few weeks prior to our trip, we received our travel package, complete with a detailed itinerary, packing lists, travel tips, and even emergency contact information to share with family and friends. Disney took all of the guesswork out of preparing for this vacation which allowed us to just relax and enjoy the anticipation of our European adventure! And what an adventure it was!
During our journey, we were introduced to the most beautiful sights, attractions, and historical landmarks throughout the Czech Republic, Germany, and Austria. Our group was led by two amazing Adventure Guides, Dean and Stephanie, who were engaging, entertaining, approachable, and knowledgeable. They anticipated our needs even before we did! There was nothing that our guides weren't prepared with at all times, from snacks and bottled waters, to change for coin-operated restrooms and wishing wells . . . and lots of magical surprises throughout. Dean and Stephanie also served as the group photographers making sure to capture each special moment on film and sharing these idyllic shots with us at the completion of our trip. Best of all our guides were wonderful storytellers, together and individually. Every day we were immersed in the history of the area we were visiting through the stories they told.
If there was ever a trip to bring out your inner Maria or Captain Von Trapp, this is the one! We spent our days climbing, exploring, touring, and dancing our way through the most incredible hilltops, valleys, and gardens of Salzburg, Bavaria, and Vienna. Along the way, we dined in lovely restaurants and relished the traditional fare, such as Wiener schnitzel and apple strudel. We enjoyed authentic performances and hands-on demonstrations local to the culture of each destination. Through it all, we were treated like invited guests being personally welcomed by the local ambassadors at each stop along the way. Doors were opened for Adventures by Disney that remained closed to other tour groups and travelers. We enjoyed exclusive access to "off-limits" areas and attractions, pre-opening tours of popular destinations, private dining in historical venues, and more.

These are a few of my favorite things:
• Walking the grounds of St. Vitus Cathedral at Prague Castle and making keepsake marionettes in Prague, Czech Republic
• Visiting the ancient fairy tale town of Chesky Krumlov in the Czech Republic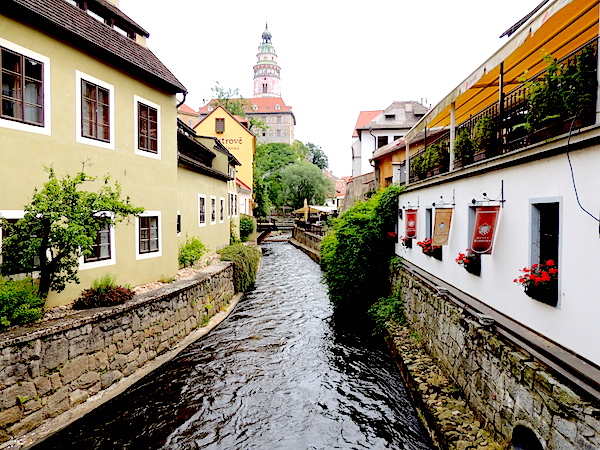 • Following in the Von Trap family footsteps on an exclusive Sound of Music tour through Salzburg and Vienna
• Pretzel making at an authentic Bavarian bakery in Berchtesgaden, Germany
• Exploring the depths of a working salt mine in Berchtesgaden, Germany
• Hiking to the top of a picturesque mountain to reach Eishole Ice Cave in Werfen, Austria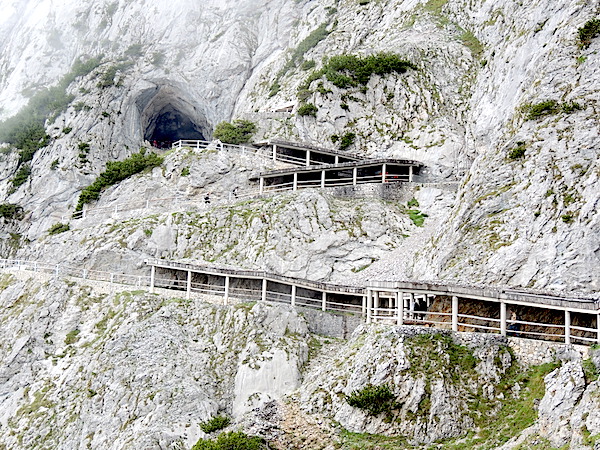 • Gazing above the clouds from The Eagles Nest in Berchtesgaden, Germany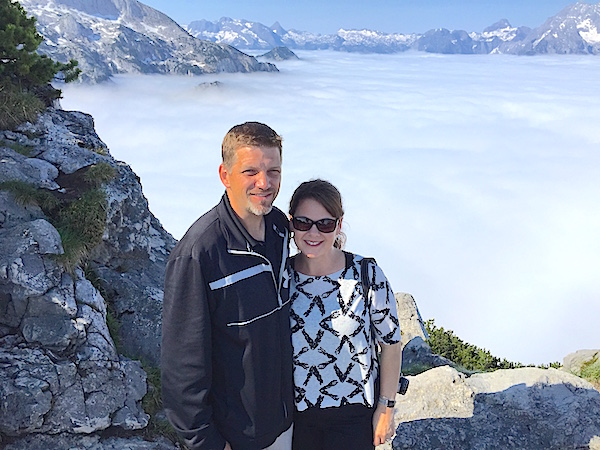 • Enjoying a Falconry Show at Hohenwerfen Castle in Salzburg, Austria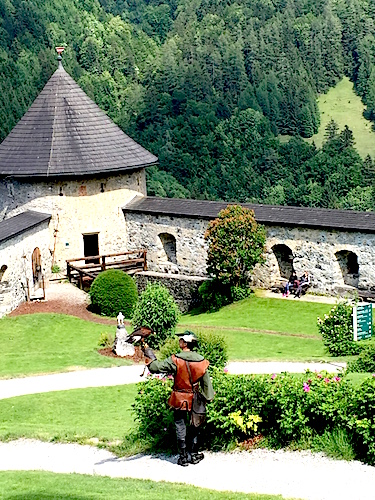 • Discovering the beautiful architecture and interior design at Schönbrunn Palace in Vienna, Austria
• Touring the Spanish Riding School and getting up close and personal with the Lipizzan Stallions at Hofburg Castle in Vienna, Austria
Adventures by Disney exceeded our expectations in every way, ensuring that our first Adventure certainly won't be our last. This was the most seamless, immersive, and stress-free vacation we have ever taken and it is all thanks to the incredible Adventures by Disney planning team, tour guides, and travel partners throughout Central Europe. Sharing in so many incredible once-in-a-lifetime experiences with our guides and fellow Adventurers made this trip even more memorable, and certainly more fun than we ever imagined. With Adventures by Disney the world is more accessible now. I can't wait to see where our next Adventure will take us!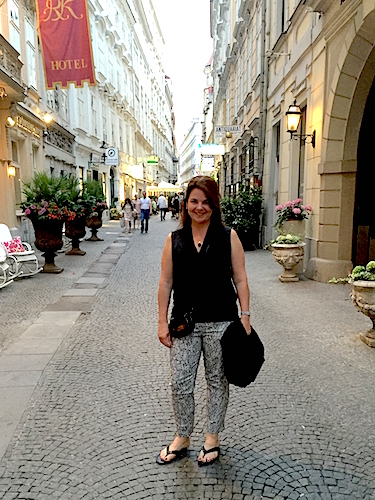 Staci in Vienna, Austria
Staci Kimball is an Executive Concierge and Luxury Travel Advisor with Glass Slipper Concierge®, a division of Sanborn's Travel Service. Staci specializes in selling Disney Destinations, including Adventures by Disney, Disney Cruise Line, Aulani, a Disney Resort and Spa in Hawaii, Walt Disney World® Resort, and Disneyland® Resort. As a Virtuoso Travel Advisor, Staci creates extraordinary vacations for discerning travelers seeking truly memorable experiences . . . wherever the destination may be!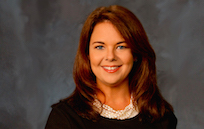 Comments
There are no comments for this entry yet. Be the first!
Leave a Comment