Title
Specialties
Virtuoso Certified Travel Advisor; Walt Disney World® Resort; Disney Cruise Line; Disneyland® Resort; Adventures by Disney®; National Geographic Expeditions; Aulani; Universal Orlando Resort™
My Story
A Disney-loving mother of 3, Staci's passion is planning magical vacations that are both fabulous and affordable. Staci began immersing herself in the world of Disney while preparing for her family's first trip to Walt Disney World® Resort many years ago. Countless visits later, the art of a well-planned Disney vacation continues to delight her. Staci knows how to experience Disney to the fullest, and she equips her clients with everything they need to make that happen.
Over the years, Staci has gathered a wealth of personal and professional travel expertise, particularly when it comes to Disney Destinations. She has embarked on guided tours with Adventures with Disney®, sailed with Disney Cruise Line, relaxed at Aulani, a Disney Resort & Spa in Hawaii, and frequented the Disney theme parks from coast to coast. Along the way, Staci has discovered an abundance of money-saving tips, time-saving tricks, and insider secrets that she happily shares with her clients.
Staci has always loved to travel, and she believes that the vacation planning process should be as exciting and stress-free as the vacation itself. As your Travel Advisor, Staci will handle every detail, customizing a seamless and meticulous itinerary so you can enjoy the anticipation of your perfectly-planned vacation. From the first consultation until the time she welcomes you home, Staci will be your personal concierge each step of the way, ensuring that all of your needs are met, and nothing has been left to chance. Staci's planning expertise can make the difference between an ordinary trip and an extraordinary vacation.

Through her affiliation with Sanborn's Travel Service, Staci has expanded her travel planning expertise to reach well beyond the world of Disney. She has conducted training and study tours in Europe, Hawaii, and the Caribbean to better assist her clients with all of their travel needs and bucket list vacations. By leveraging her connections as a Virtuoso Travel Advisor, Staci has access to an elite network of destination specialists, luxury hotels and resorts, tour operators, and distinguished cruise lines around the world. She works diligently with these travel partners to secure the unique opportunities, exclusive perks and privileges, and special amenities that you, her valued client, are entitled to. Wherever your destination may be, Staci will make your vacation dreams come true!

---
Testimonials for Staci Kimball
"Hi Staci! I've been meaning to write to you. We had the best trip. Your detailed itinerary was so amazing and we made sure to try to do everything you recommended! It could not have been planned out any better! The restaurants were perfect, the rides, the hotel. You were right about everything. We were so glad we listened to you about the concierge floor with the amenities that went along with it. It's hard to be back to reality after such a wonderful trip. Everything was so great. Thanks again! We will definitely refer you to anyone going to Disney and that's good to know that you offer other vacation services too."

Margo Rosenberg, New York, NY
"I would never plan another family trip again without the assistance of wonderful Staci! She was a pleasure to work with and I can't wait to work with her again!"

Genny Quarfoot, Carlsbad, CA
"We have had the pleasure of having Staci arrange multiple outstanding vacations for our family over the last several years, including multiple Disney vacations, Disney Cruise to Norway for our extended family, large family reunion trips, and most recently our cruise to Alaska. While we are very experienced travelers and comfortable making our own arrangements, we love use Staci to help arrange these vacations due to incredible service, attention to detail, and always spot on recommendations. She really gets to know what is important to our family and helps us achieve those goals yet at the best value to keep cost down. Just perfect every time!!!"

Thom Dahle, Clear Lake, MN
"Once again, Staci set up a wonderful, incredible and memorable experience for us on our Disney Cruise. I was especially grateful for her quick responses the day before and during travel, considering it was over a major holiday. I was very grateful for her assistance in helping me plan this dream trip to go on with my kids. It was one for the books that we will never, ever forget it. It meant a lot to me to be able to take them and all enjoy it- and Staci was a huge part of that. She is simply the best- thank you will never be enough!"

Shannon Kelly, Annapolis, MD
"Working with Staci was a dream. She helped us plan a family vacation to Disney World over the week of New Years Eve. She is so knowledgeable about travel and made several recommendations that made a huge difference in our trip. The itinerary we had helped us maximize our time at the parks while still getting to enjoy the shows and slower paced events that were offered. She took our kids needs into consideration while planning the trip and balanced it with what my husband and I were looking for as well. Everyone had such a great time on the trip and I know we couldn't have done it without Staci. I definitely recommend her to anyone that is looking to take a vacation. She makes planning a vacation an absolute breeze."

Jenna Falco, Pearland, TX
"Planning a Disney trip can be overwhelming. There are new rides being added, events, and more opportunities all the time and every smart traveler needs a Staci Kimball to help plan these moments. Staci leaves no detail unattended. She never assumes and always asks what your preferences are and makes sure that you understand all of the options. The icing on the cake is the app that organizes your entire itinerary and takes the stress out of any trip. We love working with Staci because we know that she will answer all of our questions before we know what to ask. She ensured that our transportation was top notch and helped us to plan a surprise cruise to end our trip. Our entire trip was enjoyable and seamless because of Staci and we are so grateful."

Julie Farber, North Potomac, MD
"Staci is a true expert in her field. Our trip to Disney was amazing and it was always a comfort to have her on our side helping us make the many decisions that were needed for the trip. We were supposed to go in 2020 but with COVID we needed to push out a year. Not an easy task to handle all the changes but our trip created so many great memories. Thank you Staci for all that you did to help us."

Michael Cole, Knoxville, TN
"Staci did an outstanding job planning our trip. Having never been to Disney World (at least not since I was 3), I was very overwhelmed reading about all the different parks and hotels. After researching, I settled on Glass Slipper Concierge and, specifically Staci, and I am sure glad I did! The rest of the planning process was a breeze with Staci's guidance. The itinerary that she put together for our family was absolutely perfect—you could tell that she actually listened and paid attention to what was important to us. I really appreciated Glass Slipper's proprietary app complete with a very detailed itinerary that I referenced what seemed like 50 times per day. Staci's planning took all of the worry and guess work out of the trip, and my wife and I were able to sit back, follow the itinerary and enjoy the trip knowing that Staci had everything planned and covered and we were going to have a great time. I can't thank you enough Staci! Great job!"

Clark Pulliam, Dallas, TX
"From the first day I spoke with Staci through the days before our vacation, she was a complete rock star. Not only did she do everything I expected, but she went above and beyond from the planning stages all the way through to the execution. Throughout the planning stage, she made it a priority to understand my family and our goals for this particular vacation (who we are, what we most wanted to gain from our vacation, what would we be most disappointed to miss, etc.). Her execution was perfect, down to the last detail. She's easy to talk to, compassionate, knowledgeable, detail-oriented, and maybe best of all: is excited to help her clients create memories they'll cherish forever. Thank you for everything, Staci! Can't wait to plan our next vacation with you!"

Tracy Ritts, Lodi, CA
"My family's 4th trip to Disney but my first time working with a Disney planner to coordinate everything. Saved me so much time and got us reservations for things we have never been able to get before. Her suggestions and years of experience made it very smooth for us. The technology aspect of the experience only made things even easier. There wasn't one aspect that we felt a ball was dropped, every detail was thought through and it was great to just show up and fully experience Disney. Will use again and would refer to anyone looking to simplify your planning process and an enjoyable experience."

Nick Mullet, Millersburg, OH
"Staci was fantastic to work with. Starting with her introductory "interview" to understand the goals and themes of our trip, all the way through to the custom itinerary she sent to us before leaving for Florida, Staci planned a customized trip that we could not have been happier with. She is highly skilled at navigating the nuances of "Disney planning" - from obtaining hard-to-get reservations to knowing the latest and greatest attractions to see and experience. I would highly recommend Staci to anyone planning a Disney trip in the future - she will take the time and care to ensure a great outcome for everyone involved - kids and parents alike!"

Stephen McArdle, Larchmont, NY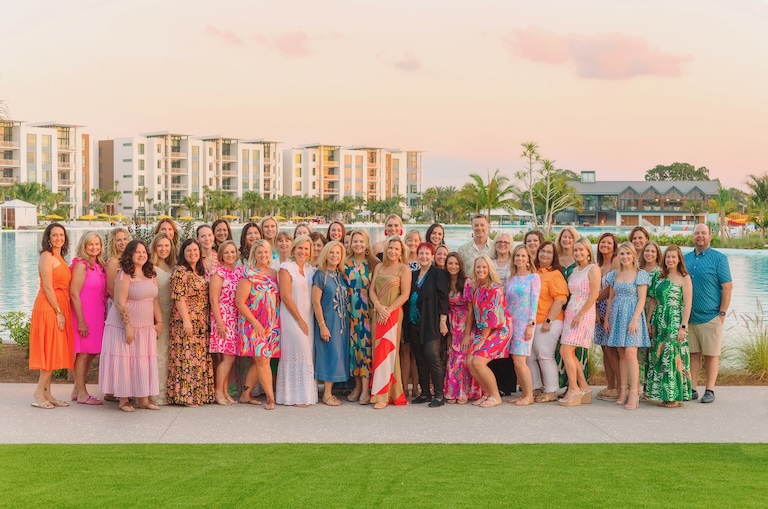 Interested in Joining Our Team?
Do you love Disney (and we mean love it!) and have an affinity for helping people plan unforgettable vacations along with a commitment to over-the-top customer service?
Apply Now