Blog
Disney's Flying Fish Cafe Soars to New Heights
Author: Cara Goldsbury | Comments: 2 | Categories: ADVENTURES BY DISNEY®, WALT DISNEY WORLD® , WALT DISNEY WORLD® DINING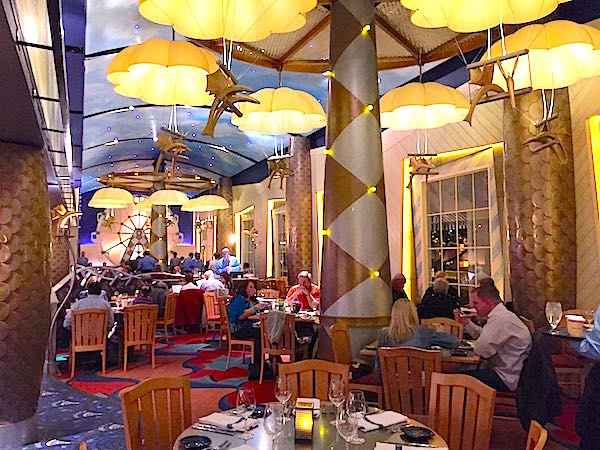 Parachuting flying fish, sparkling sea blue mosaic floors, cloud-painted ceilings, and golden fish scale pillars literally cry out "Great Seafood!" and great seafood you can certainly find at the lively Flying Fish Cafe located on Disney's Boardwalk Entertainment District. With friendly yet polished service and an award-winning global wine list strong on California vintages, along with an entire page of by-the-glass wine, this is one Disney restaurant that needs to be on your radar.
Start, or end, with the degustation of artisanal cheeses. My last go-round paired a brilliant mix of a soft and nutty Harbison by Jasper Hill Farm, an interestingly sliced (by means of a rotating knife) Tete de Moine, a Tuscan Pecorino, an ash-ripened Vermont Bonne Bouche, and an Echo Mountain Blue from Oregon with a sweet fig and almond torta, precious raisins on the vine, a currant and golden raisin compote, and, best of al,l a beautiful slice of honeycomb.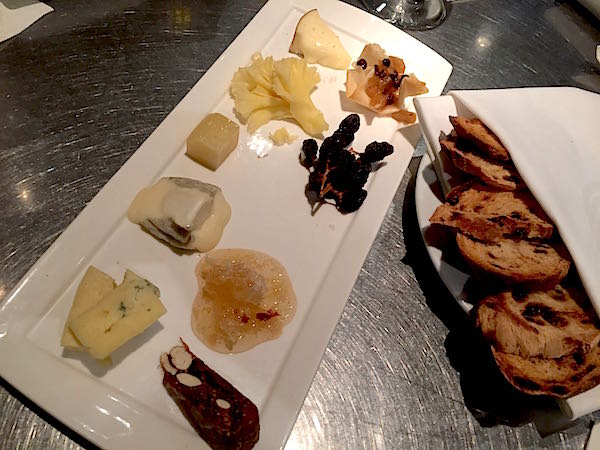 Or instead, a Caprese salad—fresh bufala mozzarella paired with an unbelievable assortment of tomatoes drizzled with a rich aged balsamic—would be a nice substitute.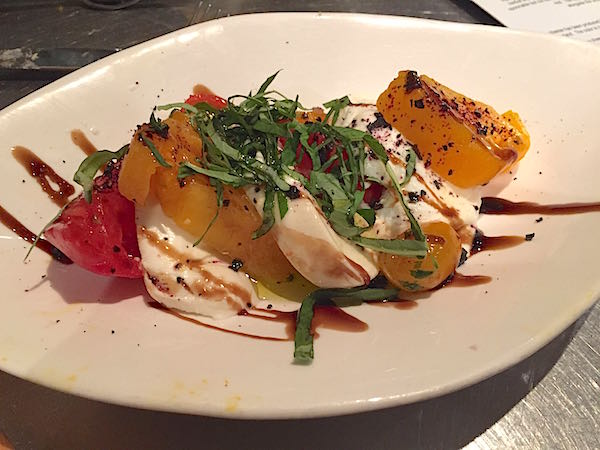 The menu will cause dizziness since it lists just about every ingredient for each dish; nevertheless, entrées here are quite exceptional. Luscious sustainable salmon is crispy skinned and perfectly pink married to a Vermouth, dill, caper, and butter emulsion for even more flavor with the added crunch of cucumbers from the Epcot Land Pavilion and a topping of Vidalia onions and confit fennel.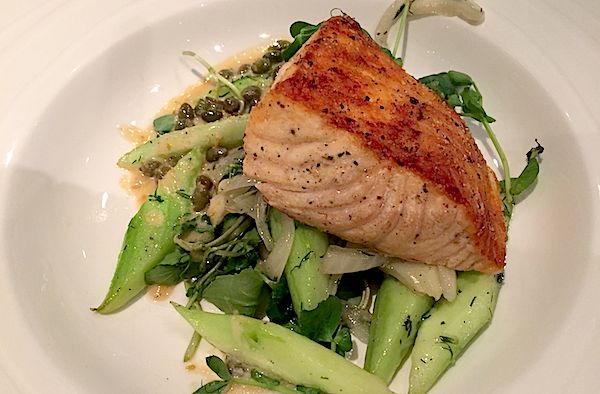 But as always it's mainly the ever-changing Chef's Thunder fish entrée that is what you should focus on. This time a Gulf Coast mahi-mahi was topped off by Key West shrimp lying on a layer of crisp-tender root vegetables (Brussels sprouts and potatoes), a smattering of oyster mushrooms, and garlicky greens, but what seals the deal is the dish's mustard butter emulsion sauce with a hint of truffle. Again a near-flawless dish.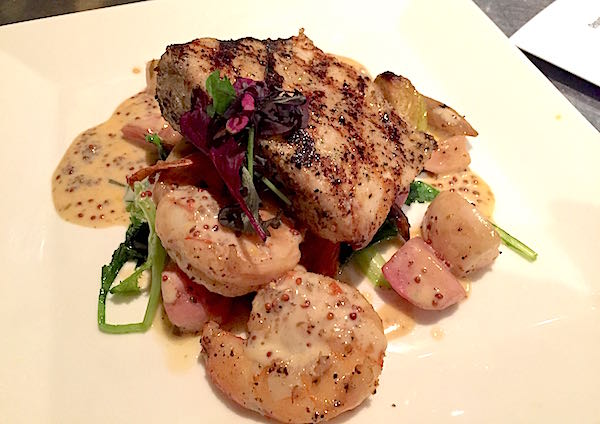 If its steak you're yearning for, the excellent New York strip served with sauce foyot (a version of Béarnaise sauce) is delectable. Or the signature potato-wrapped snapper is always a temptation on its bed of creamy leek fondue. The only problem here is the accompanying red-wine butter sauce, something, in my estimation, that doesn't go well with the delicate fish. Or, if you simply can't decide between the two, there's a duo platter on the menu with both the steak and the snapper!
A side of the restaurant's contemporary version of macaroni & cheese gets my vote for Disney's best, composed of fontina cheese mixed with tiny trofie pasta laced with leeks and truffles. Delish!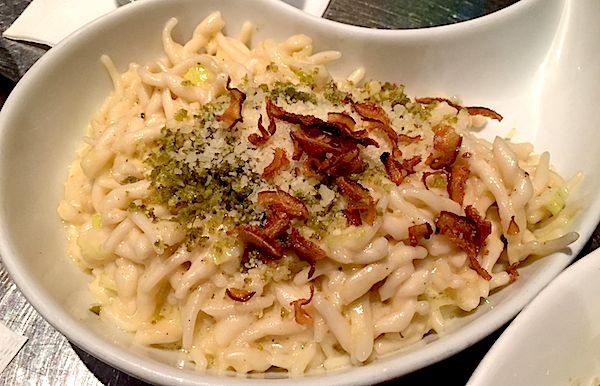 Dessert is best spent eating the caramelized banana napoleon with layers of crispy phyllo and banana mousse drizzled with crème caramel, fruit coulis, and a touch of bitter chocolate.
CARA'S TIP: If traveling solo ask to sit at the bar where there always seems to be a spirited group of diners ready and willing to chat.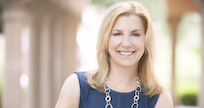 Cara Goldsbury is the author of The Luxury Guide to Disney Vacations and The Luxury Guide to Walt Disney World Resort. She is Chief Executive Concierge at Glass Slipper Concierge®, a travel agency specializing in Disney vacations, and has appeared as a leading Disney expert on two Travel Channel specials, Disney Splurge! and Disney Royalty. She has also been cited numerous times in national news articles, in such notable publications as Forbes Traveler, as an expert on the Walt Disney World® Resort.
Comments
Posted on Feb 20 by .(JavaScript must be enabled to view this email address):
Cara,
You are spot on with the Flying Fish Café. This place is a gem. we go every year
Excellent food all around and when you have a Great server who's name is "DeDe"
it brings the experience to another level.
Please ask for him the next time you go and tell him George, Annette and Julia from Chicago said hello.
Posted on Feb 20 by .(JavaScript must be enabled to view this email address):
Glad you agree George! It really so consistently great. Have you tried the Chef's Tasting Wine Dinner yet? Another great option. They serve it at the kitchen counter.
Leave a Comment