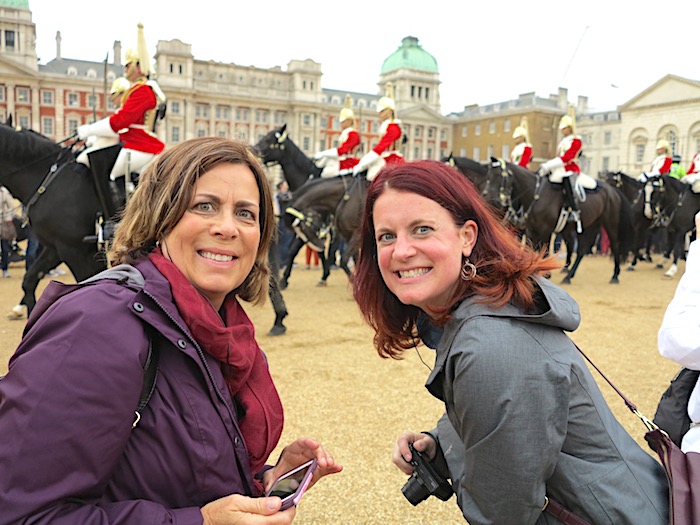 For more than fifteen years, Disney has offered guided tour itineraries across the globe. I followed along as a few of my colleagues visited places like Germany, Central Europe, and Italy through Adventures by Disney®. While I knew these trips were sure to be great, it wasn't until I experienced one myself that I completely understood the hype.
Adventures by Disney exceeded my expectations in every way.
With over 50 itineraries across six continents, there is a destination for everyone. Due to participating in the inaugural Disneyland® Paris Half Marathon Weekend, our choice was simple – England and France.
London, England
Prior to our departure, Adventures by Disney sent a few magical surprises: a backpack, travel document holder, luggage strap, and of course, a travel guide including packing and travel tips, a day-by-day itinerary, and emergency contact information for our family members. Before too long, it was time for our European Adventure!
Upon arrival in London, we were whisked away to our hotel in the lovely theater district. Our guides Damien and Kim, greeted us, welcoming us on our unforgettable adventure! That evening, we had a welcome dinner in our hotel, where we met our fellow adventurers.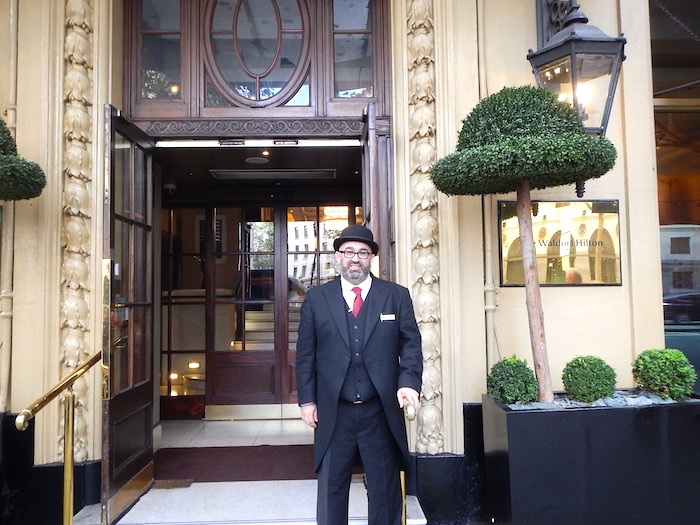 Disney Difference: An Adventures by Disney representative met us at the airport and handled the transportation to our hotel. And luggage is magically transported to our room, which was ready early!
During our first full day of touring, we walked out of the hotel to a beautiful red, vintage double-decker bus! We drove through London, making our way toward Westminster Abbey (but not before a photo in front of Big Ben).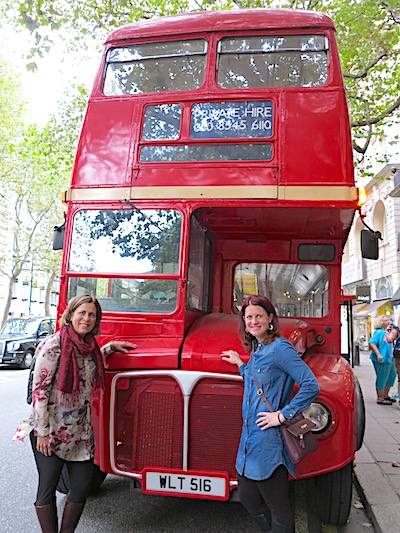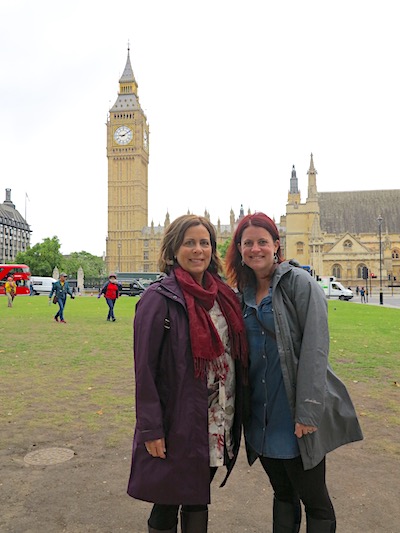 Our local guide, Steven, took us through the Abbey, offering fantastic information as we stood in awe. Next was the changing of the horse guard, followed by a walk through St. James Park, and photos in front of Buckingham Palace. We ate lunch at Simpson's restaurant, during which we had to solve a mystery with none other than Sherlock Holmes himself! Afterward, we walked along the Thames River before taking a high-speed RIB boat ride down the river, complete with James Bond music.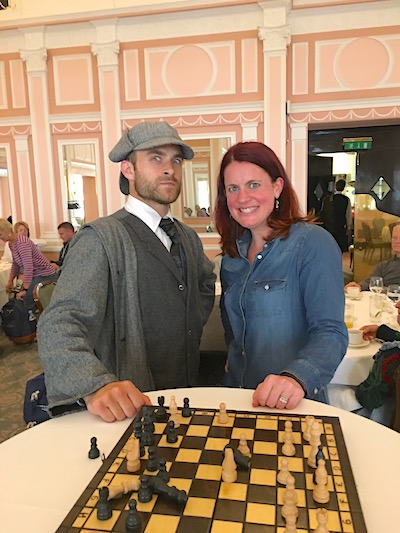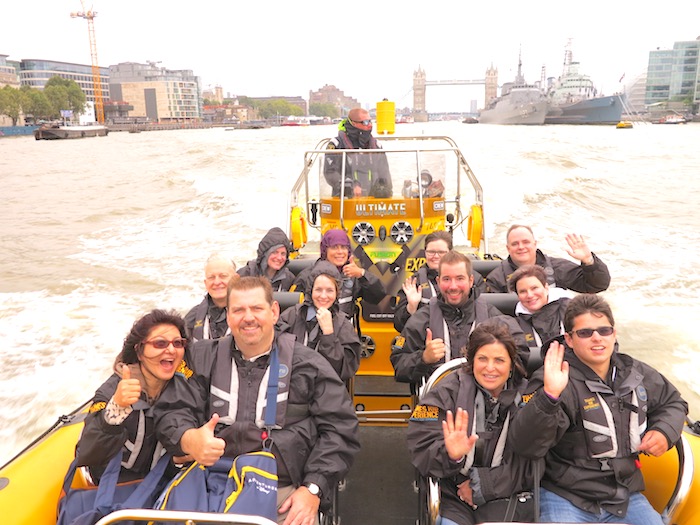 Disney Difference: Not once did we have to worry about tickets into the museums or landmarks, it was all taken care of for us, including exclusive front-of-the-line access!
Our next day included a trip outside of the city. As our motor coach made its way through London, Steven would point out various landmarks, along with exciting stories. Soon we pulled into Beaumont Estates, where we would take aim during an archery lesson.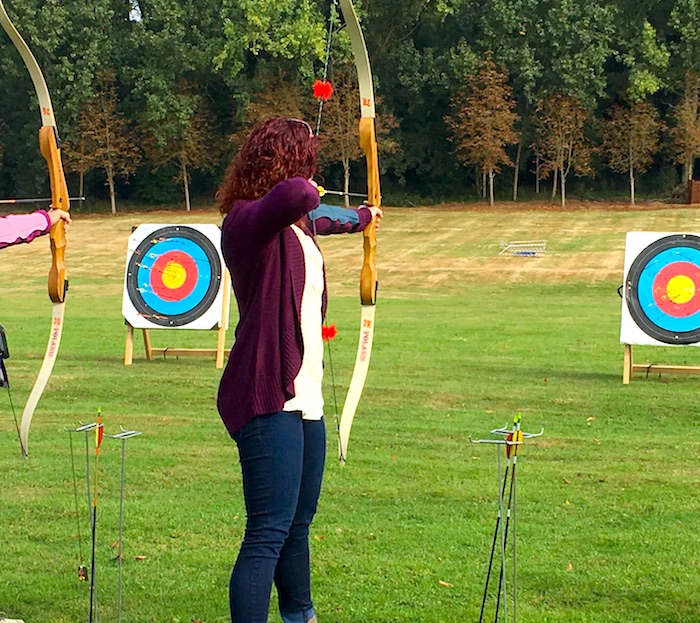 After channeling our inner Robin Hood, we headed to Windsor. We were given time on our own to get lunch and do a little shopping, followed by scone making, with afternoon tea, in the Guildhall. After enjoying our scrumptious creations, Steven guided us through Windsor Palace, a favorite of the Queen.
Disney Difference: During these trips, there are activities in which you are fully immersed in the culture. We would never have tried archery or made scones otherwise!
During our final full day in London, we began by visiting St. Paul's Cathedral. We then walked along Millennium Bridge, stopped by Shakespeare's Globe Theater, and drove across the Tower Bridge. Steven joined us again for a guided tour through the Tower of London. We learned about the ravens, met a Yeoman Warder (also known as a Beefeater), and even got to see the Crown Jewels! After lunch, we had time on our own, so many of us went on the London Eye. The views were spectacular!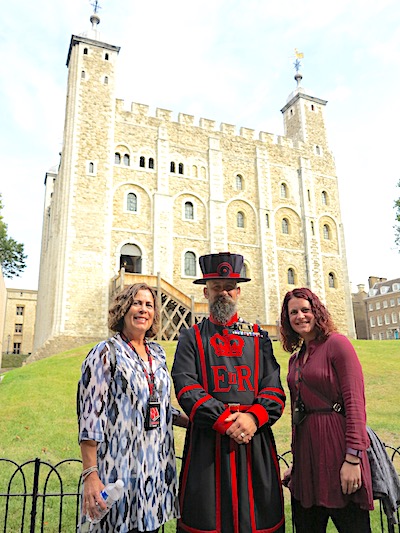 Disney Difference: Our local guide offered insight into the culture and history, and told the stories in ways we are sure to remember!
Stay tuned as our trip takes us to the City of Lights – Paris!
The Disney difference is alive and well throughout an Adventures by Disney vacation. But don't just take my word for it, let's adventure together!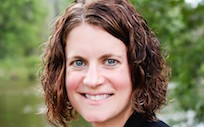 Megan Biller designs dream vacations aboard Disney Cruise Line and through Adventures by Disney® as a travel planner with Glass Slipper Concierge®. She is the author of Magical Miles: The Runners Guide to Walt Disney World, a tour book devoted to planning your runDisney vacation.