Specialties
Walt Disney World® Resort; Disney Cruise Line; Aulani; runDisney
My Story
Some of Patricia's fondest childhood memories were made at the Walt Disney World Resort with her family. Today her goal is to create the same magical memories for her own family and her family of clients. Patricia has experienced Walt Disney World at every stage of her life, from a young child to a parent of teens. With her extensive knowledge of the Disney parks and meticulous organization skills, Patricia's goal is to take away the stress and overwhelm and turn you into a believer of the magic! Whether you're a rope drop to park-closer, a reluctant first-timer, or one who enjoys an afternoon luxuriating at your resort, Patricia understands and has experienced all the ways of "doing Disney" and will help make sure your vacation plans are perfectly crafted for you!
Patricia comes to the travel industry with a background in running her own Concierge Health & Wellness business. She prides herself on her attention to detail, business acumen, and ability to cultivate lifelong relationships with her clients, allowing her to provide the highest level of service. Patricia understands your time is precious and limited and will make it her mission to maximize your vacation experience.
Patricia and her family live in Milwaukee, WI, and enjoy traveling extensively both as Disney Vacation Club members and worldwide. Through her affiliation with Sanborn's Travel Service, Patricia also enjoys planning vacations beyond Disney destinations. Drawing from both her personal travel experience and network of relationships with elite destinations specialists around the globe, she will meticulously craft a custom-designed vacation that will take your trip from ordinary to extraordinary.
---
Testimonials for Patricia Fasciotti
"Hi Patty - I want to thank you for all the amazing arrangements you made and planning our magnificent Disney Trip! It was mind-bogglingly wonderful! We had such an amazing time, thank you for all that you did!"

Sue V., Milwaukee, WI
"We had the best spring break trip to South Carolina, thank you for making it happen! From the Disney resort to the amazing Virtuoso accommodations in Sea Pines, nothing can beat the hospitality we received. Thank you for making all of this happen on a last minute pivot! You didn't leave out a single detail and made everything so easy for us. You're the best, you have clients for life!"

Ali B., Cedarburg, WI
"Thank you Patty for arranging our wonderful spring break trip to Arizona! It was the perfect combination of relaxation and adventure suggesting the combination of the Phoenician in Scottsdale and staying at the footsteps of Grand Canyon. From arranging my parents to be in the room next door at The Grand Hotel to the last minute help finding a waterpark the whole trip went so smoothly! I am super excited for our Thanksgiving trip to Disney that you are planning and have already made so easy for us! I know it'll be amazing with you taking charge!"

Kelli P., Brookfield, WI
"Patty arranged an unforgettable first family ski trip for us to Beaver Creek, Co. The location of the hotel was perfect. The VIP treatment during our stay from the upgraded room view to the delicious complimentary buffet breakfast to the surprise bubbly and chocolate truffles awaiting our exhausted return, this was a five star trip that will be tough to beat! Now that my kids are addicted we can't wait to book a few more ski trips with you next year. Thanks so much for all of your help Patty!"

Kathleen M., Brookfield, WI
"When Covid canceled our March 2020 Disneyworld/Universal trip, putting to waste all those months of planning, I jumped at the opportunity to have someone else plan the rebooked trip for me. Patty listened to our ideas and requests and took them all and spun together an amazing itinerary made even better by all her suggestions along the way. She planned our days at the parks (a huge time saver and also eliminated the need for me to do all the research to figure out the 'best' way around the parks!) She recommended places to have snacks and meals, and made dinner reservations for us as well. All of her recommendations were spot on! I printed out her daily tip sheets and we carried that through the park to remind us of what to do and where to head next to maximize our time. The result was us being able to hit all of the desired rides (some multiple times!) and avoid long waits. I truly don't think we waited longer than 45 minutes for anything in any park thanks to her tips and tricks! Her hotel recommendations were spot on as well. Going forward, we'll have Patty plan all of our trips as it took the work and stress and worry out of my hands and made the trip what it truly should be – a VACATION."

Angela S., Vienna, VA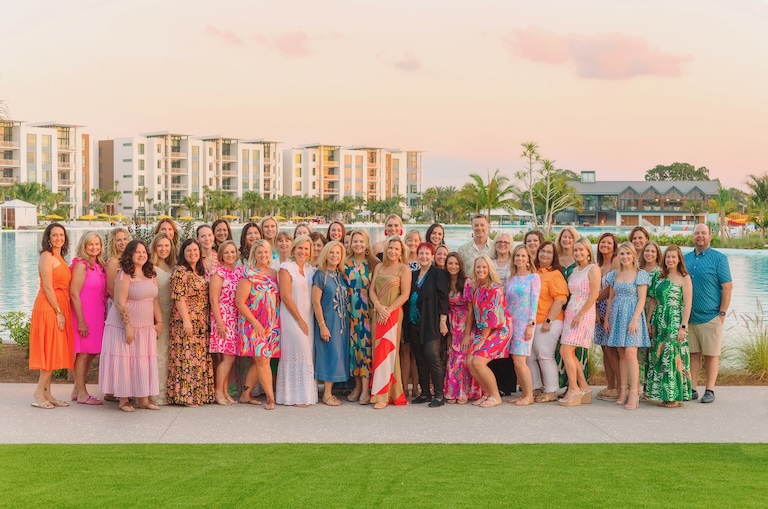 Interested in Joining Our Team?
Do you love Disney (and we mean love it!) and have an affinity for helping people plan unforgettable vacations along with a commitment to over-the-top customer service?
Apply Now