Title
Specialties
Walt Disney World® Resort; Disney Cruise Line; Disneyland® Resort; Aulani; Universal Orlando Resort™
My Story
Even as a small child, most things in Nicole's life revolved around Disney. That hasn't changed, but the magic has taken on a whole new dimension. Having visited Walt Disney World® Resort at least once a year, sometimes multiple times in a year, she has discovered the little secrets and details that make up a magical and memorable vacation. Just as important, she possesses a natural desire to be part of making others' dreams come true over and over again.
As your personal travel planner, Nicole will make your Disney vacation unforgettable! With over nine years of experience as a Disney travel specialist, she delights in sharing her extensive knowledge of all that Disney has to offer and in making your trip worry and hassle-free. The goal is always a unique vacation experience with first-class customer service guaranteed.
Planning your magical vacation can be something as simple as theme park tickets only, or as complex as arranging every aspect of your vacation. You'll have a detailed itinerary, which may include special events and all of your dining reservations, depending upon your needs. Ever aware that each family is unique, Nicole's services never come off as "one size fits all." She is always just an email or phone call away at ANY time for ANY question or concern. In short: Nicole works for you and will make sure your trip is extraordinary and tailored-made!
---
Testimonials for Nicole Spero
"I wanted to take a moment and extend a thank you for the exceptional service that Nicole Spero offered to me and my family for a recent Disney Vacation. Her service from the first introductory phone call to the last phone call was exceptional. Nicole's service was without any doubt the best complete service I have ever experienced. Nicole essentially offered Concierge Services on any issue, at any time, with a friendly welcome and immediate action. The treatment my wife and I experienced from Nicole was Gold Standard- services expected for a traveling dignitary not a vacationing family- Hats off to Nicole-."

Steve Goerlich, Cream Ridge, NJ
"You will never meet and work with a better Disney Specialist than Nicole (Spero)!! Her attention to detail is AMAZING, and she gives you the most personalized Disney experience that you cannot get anywhere else. She works hard to ensure you get the best prices, reservations where you want to eat, and those ever important attractions. She is available 24-7… responds almost immediately to every email, phone call, and text. She even contacts you daily on vacation to make sure everything is going as planned and to see if you have any questions or concerns. Nicole knows all parks, restaurants, etc. inside and out. I think she knows more about Disney than many people who work there including attractions that will be closing and things to skip on certain days. I feel like I am traveling with Walt himself when I am there. I have used her twice in 18 months and cannot express my gratitude enough. We have had two very different, very personalized itineraries that worked perfectly. If you use her, I PROMISE you won't be disappointed. Nicole truly will make this the most magical and memorable vacation you will ever take."

Pam Smallpage, Metaire, LA
"My family, my brother's family, and my parents (eleven total!) this past Saturday completed a 7 night cruise aboard the Disney Fantasy. I would like to give a small amount of feedback concerning our experience with Glass Slipper, and specifically Ms. Nicole Spero.

Nicole has been FANTASTIC! She walked us through every step of the process from Palo reservations, Port Adventures, Orlando Hyatt reservations, and many more. My wife probably asked her over a hundred questions! She answered each one patiently and clearly, and gave us many helpful tips along the way. All of our forms and paperwork were ready to go. The reservation process was simple.

We had a great cruise. Nicole called a few days before to check in and make sure all was in order. She called again yesterday to make sure everything went well. From leaving our doorstep to returning home, every part of the trip went as smoothly as I could have expected. I asked my wife and my mother if they had any specific feedback for Nicole, and they both said "just tell her everything went GREAT".

In the past, my wife and I have planned Disney World trips on our own by buying one of the "unofficial" guides. However, for our next trip (maybe next year?), we will definitely use Nicole. I will refer Nicole to everyone I possibly can if I even think I hear the word "Disney."

We have made memories that will last a lifetime!"

Derrick Dunn, Derrick Dunn
"It has been two weeks since the most magical vacation ever. I still can't believe how much fun we had and how perfectly planned it was. I had the pleasure of working with Nicole Spero. She is incredible. I had never been to Disney and she made me an "expert" by the time I got there. She walked me through everything from resorts, to food, to rides, and anything that my boys would like. She checked in on us during vacation just to see if we needed anything. It became a normal part of my week to check in with Nicole, make a quick payment, and ask a random Disney question. She was so good to us, I've already inquired about a cruise! So, Nicole, thank you from the bottom of our hearts for making this a trip that we will never forget. Can't wait to plan the next adventure with you!"

Mandy Norcross, Saugerties, NY
"I could not be happier that I used the services of Nicole Spero at Glass Slipper Concierge. She made every part of our trip seamless! Nicole gave me great advice about hotels, dining options, and fun extras that made the vacation truly magical. She put together an awesome itinerary with tons of great tips. I've done Disney without her help, but I'll always call her from here on out. Thanks so much Nicole!"

Susan Anderson, Oak Park, IL
"Well, now that I am over my Disney hangover… it was amazing. The crowds were a bit much but thanks to your early morning tips we were able to get in the biggest and best rides before 10 am. Your expertise allowed me to take full advantage of the Disney Genie system. Also having a designated driver pick us up to and from our resort allowed us to enjoy more of our vacation. You are an absolute asset to our Disney experience!! Thank you."

Lisa, Greensboro NC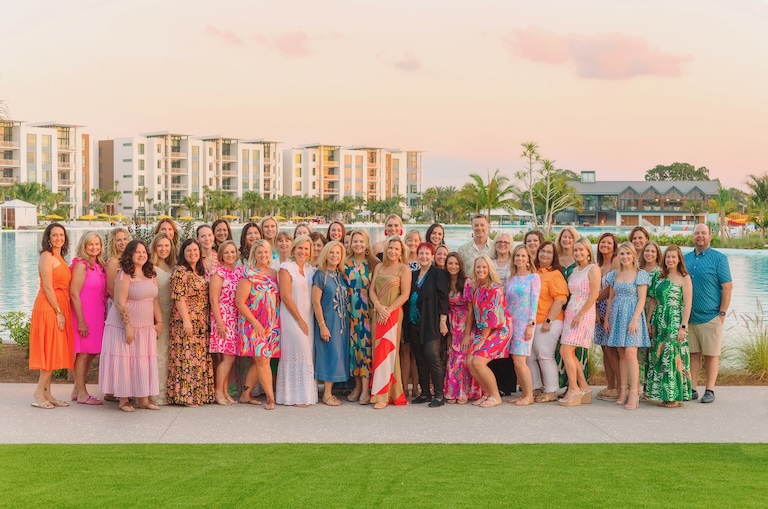 Interested in Joining Our Team?
Do you love Disney (and we mean love it!) and have an affinity for helping people plan unforgettable vacations along with a commitment to over-the-top customer service?
Apply Now