Title
Specialties
Walt Disney World® Resort; Disneyland® Resort; Disney Cruise Line; AULANI; runDisney; Universal Orlando Resort™
My Story
Laura can't remember a time when she didn't love all things Disney! Growing up with frequent trips to Walt Disney World® Resort, she learned that magic and wonder existed in the most surprising places if you only knew where to look. She continued her visits to the parks throughout her early adult years and now as a mother of three. Nothing makes her happier than to be at her favorite place with her favorite people and watch them experience the magic of Disney! She travels to Disney parks several times a year, loves sailing on Disney Cruises Line, and has even participated in several runDisney events.
Laura has been the go-to expert for all things Disney in her social circles for many years and delights in planning trips of all shapes and sizes. With her background in hospitality and Guest Experience, she loves curating a trip for her clients that is specialized and personal. Laura builds relationships with her clients by listening to their wants and needs, discussing options, and designing a trip that reflects their priorities. She firmly believes that magic is in the details, and that's what sets her client's trips apart.
As a graduate of Disney's College of Knowledge and with multiple trips to the parks each year, Laura stays up to date with the latest and greatest at Disney! From the best place to catch the Festival of Fantasy Parade to the best tips and tricks to minimize your wait time and maximize your fun, Laura creates customized itineraries to help her clients make the most of their time at the parks! She loves sharing her knowledge with her clients and their families!
Laura loves being a part of the Glass Slipper Concierge® team and truly believes that the service we provide our clients is what keeps them coming back for more! She can't wait to help you design your next Disney vacation!
---
Testimonials for Laura Barlow
"Where should I start?! It was my first time traveling with my family to Disney World & of course I was so nervous & excited but didn't know what to expect! Laura was so patient & so understanding with me! And always gave me great tips on what to expect & what to do before & during our trip! She was just a text or a phone call away! And I loved how she would get back to me right away. We had the most magical time ever all thanks to her! I will definitely be contacting her for our next trip! Thank you Laura! This magical trip wouldn't have been what it was without your awesome help!!"

Aileen R., San Antonio, TX
"Laura went above and beyond for us on our Disneworld trip! She made the perfect times for our dining reservations - we were overjoyed with watching the fireworks at Ohana during dinner. Her itinerary was very detailed and we always felt thoroughly informed on everything Disney. We will definitely use her again and again!"

Katie K., Ivins, UT
"Laura was SOOOO helpful! We went to WDW kind of quick and could not have done it without her! From arranging the tickets, reserving the parks, reserving the Magical Express (such a loss!) getting the on property hotel, and syncing all our tickets! I am usually the one setting everything up and it was so very nice not to have to do that! I must say I do not love the lack of spontaneity in going to Disney now with all the reservations and technology! But Laura made it so simple we literally had to just show up! She even sent an email with TONS of tips on what to do when, and where to eat, and especially a guide to the best SNACKS!! It was a short trip (3 days total) but the bulk was done in 2 days with our daughter and son-in-law who invited us. It was whirlwind but we did everything we wanted to do! THANK YOU LAURA, YOU WERE A LIFESAVER!!! Would definitely use her again!"

Danielle C., Gilbert, AZ
"Laura Barlow was AMAZING! She is responsive, attentive, and thorough. She made us look like pros during our first time at Disney. We are grateful for the care and professionalism she provided."

Tiffany R., Fredericksburg, VA
"There really is no other way to do Disney than through Laura Barlow at Glass Slipper Concierge! Laura Barlow was amazing! She provided us with all the exclusive tips and tricks BEFORE we went so that we could plan our trip just perfectly! She knew things my parents didn't even know (and they've been season pass holders for 10+ years!)! Seriously she gave us all the inside information needed to help our trip to Disney go as smoothly and stress-free as possible!...Thanks Laura! You made our trip unforgettable! "

Ashley E., Argyle, TX
"Laura Barlow was absolutely fantastic to work with and made our trip to Disneyland one of the best ones ever. She planned EVERYTHING out which allowed us to do everything we wanted to do at Disneyland and so much more. From getting us a great table at the Character breakfast to giving us a detailed itinerary which helped us know where to go to getting us into THE hottest event of the season (Oogie Boogie Bash) everything was taken care of.

Disney is a place where if you don't have a plan, you waste a lot of time. With Laura, we were able to do and see so much because she planned every detail out for us. Because everything was planned so well for us, we still had plenty of downtime for the little guy. She is a delight to work with and I couldn't recommend her highly enough for anyone looking to experience Disney to fullest with their kids."

David F., Seattle, WA
"I have used Laura Barlow as my travel advisor for two Disney trips and she is a truly a Disney ninja! We challenged ourselves to never wait more than 25 minutes for any single ride and with her tips, tricks and planning, we never did!

Laura took care of all my hotel and dining reservations, provided us detailed touring plans and saved me so much stress when I was traveling with my 4 young kids! She took away the headache of worrying about the details so we could focus on the fun! It was a magical trip and I would recommend Laura to anyone!"

Lanni R., Bartonville, TX
"Wow! We just got back from our trip to Walt Disney World and it was amazing! We worked with Laura Barlow to plan a surprise trip for our children and it was the absolute best. Laura took all the stress of planning out of the equation! She listened to our hopes for this trip and our worries…because sometimes it's overwhelming! She took care of every detail…hotel accommodations, dining reservations, and even a detailed itinerary with tips and tricks to make our day as easy and stress-free as possible. Her attention to detail and love of Disney took our vacation to the next level! I recommend her to ANYONE thinking of taking a Disney trip! You'll be in the very best of hands! We can't wait for our next trip!"

Meg B., Atlanta, GA
"I wanted to take my son on a special trip for his tenth birthday. I knew Disney would be memorable, but I was so intimidated by it. Laura took care of EVERYTHING!!! I didn't have to worry about accommodations, park tickets, or even how to hit all the best rides. Laura gave me detailed, step-by-step instructions that made for a perfect mother/son trip!"

Lindy L., Southlake, TX
"We had been to Disney World a few times before, but working with Laura allowed our experience to be taken to the next level. Laura gave us so many tips, tricks and insights. It literally felt like we just had to show up. She also gave us such great information and then would let us make the decisions based on what was best for our family. The kicker is she told us exactly how to get onto the brand new Star Wars ride which was phenomenal and we never would have gotten on it without her coaching. If you are going to invest on a Disney trip we recommend Laura so you can relax and get the most out of your experience!"

Tricia W., Argyle, TX
"I've been to Disneyland many, many times and consider myself an expert! But this past trip that we booked with Laura Barlow was my favorite by far. She knew so many tricks and secrets to really make our visit special. The best example of this was our night at Fantasmic. That's been my favorite show for ever and Laura was able to secure us front row seating through our dining reservations! I had no idea!! I still can't get over being that close! She made our trip so stress free and easy, I highly recommend using her for your next Disney adventure!!"

Ashlee P., Ludington, MI
"Laura is amazingly detailed and knowledgeable. We consider ourselves lifelong customers! We will 100% use her again. Consider yourself our concierge for life! We do not regret a single cent we spent. We are already looking forward to our next Disney vacation, we just can't decide if we want to do a cruise or a Castle!"

Josh P., New Braunfels, TX
"I am extremely pleased with the services offered by Laura Barlow through the vacation planning process. The itinerary and touring plans that she created for our group was the perfect amount of information and I referred to it several times each day. This was a group of four families, eight adults and six children ages from 71 to 5. One of our biggest concerns was would we be able to stay together and still do everything we wanted. With the help of Laura, our travel agent educating us on how to use the Genie app effectively and her recommendations on how to get the most out of both Disneyland and California Adventure, we were able to accomplish that. We had the best family vacation and will definitely use Laura again."

Alan McGaw Jr., Maple Valley, WA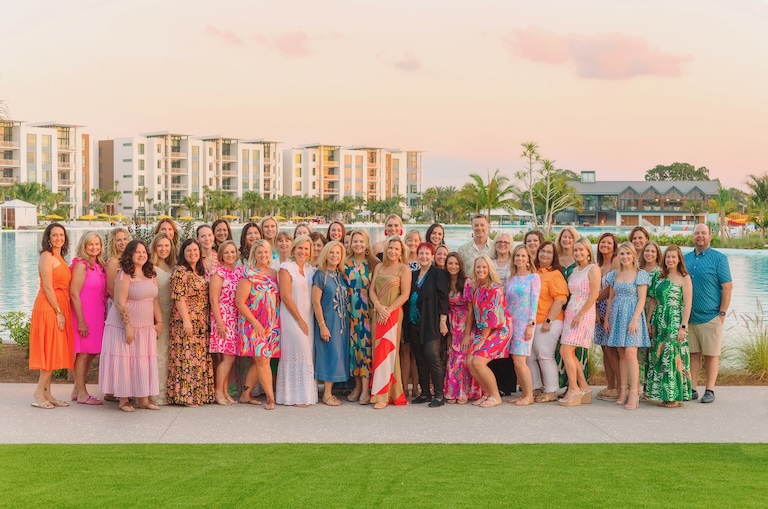 Interested in Joining Our Team?
Do you love Disney (and we mean love it!) and have an affinity for helping people plan unforgettable vacations along with a commitment to over-the-top customer service?
Apply Now