When the exciting invitation came for a media preview of Star Wars: Galaxy's Edge at Disneyland® Resort, I knew there was no way I would pass on it. And also knew that I would not be able to resist staying over a few days to enjoy one of the most gorgeous areas of the U.S., the Orange County beaches. This meant I would not only be able to enjoy one of my very favorite places—the Disneyland theme parks and Disneyland® Hotel—but also head to the SoCal coast for a stay at one of the most stunning hotels around, The Ritz Carlton, Laguna Niguel. It proved to be the perfect mix of fun and sun, fantasy world and real world, adrenaline rush and total relaxation.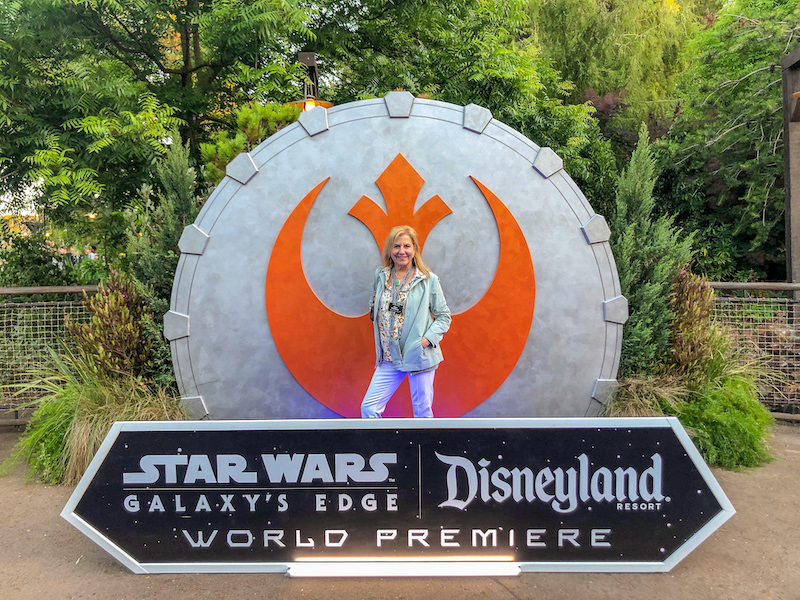 Star Wars: Galaxy's Edge at Disneyland Resort
First off, the most anticipated new land opening in Disney Parks history, Star Wars: Galaxy's Edge. There was so much hype surrounding it that I honestly didn't know what to expect, but I have to say it is nothing short of incredible! Guests are entirely immersed in the world of Star Wars™, even without the main attraction, Star Wars: Rise of the Resistance, not quite open yet; however, rest assured there is plenty to see and do right now.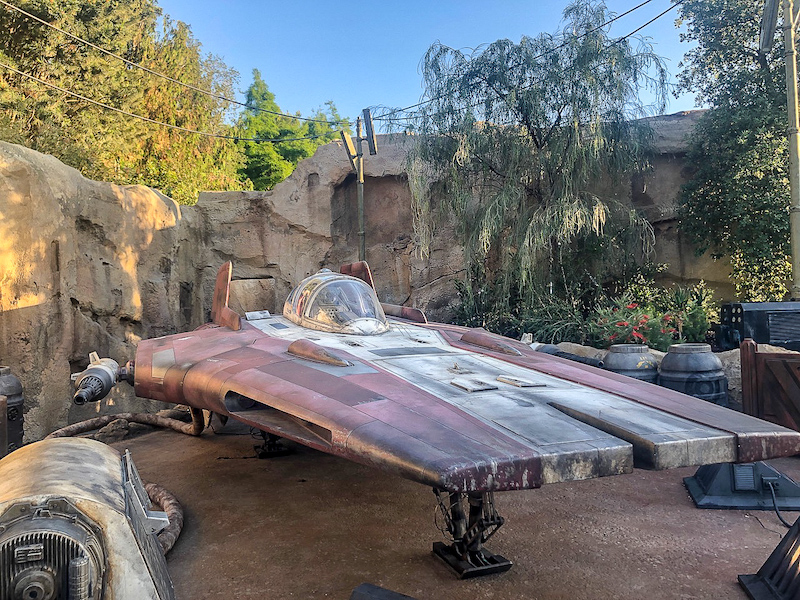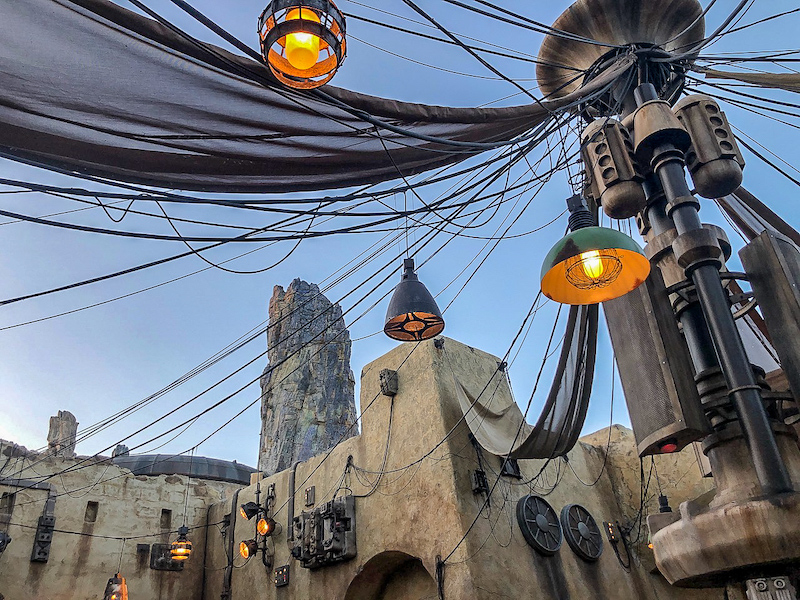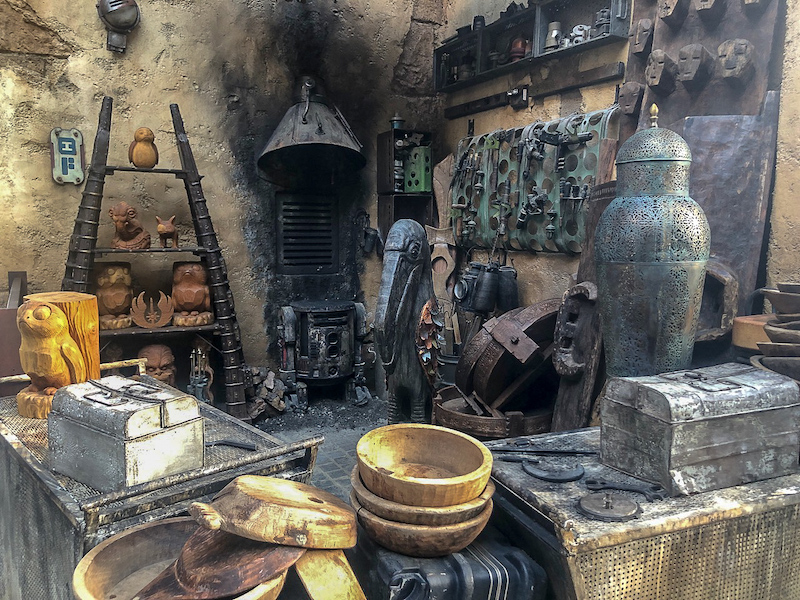 Wander to your heart's content on the remote planet of Batuu, a landscape of towering mountains and weathered buildings, smugglers, and bounty hunters, all surrounded by the sights, the sounds, the smells, and taste of Black Spire Outpost.
Millennium Falcon: Smuggler's Run
I guarantee you'll be struck speechless and at a standstill as you round the corner and come to a screeching halt at the first glimpse of the most magnificent attraction setting yet in a Disney park, the massive Millennium Falcon: Smuggler's Run, particularly mind-boggling after dark. It truly is a sight to behold!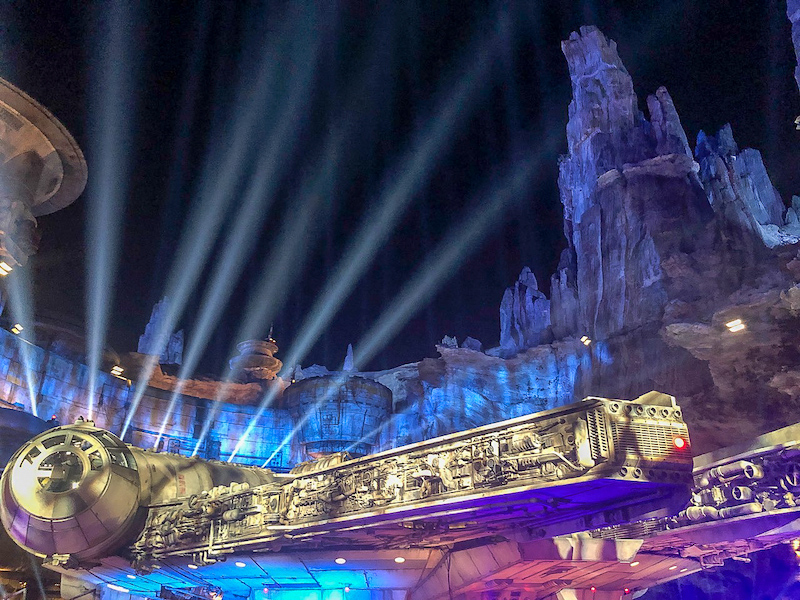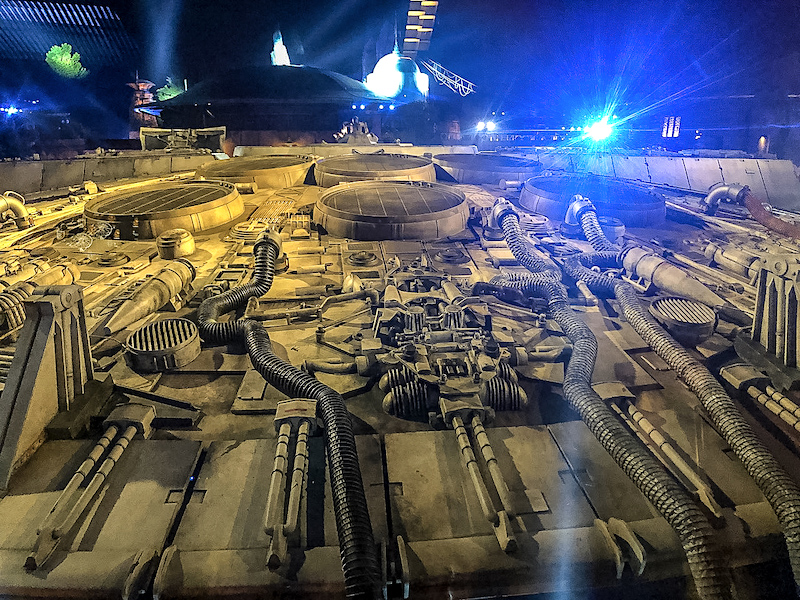 Thankfully the long queue is entertaining as the line wraps around the 110-foot Millennium Falcon itself then through the "warehouse", with the best views of the Falcon at the end of the line from above, again particularly awesome at night. After being prepped with the background story of your flight from Hondo Ohnaka, one of Disney's best Audio-Animatronic figures ever, you'll enter The Chess Room, the perfect place to snap a few photos.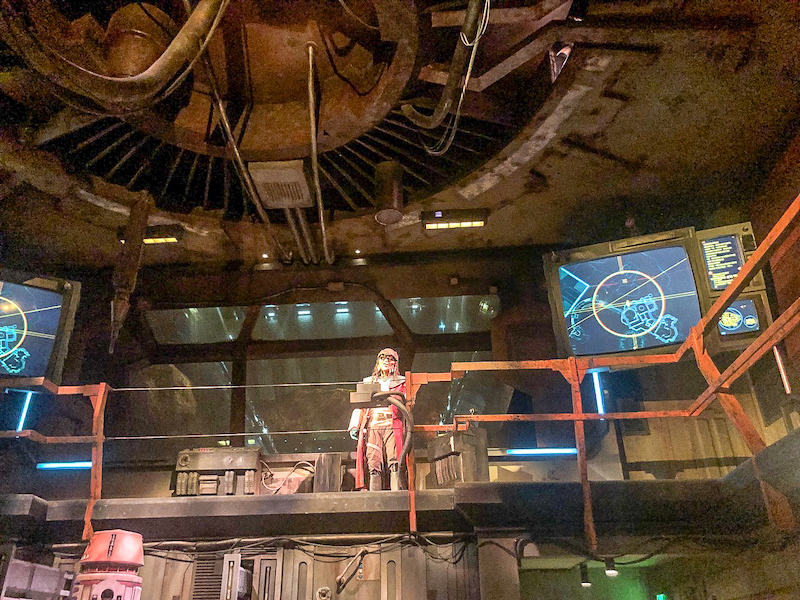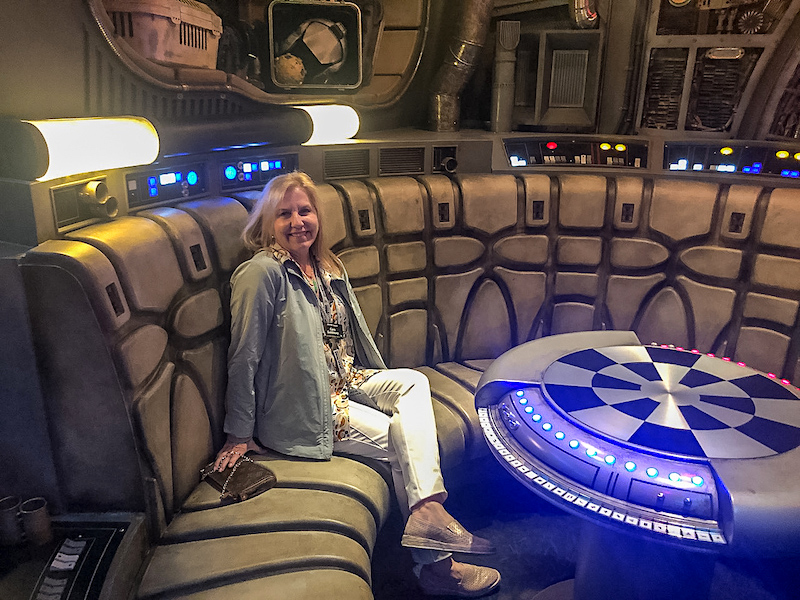 Here you'll receive your assignment: pilot, gunner, or engineer (two of each per flight for a total of 6 riders). If you are in luck, you'll be chosen as a pilot, which allows a seat at the front of the cockpit with an unobstructed view. I was an engineer at the rear and was distracted by those sitting in front of me. While the ride is more like a super hyped-up, interactive version of Star Tours, the setting is magnificent and well worth any wait you may have to experience.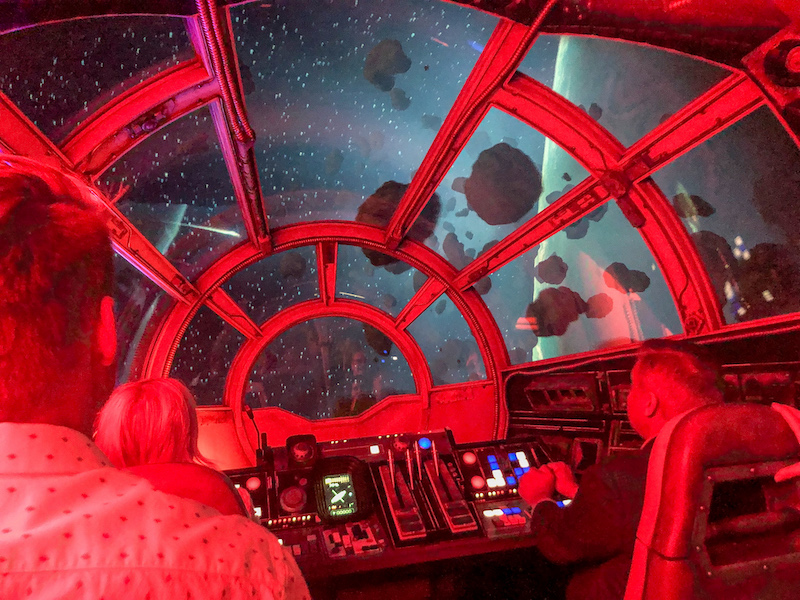 Galaxy's Edge Dining
Then take in the most happening place around, Oga's Cantina (kids are welcome) for wild cocktails and musical entertainment courtesy of droid DJ R-3X, a former Starspeeder 3000 pilot. Or when hunger strikes, pick up some tasty local grub at Docking Bay 7 Food and Cargo including Felucian Garden Spread, a plant-based kefta on a bed of hummus served with pita; Fried Endorian Tip-yi, translated as crispy chicken, potato mash, and herb gravy; and Smoked Kaadu Ribs with a blueberry corn muffin and cabbage slaw.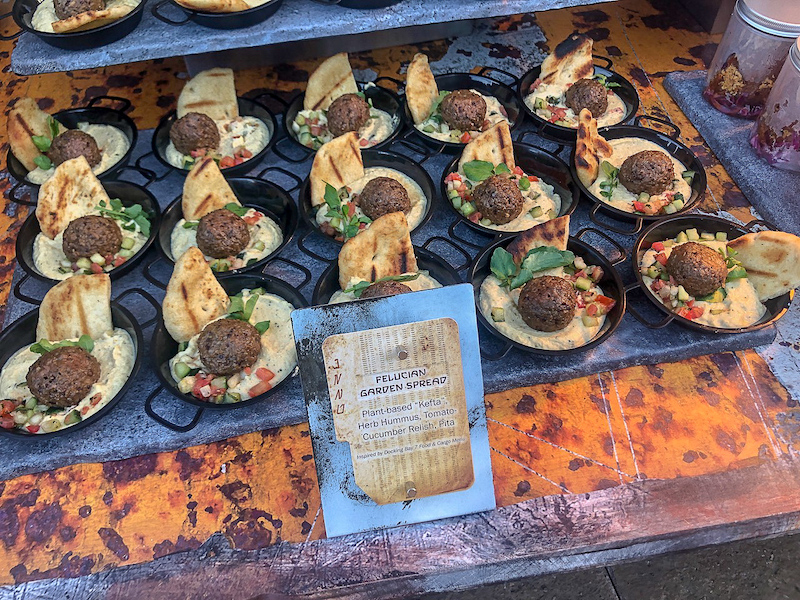 And do visit the Milk Stand to try the non-dairy blue (Luke Skywalker's drink of choice) or green milk, frosty concoctions with a delicious coconutty taste. At Kat Saka's Kettle are Outpost Mix (popcorn) and specialty Batuuan Coke bottles.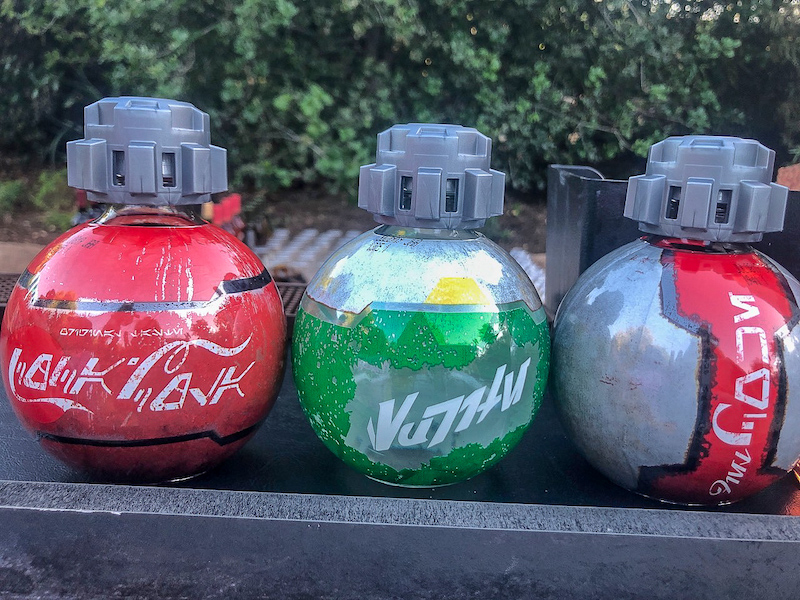 Galaxy's Edge Shopping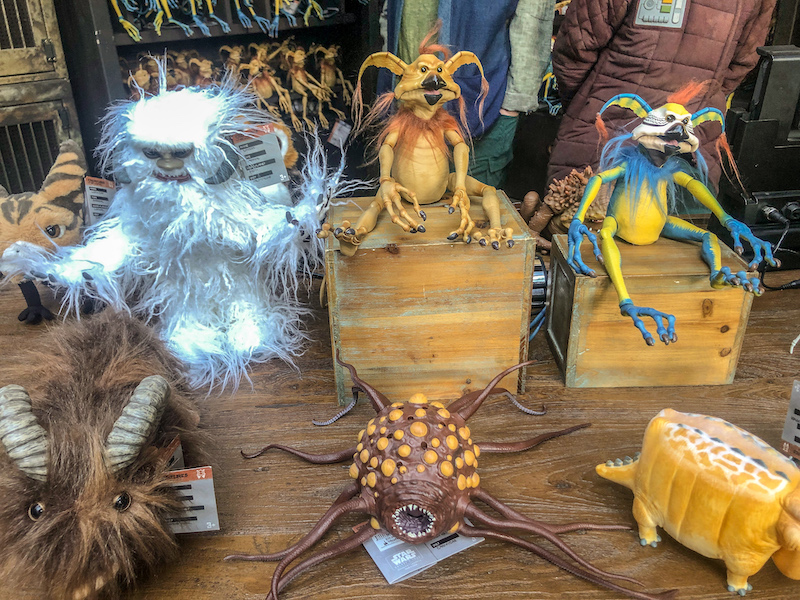 If you want to bring home an unusual gift or two head to the Creature Stall to adopt creatures of the galaxy such as porgs, tauntauns, wampas, and more.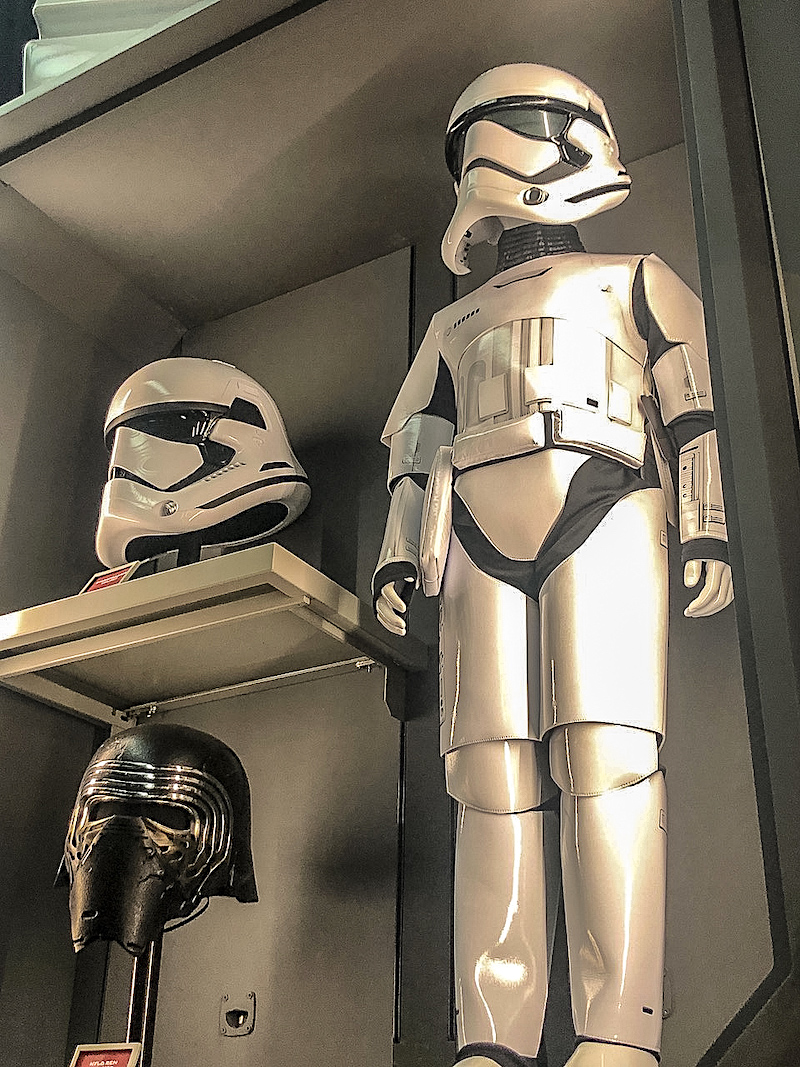 Die-hard Star Wars fans will not want to miss the gear at First Order Cargo, where the biggest splurge is $6,600 Stormtrooper armor! Of course, you must visit Savi's Workshop to build your custom lightsaber to the tune of $200, or Droid Depot for your customized droid starting at $100.
Needless to say, it's one exciting summer at Disneyland Resort, and there is still availability to plan a trip to see this one-of-a-kind attraction.
The Ritz Carlton, Laguna Niguel
So, my wild adventure did come to an end, and I was ready for relaxation and ocean vistas. Nothing screams luxury more than a Ritz Carlton, and the property at Laguna Niguel does represent the brand well. The hotel's setting, perched above a bluff overlooking the Pacific surrounded by sea views and contemporary touches, makes for the perfect vacation, with the bonus of legendary Ritz Carlton Gold Standard service.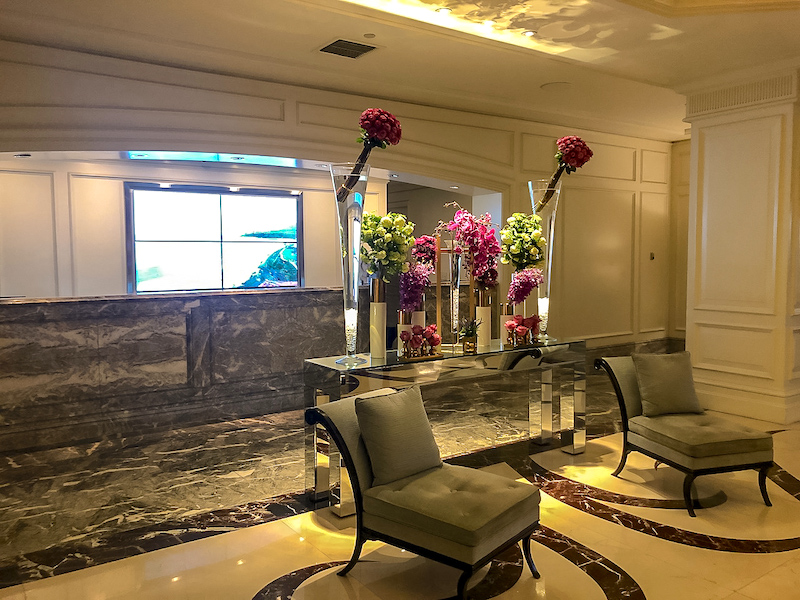 Accommodations
Your seaside adventure begins on arrival as you are greeted by professional, friendly service, and a massive live "beach-cam" behind the front desk. Fresh flowers are everywhere in exquisite arrangements, seating areas are scattered throughout the entry, some in front of a warm fire, and courteous bellman explain the layout of the hotel as they escort you and your luggage directly to your accommodations.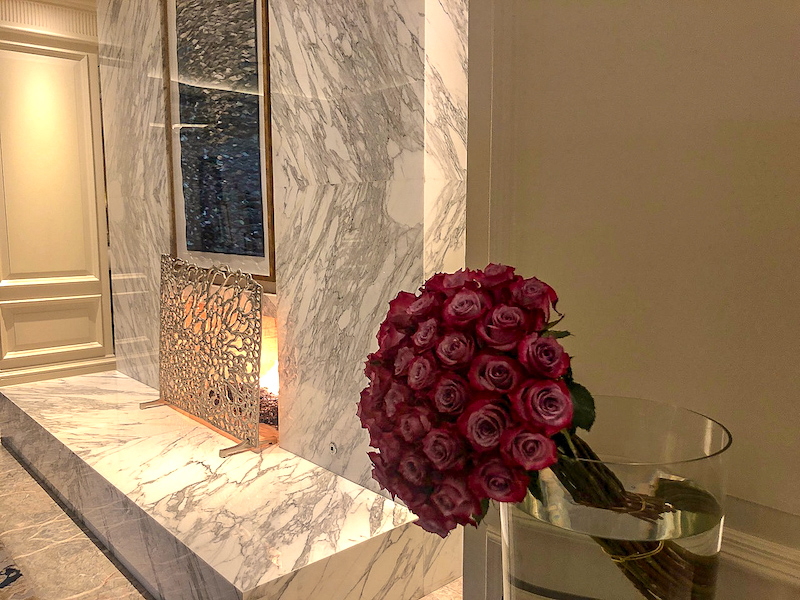 Our Club Level Ocean View room was the picture of luxury with a coastal soft and shimmery blue and beige palate, king bed made with luxurious linens, sweeping views of the Pacific from a small balcony, a work desk, and easy chair. In the walk-in closet are soft robes and slippers, and a mirrored closet near the balcony holds an under-counter refrigerator, coffeemaker, and electronic safe. Rooms on the ground floor, the Fireside category rooms, come with a beautiful fire pit, so be sure to request your preference.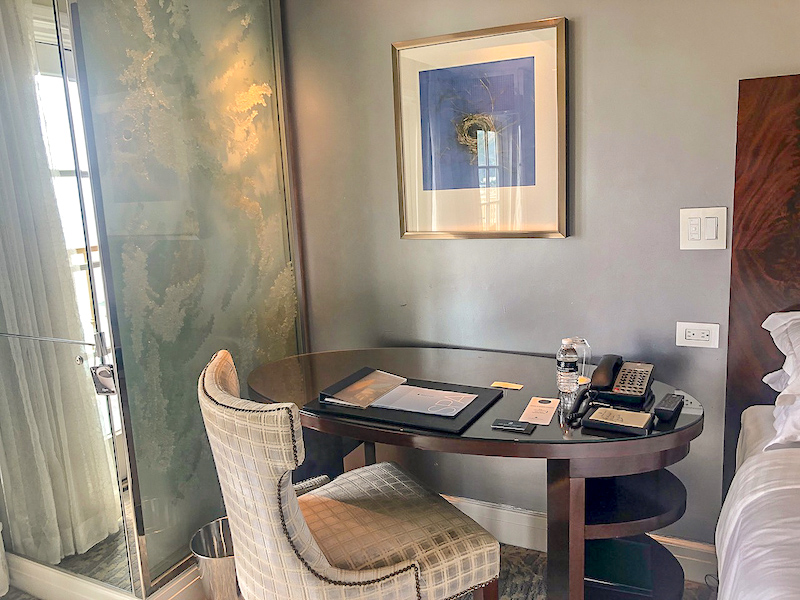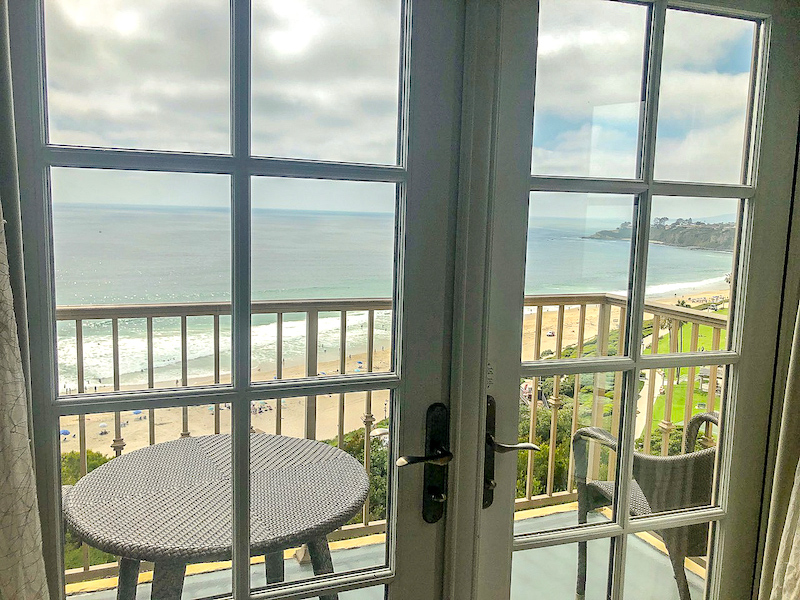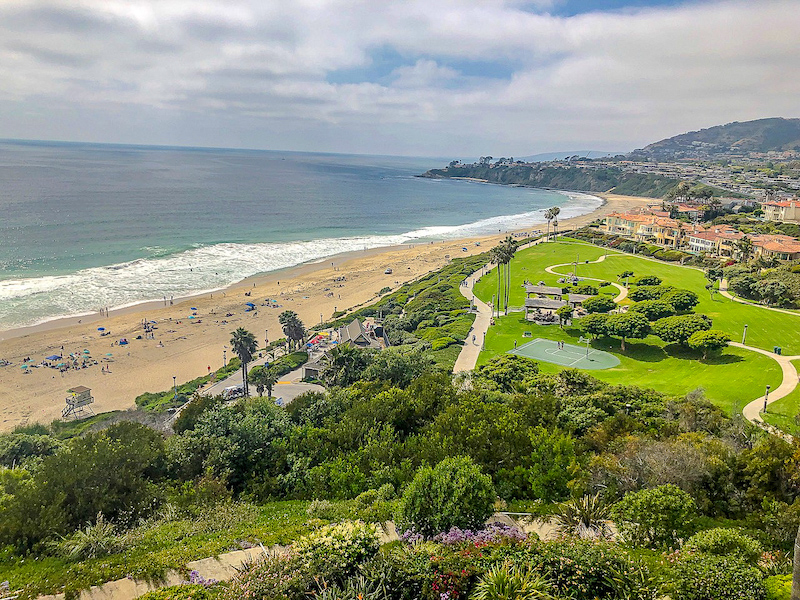 The room's elegant bath, overflowing with luxurious Carrera marble, includes double sinks, a deep tub/shower, lovely Asprey bath products, and a toilet area separated by a louvered door. My only complaint is the lack of quality lighting with only one overhead fixture.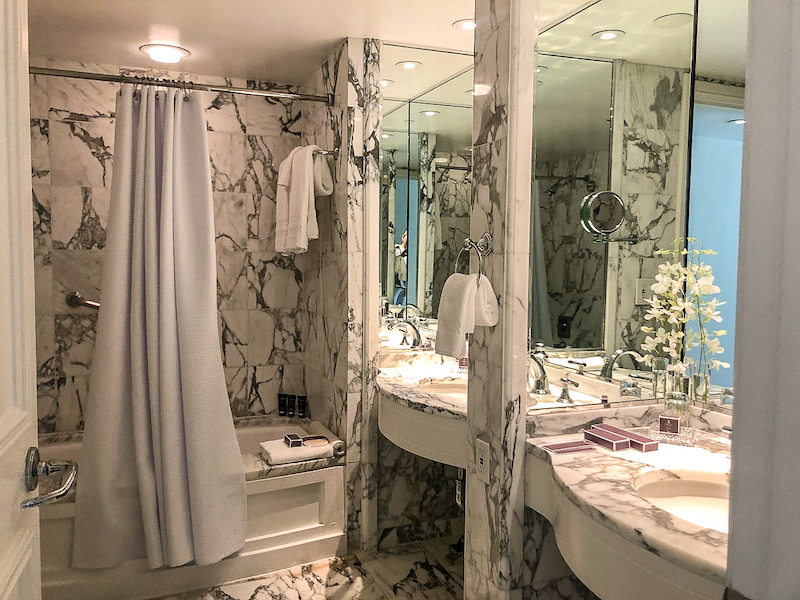 If you've never stayed Club level at a Ritz Carlton, you have truly missed out, and this resort is no exception. The recently updated and enlarged Club Lounge features a variety of seating options, a gorgeous fireplace, and outdoor balcony seating.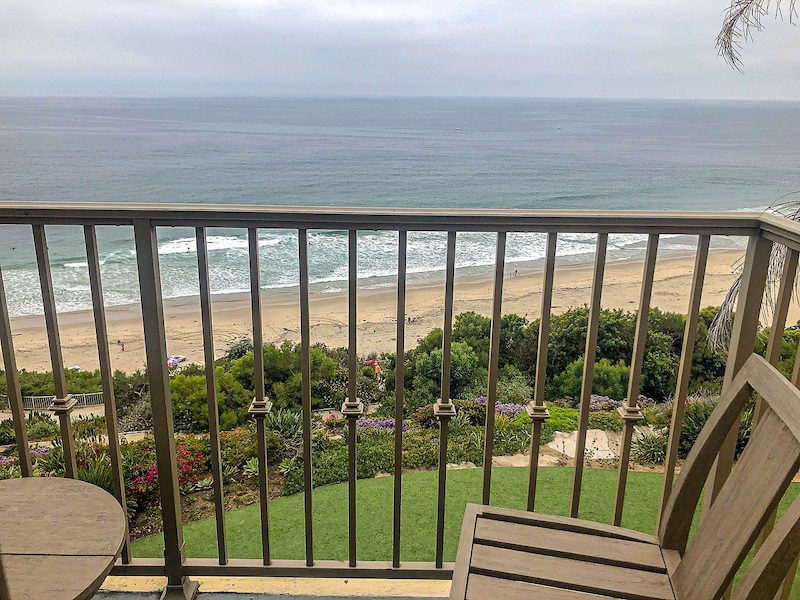 A list of amenities a mile long includes culinary offerings throughout the day—breakfast, light lunch, heavy appetizers in the evening, and after-dinner desserts—along with an excellent array of beverages, a wine dispenser, champagne, and a variety of liquor, perfect for cocktail creation. And best of all, rows of glass jars filled with all kinds of yummy candy! The Club concierge staff are lovely and oh-so-helpful in arranging whatever your heart desires to make your vacation experience a memorable one.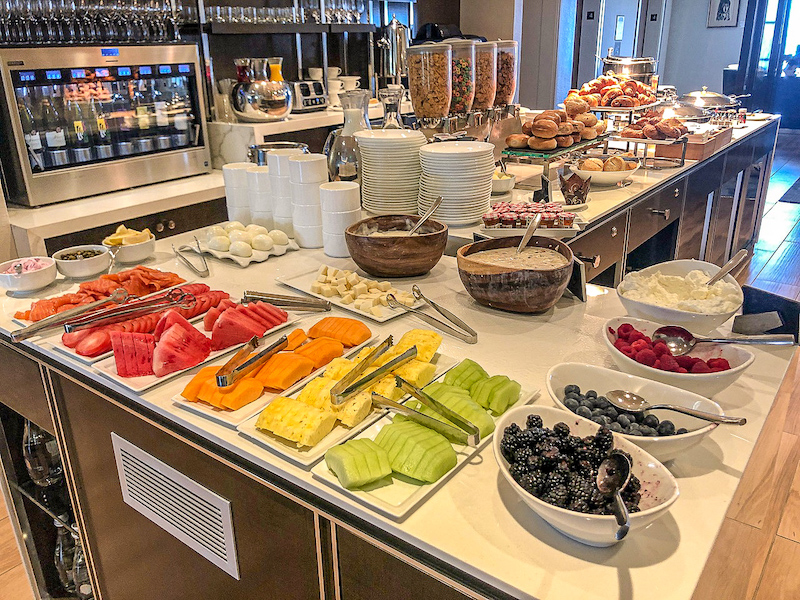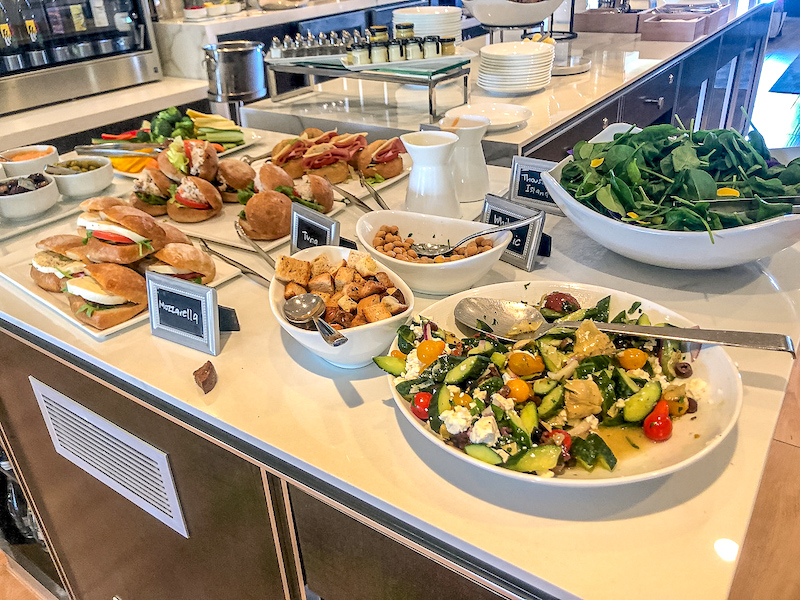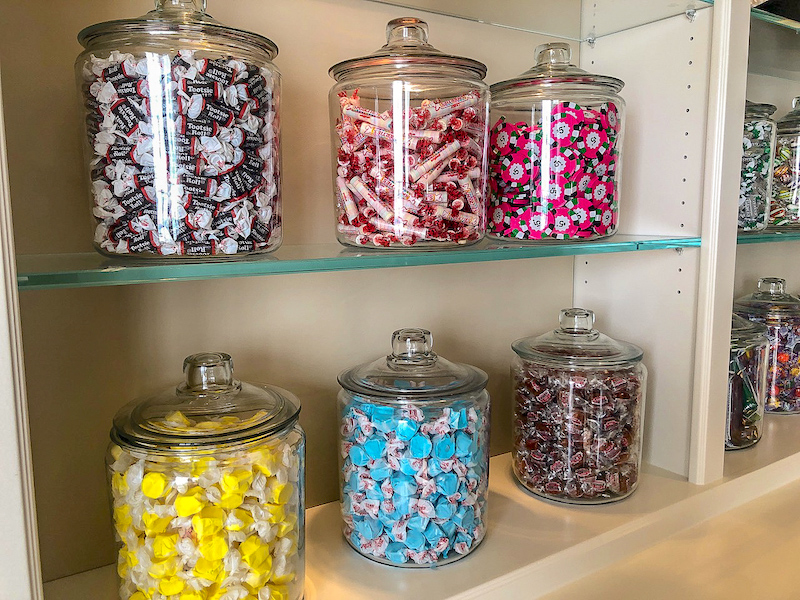 I also got a glimpse at a one-bedroom Ocean Suite, perfect for a family, with two king beds, one in the bedroom, and the other a pull-down in the living area that is part of the bookshelf behind the sofa. Two full baths add to the allure. Request a ground floor suite to enjoy the patio's fire pit.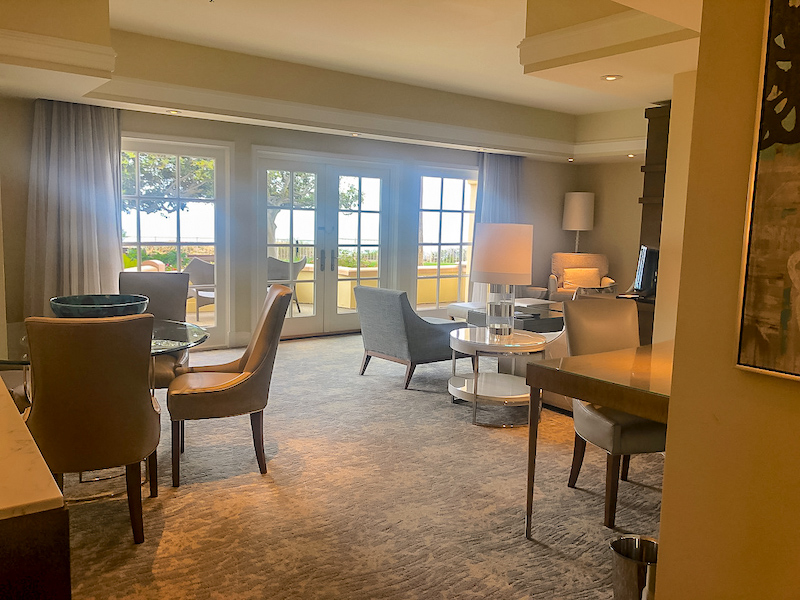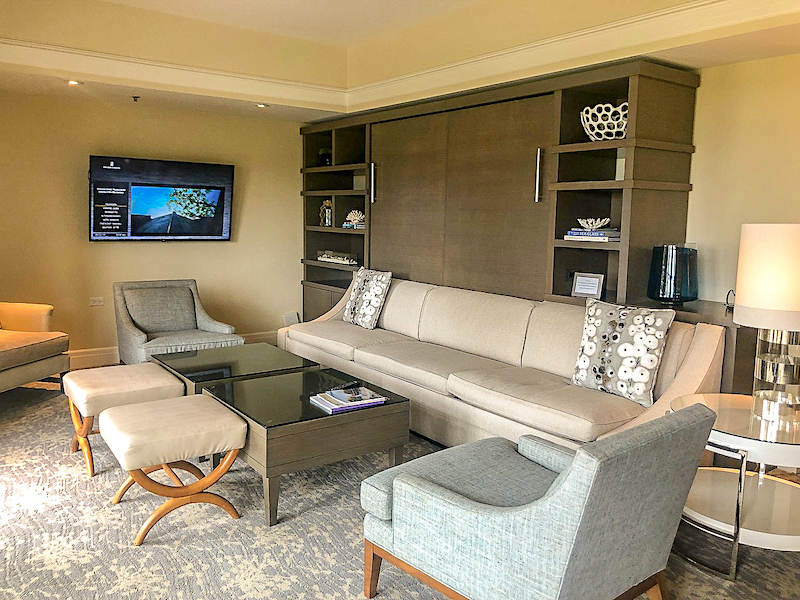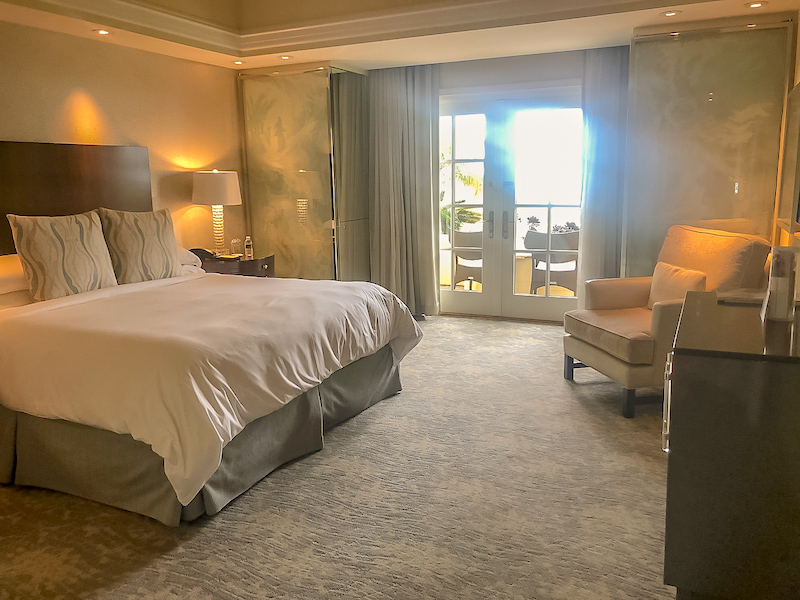 Outdoor Adventure
Your outdoor experiences are endless, given the hotel's location on Salt Creek Beach, an avid surfing spot. It's a steep walk down, but the resort provides a shuttle service if you are wanting to skip the huff and puff on your way back up. Stop at the resort's beach concierge for umbrellas and chairs, and come prepared to be one of many on this trendy beach. Along the beach, you'll find miles of walking paths leading in both directions. Hang a left to reach the Dana Point Preserve trail (pick up a map from concierge) filled with native plants and animals and overwhelmingly gorgeous ocean views, perfect for whale watching in season November to May.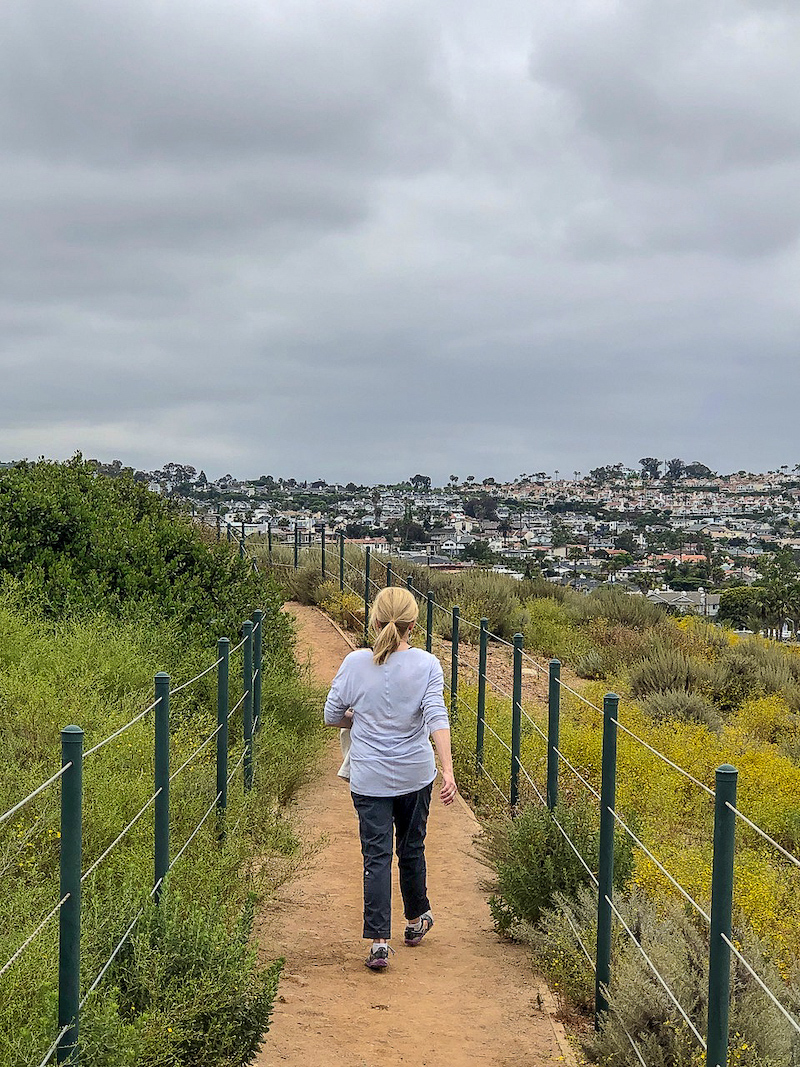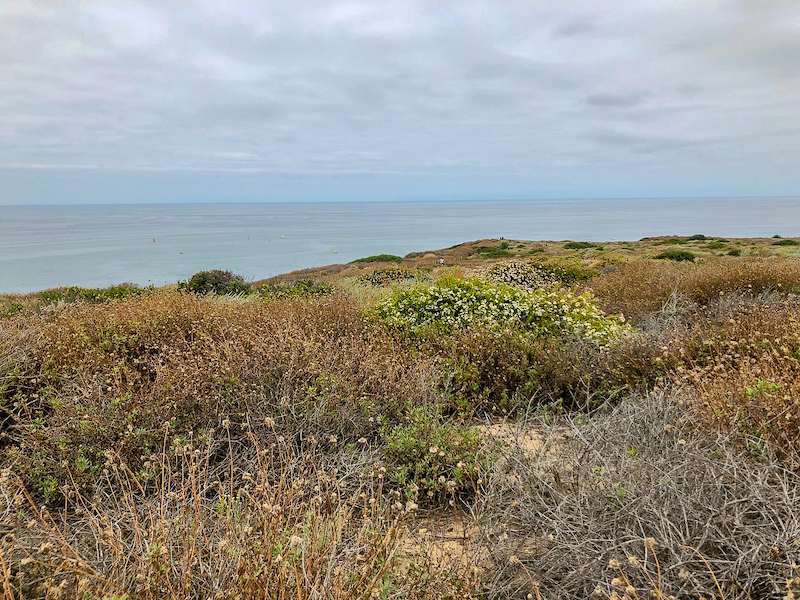 Dining Options
With Club food offerings and several excellent restaurants and bars, we rarely felt the need to go elsewhere to dine. Raya, open for breakfast, lunch, and dinner, offers delicious cuisine along with stunning ocean views. Sunlight streams through massive windows, perfect for sunset gazing. My Cali omelet was the ideal way to start the morning with a healthy mix of tomatoes, spinach, mushrooms, cheddar cheese, and my favorite omelet ingredient, avocado.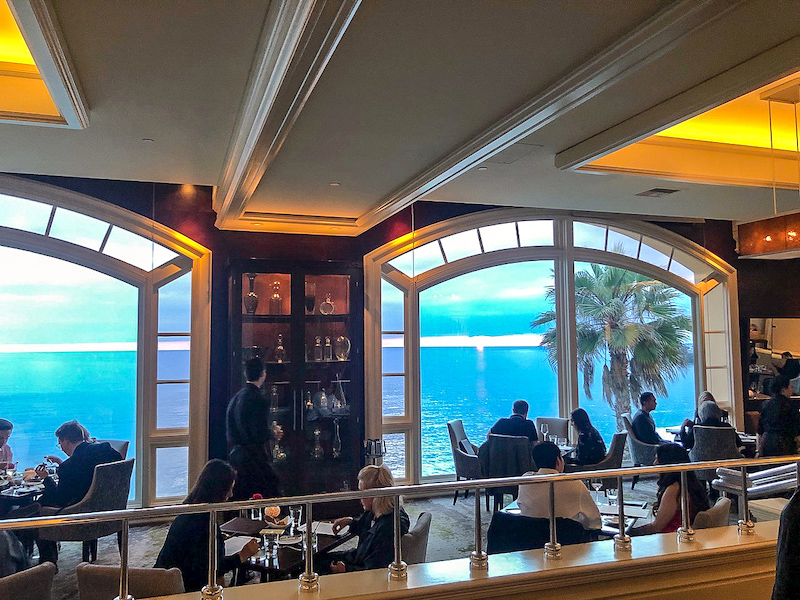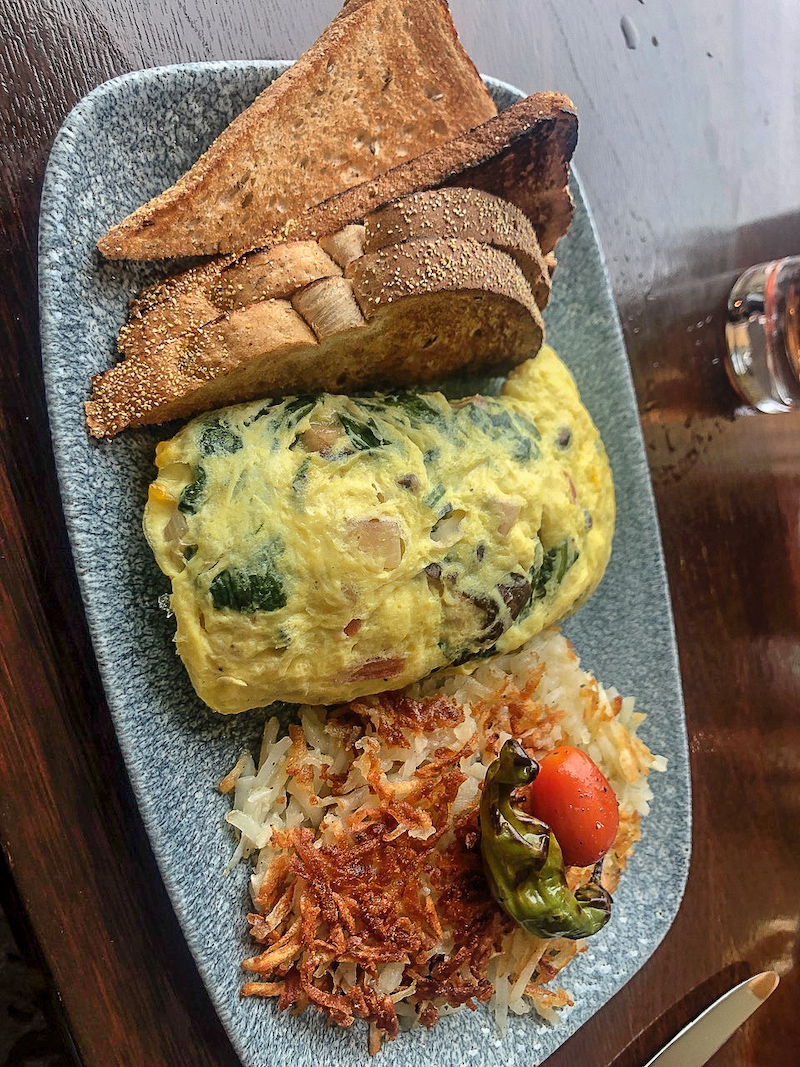 Nextdoor is Bar Raya, where we found ourselves time and time again enjoying the exotic cocktails and pleasant ambiance.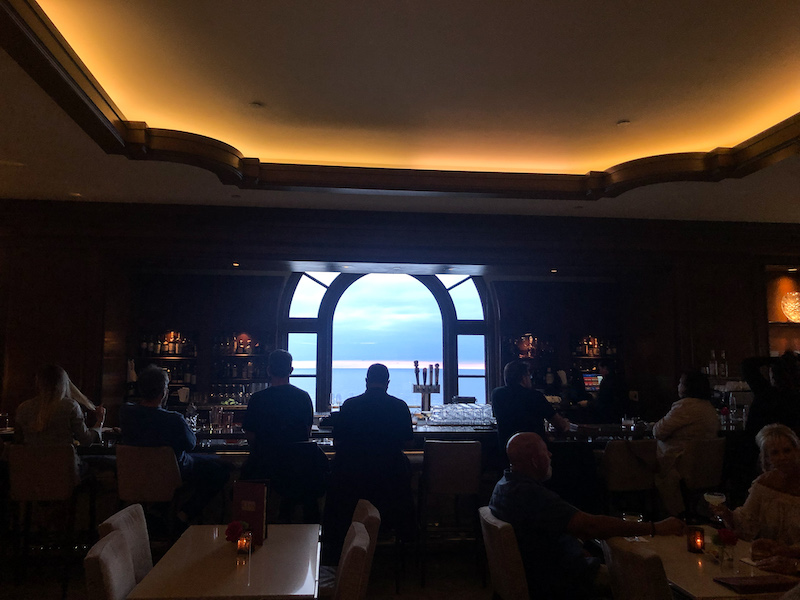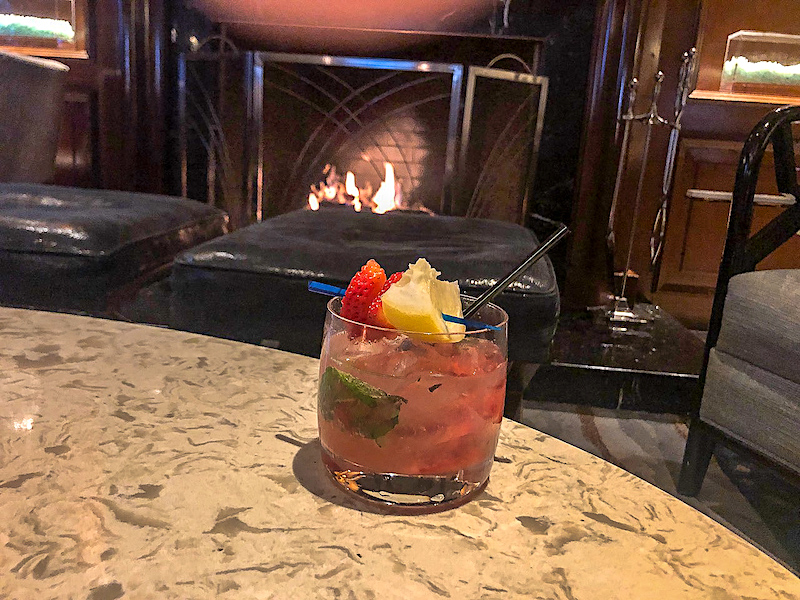 If you want upscale dining go for enoSTEAK, but by far the most popular venue is 180blũ, an outdoor spot with live music Friday and Saturday, small plates and desserts from Raya, and fantastic sunsets.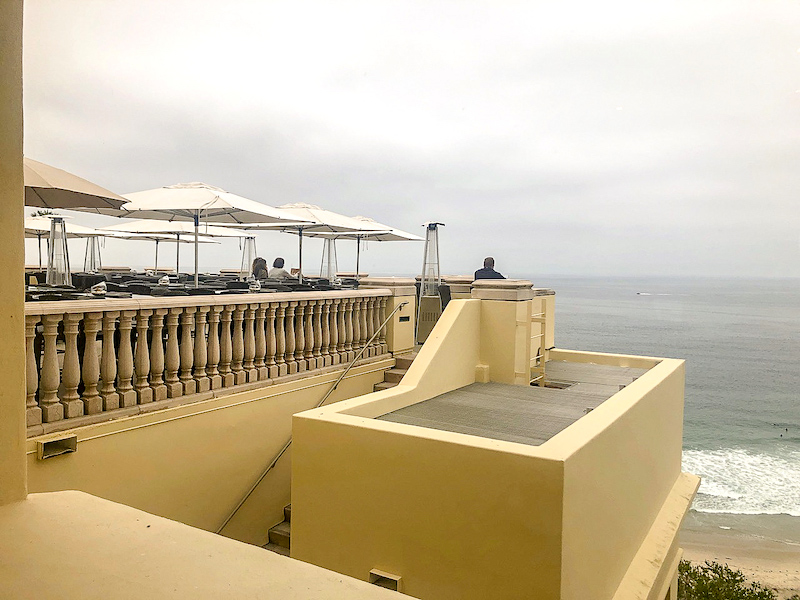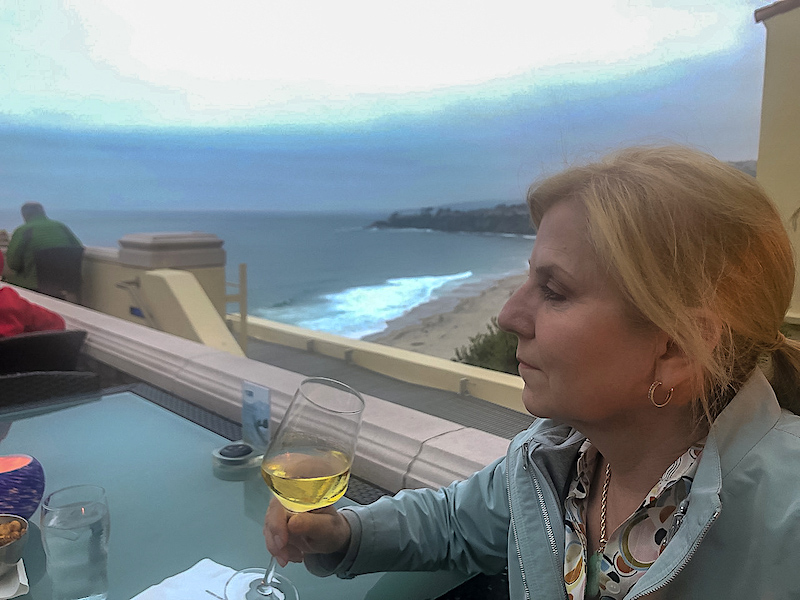 So, in short, do yourself a favor and plan for a Southern California vacation to enjoy the benefits of not only Disneyland Resort but the addition of the upscale Ritz Carlton, Laguna Niguel. It's the best of both worlds!
Ready to get started on planning your magical Disney vacation? Request a Consultation with Glass Slipper Concierge today!