Blog
What's the Point? The Disney Point.
Author: Rosanne Mottola | Comments: 3 | Categories: WALT DISNEY WORLD® HOTELS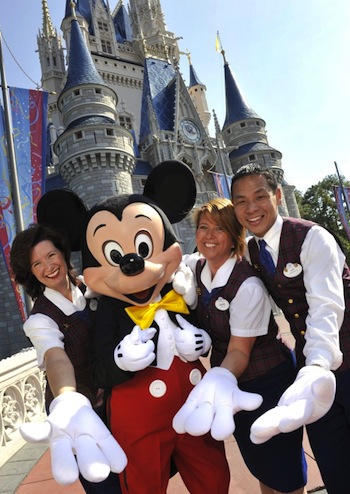 During my family's Christmas trip last year to Walt Disney World, we participated in the "Keys to the Kingdom" tour at the Magic Kingdom. I knew a lot of the details they provided from my training as a Cast Member, but my family absolutely loved it. They could not believe how many small details were considered when planning for the Magic Kingdom. The tour definitely focuses on how Disney does the "little things" right, improving the overall guest experience without them even knowing it.
You may have walked down Main Street U.S.A. a thousand times, but you probably never noticed some of these elements. The same can be said for the thousands of Cast Members that work at Walt Disney World and other Disney destinations. They are trained to do things a certain way to improve guest interaction.
One such training that is ingrained in the brains of Cast Members from day one with the company is the gesture named "The Disney Point."
When Cast Members begin their training at the Walt Disney Company, they are required to attend a class called "Traditions." As a Disney fan, this class was absolutely thrilling for me! One of the many discussions involved how to appease the array of cultures that we come across in the parks on a daily basis.
In some cultures pointing (with one finger) is considered rude. Therefore, Cast Members are instructed that if someone asked where the closest turkey leg cart was, instead of using your "pointer" finger you should gesture with your pointer and middle finger together or with your whole hand. This is a more welcoming gesture than a single finger point.
There is also a second part to the Disney Point that may be a Disney legend or folk lore. Many people notice photos of Walt Disney walking around an unfinished Disneyland pointing things out. In most of these photos, he is doing "The Disney Point." However, some claim that Walt Disney really was holding a cigarette in his hand and that Disney's public relations department airbrushed it out.
Regardless of the reason, Disney Cast Members are instructed to always use the Disney Point. Next time you are at Walt Disney World or Disneyland, take notice when asking a Cast Member a question. You will be shocked that you never noticed it before! I can tell you from personal experience that it is something that never leaves you. Eight years later I am still Disney Pointing!
Rosanne Mottola, former Walt Disney World Cast Member, plans magical Disney vacations as an agent with Glass Slipper Concierge. Check out her blog, The Disney Point, where she discusses the little details that make Disney Destinations so special.
Comments
Posted on Dec 15 by .(JavaScript must be enabled to view this email address):
This is simply not true. There is nothing in the Traditions script that says anything about a "Disney Point." What usually happens is Tradition Assistants use it as filler during slow parts of their show but it is NOT trained. I would like to know which culture you are referring to that considers pointing with a single finger rude. You have fallen into the trap of "It sounds like something Disney would do so it must be true." Check your facts.
Posted on Jul 25 by .(JavaScript must be enabled to view this email address):
It's rude in Indonesian culture to point.
Posted on Mar 22 by .(JavaScript must be enabled to view this email address):
Sorry but I made the Traditions class in the last year, and i Learned
about Disney Point in my class!
Leave a Comment