Blog
Packing Tips For Your Disney Cruise Line Vacation
Author: Cara Goldsbury | Comments: 0 | Categories: DISNEY CRUISE LINE , WALT DISNEY WORLD®
It's time to pack and you don't have a clue of what to bring on your upcoming Disney Cruise Line vacation. Never fear . . . it's easier than you think.
Disney Cruise Line daytime attire is very casual with shorts, capri pants, and t-shirts the norm. Even though the weather might be chilly in Port Canaveral, it warms up quickly once your cruise is underway. Only in mid-winter will you need to bring a combination of summer and somewhat warmer clothes for the sail-away party and those chillier nights on deck. For the most part pack shorts, light-colored short-sleeved or sleeveless shirts, comfortable walking shoes for shore excursions, sunglasses, hat, a couple of bathing suits and a cover-up, flip-flops, water-resistant footwear, exercise clothing, and a rain jacket for daytime hours.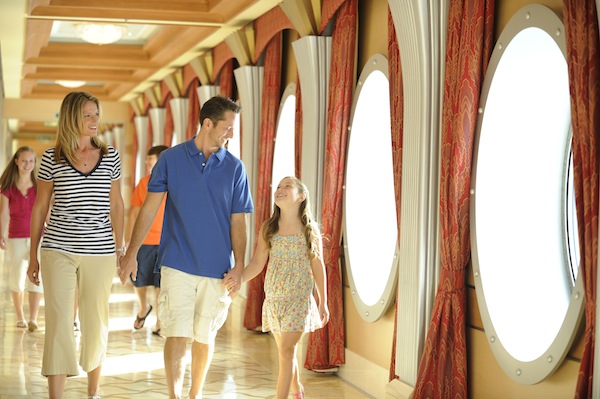 Most evenings dinner in the main dining rooms is cruise casual dress with women wearing a simple dress or casual pants and a stylish blouse with sandals, and men in comfortable khakis and a short-sleeve collared shirt with loafers or sandals. Even shorts are now allowed in the dining room.
Seven night cruises have one formal night with the dress code a jacket or suit for men, and a gown or a dress for women, and one semi-formal evening with a suit or jacket for men and a dress or pantsuit for women. So bring along that special something for a more upscale evening at sea.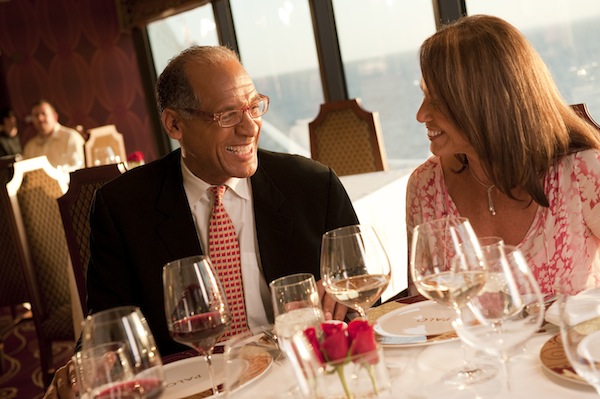 Palo requires dress pants and a dress shirt–jacket is optional–for men, and a dress or pantsuit for women; no jeans, shorts, capri pants, flip-flops or tennis shoes. Only at Remy is a jacket required for men and a cocktail dress, pantsuit, or skirt/blouse for women; here too no jeans, shorts, capri pants, flip-flops or tennis shoes allowed. It's a nice change of pace to spend the evening dining in a special setting dressed to the nines!
Let Us Help You in Planning an Extraordinary Luxury Disney Vacation!
Our expert Glass Slipper Concierge® travel advisors' unrivaled knowledge of Disney Destinations can only be matched by their passion for delivering white-glove service. We're committed to personalizing a completely unique, luxury Disney vacation experience that surpasses every expectation for each of our clients. Please submit an online consultation request to begin.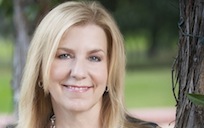 Cara Goldsbury is the author of The Luxury Guide to Disney Vacations and The Luxury Guide to Walt Disney World Resort. She is Chief Executive Concierge at Glass Slipper Concierge® and has appeared as a leading Disney expert on two Travel Channel specials, Disney Splurge! and Disney Royalty. She has also been cited numerous times in national news articles, in such notable publications as Forbes Traveler, as an expert on the Walt Disney World® Resort.
Comments
There are no comments for this entry yet. Be the first!
Leave a Comment