Blog
Top Disneyland® Resort Dining Experiences
Author: Cara Goldsbury | Comments: 0 | Categories: DISNEYLAND® RESORT
Although Disneyland® Resort is small compared to the massive Walt Disney World® Resort, it does have several excellent signature dining spots to choose from. After all, it is Southern California and Disney certainly tries to keep up with what's fresh and flavorful in this land of excellent cuisine.
Napa Rose, Disney's Grand Californian Hotel® & Spa
Chef Andrew Sutton's contemporary cuisine should be a a must-do on your Disneyland Resort list. Focusing only on what is fresh and seasonal, guests dine in a lovely Arts and Crafts-style room with murals of the California wine country, an exciting exhibition kitchen, and massive windows overlooking Disney California Adventure® Park.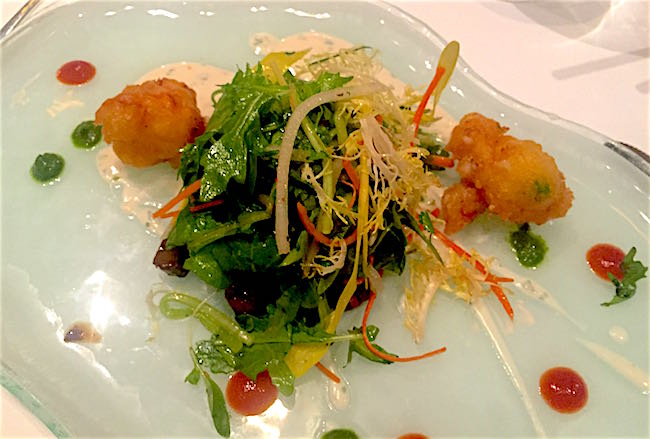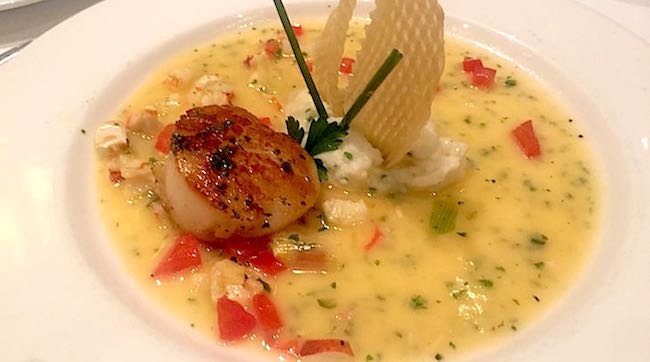 Highlights include the ridiculously delicious Smiling Tiger Salad composed of greens tossed with baby radishes, spicy dried filet mignon (almost like a jerky), and a rich coconut milk vinaigrette spiked with pesto and Sriracha topped with savory lobster tempura. Or start with the sublime seared diver scallop appetizer bathed in a bed of lemon sauce with diced tomatoes, just a hint of vanilla, and accompanied by chive potatoes speckled with lobster. Always great is the rack of lamb which changes seasonally, sided my last encounter with luscious green Harrisa and served with spicy Merguez sausage. And speaking of another must, it's the truffled orecchiette mac and cheese served piping hot in a miniature copper pot.
Steakhouse 55, Disneyland® Hotel
Ditch your park clothes and take a step back to the glamour of classic Hollywood at this clubby spot. The décor is art deco with the addition of framed vintage photos of Walt Disney and the heyday of Disney Studios.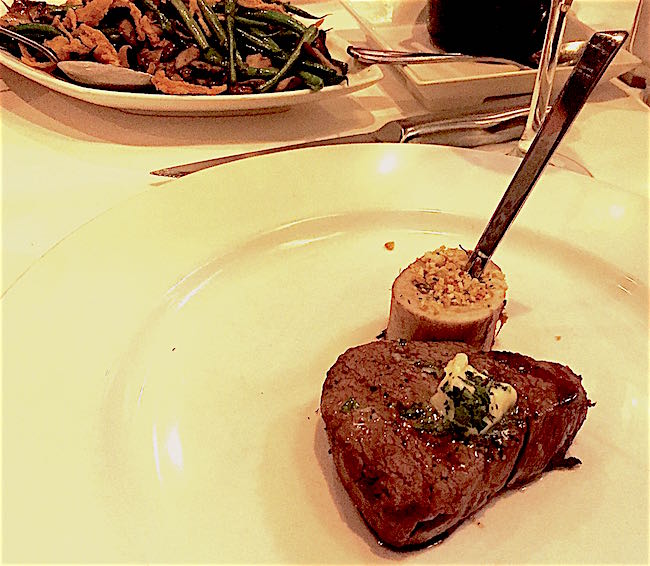 The filet mignon never disappoints, amazingly tender and served with a marrow fork to scoop out all the goodness of the surprise marrowbone accompaniment. Sauces, if ordered, arrive on the side with the garlicky SH55 butter (skip the disappointing peppercorn sauce) the best. The New York strip seems to be what most of the waiters recommend, but it tends to be too chewy for my tastes but with a superb flavor — here the "Oscar" style topping of crab cake and béarnaise sauce is a great choice.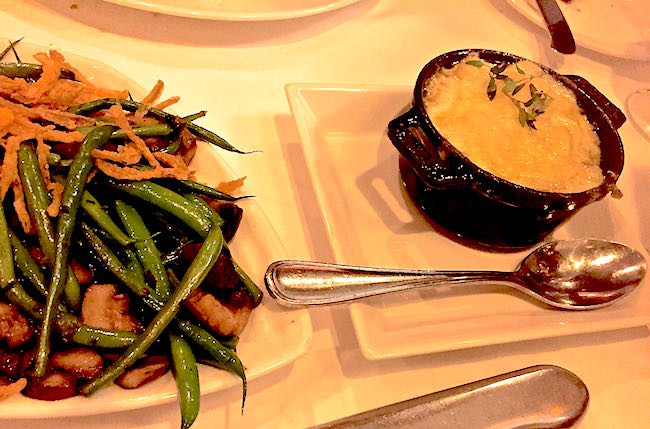 Super sides include a scrumptious Parmesan scalloped potatoes, creamy with cheese and spiked with fennel and thyme. Or you can't go wrong with the sautéed French green beans sprinkled with crispy, thin-sliced onion rings, mushrooms, and plenty of melted butter.
Carthay Circle, Disney California Adventure Park
Housed in a replica of the original Carthay Circle Theatre where Snow White and the Seven Dwarfs premiered in 1937, this lavish, second-story restaurant exudes classic luxury with an emphasis on seasonal, locally sourced ingredients.
The Carthay signature fried biscuits reveal a center of melting white cheddar, bacon, and spicy jalapeno accompanied by yummy apricot honey butter; honestly perhaps the best thing on the menu.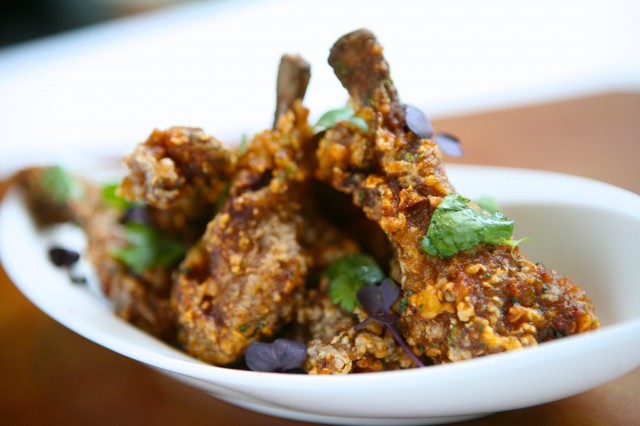 As for Carthay Circle's Firecracker Duck Wings, they do have a cult following and manage to live up to their reputation—slightly crunchy, superbly tender, and enlivened with an aggressively spiced glaze of soy and Sriracha. If the pan-roasted Skuna Bay salmon is on the menu certainly go for it with its great sesame and soy crust and sides of Forbidden black rice and a red curry sauce, but ask it not be oversalted as is sometimes the case.
Catal, Downtown Disney® District
This two-level restaurant features a mish-mash of dining rooms with intriguing cuisine offering a variety of small plates as well as creative specialty entrées. Start with goat cheese-stuffed piquillo peppers, really a must, with its scattering of toasted pine nuts and golden raisins, drizzled with mint salsa verde. But truly, the very best appetizer is the Spanish cheese (aged Manchego, soft Mahon, and Valdeon blue) and charcuterie (Iberico jamon and sobrasada), a savory selection accompanied by crusty bread, Marcona almonds, dried apricots, and a seasonal fruit compote; you'll be fighting over every morsel.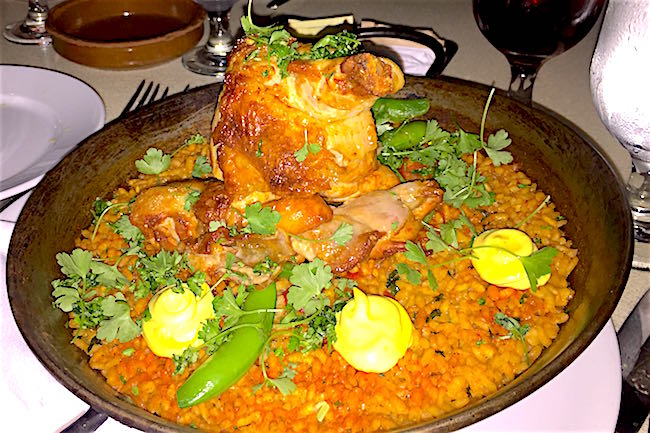 Follow with one of the earthy paella options, the lobster probably the best and actually as good as it sounds, tender yet not overcooked rice, spicy chorizo, a nice portion of Maine lobster, and plenty of paprika; the only thing missing was perhaps a bit more saffron. Better yet it is beautifully presented in a piping hot paella pan!
Let Us Help You in Planning an Extraordinary Luxury Disney Vacation!
Our expert Glass Slipper Concierge® travel advisors' unrivaled knowledge of Disney Destinations can only be matched by their passion for delivering white-glove service. We're committed to personalizing a completely unique, luxury Disney vacation experience that surpasses every expectation for each of our clients. Please submit an online consultation request to begin.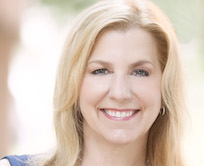 Cara Goldsbury is the author of The Luxury Guide to Disney Vacations and The Luxury Guide to Walt Disney World Resort. She is Chief Executive Concierge at Glass Slipper Concierge®, a travel agency specializing in selling Disney vacations, and has appeared as a leading Disney expert on two Travel Channel specials, Disney Splurge! and Disney Royalty. She has also been cited numerous times in national news articles, in such notable publications as Forbes Traveler, as an expert on the Walt Disney World® Resort
Comments
There are no comments for this entry yet. Be the first!
Leave a Comment