Blog
Take a Peek Behind the Scenes on a Disney Guided Tour of the Parks
Author: Natalie Reinert | Comments: 4 | Categories: WALT DISNEY WORLD®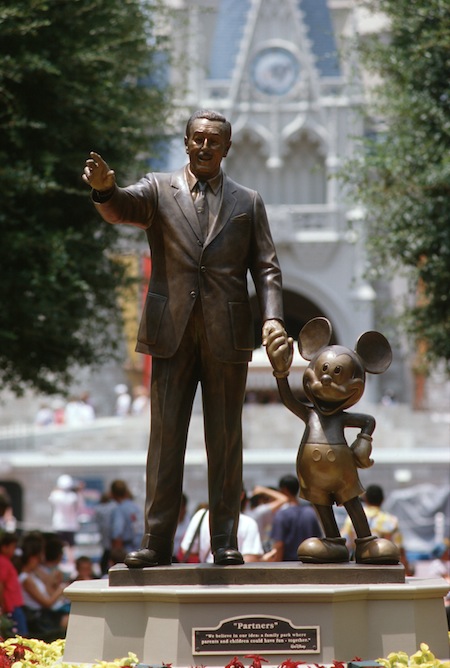 Looking for ways to make your Walt Disney World® Resort trip more unique? Try a guided tour! From behind-the-scenes look at how Disney makes the magic, to VIP tour guides who are dedicated to making your family's experience one-of-a-kind, Walt Disney World Resort tours are available for every budget and interest.
Magic Kingdom® Park Tours
Everyone wants to know more about the Magic Kingdom. Whether you love the steam trains, want to visit the Utilidors, or just want to add a little magic to your family's day, there's a Magic Kingdom tour for you.
Disney's Family Magic Tour is an add-on to your family's morning that features a treasure hunt through Main Street U.S.A.® Area, Adventureland® Area, Liberty Square Area, and New Fantasyland®. Little children (and their parents) are encouraged to be as silly as they like as they explore the Magic Kingdom. This fun-filled trip finishes with special appearances from Peter Pan and Wendy. At $36 a person, it's a unique way for smaller children to enjoy the Magic Kingdom, and the surprise visit from Peter Pan really can't be beat! There's no minimum age for this tour, which lasts about two hours, and includes a ride on Peter Pan's Flight® Attraction.
Disney's The Magic Behind Our Steam Trains Tour is for the train buff—most every family has one! This three-hour tour takes guests age 10 and up backstage, visiting the roundhouse behind the Magic Kingdom where Disney's antique steam engines are stored and serviced. There may even be an opportunity to climb in the cab and see the steam engine fire up before a ride around the Magic Kingdom to Main Street U.S.A. station, where you'll learn more about Walt Disney's love of steam trains and train travel. At $52 per person, this tour gives guests an up close and personal look at one of Walt's favorite attractions.
Disney's Marceline to Magic Kingdom Tour looks at the Magic Kingdom through the filter of Walt's own vision for his original theme park, as well as how he worked with his Imagineers to fulfill his ideas. Throughout the Magic Kingdom's Lands, your tour guide will point out tributes and markers that commemorate moments in Walt Disney's life and achievements. There are also backstage opportunities at some of the park's most iconic attractions. For the Walt Disney enthusiast in your family, the Marceline to Magic Kingdom tour is a fascinating look, and a true tribute, to the man who brought our dreams to life. At $32 per person, this tour is for ages 12 and up, lasts about three hours ,and visits areas all around the park.
Disney's Keys to the Kingdom Tour is the biggie—taking you backstage at favorite attractions like Splash Mountain® Attraction and descending into the world-famous Utilidors to see the "underground" community where the bulk of the Magic Kingdom's operations take place. This four-to-five hour tour, which is for guests sixteen and up, includes a lot of walking—all around the park! Through the tour, you'll have the opportunity to ride several attractions with a commentary from your tour guide on plenty of anecdotes and backstory. You'll also learn about Walt Disney's original vision for the theme park, and how the Walt Disney Company worked to make his dream come true after his death.
Keys to the Kingdom also includes lunch, which is usually pre-ordered from Columbia Harbour House, and a special commemorative pin. If you've always wanted to see the secrets that make the Magic Kingdom so magical, this is the closest you'll get without moving to Orlando and getting a job as a Cast Member! At $79 a person, you'll see more of the magic than you ever thought possible.
VIP Tours are available at a cost of $315-355 per hour, per family/group (up to ten guests), for Disney Resort Guests (there is an additional charge for guests staying off Disney property). Your VIP Tour Guide is a highly knowledgeable member of the Magic Kingdom Guest Relations team, and while they cannot offer priority entrance to attractions, they will provide you with a personalized experience of the Magic Kingdom, complete with stories, hidden details, and plenty of personal assistance to make your day as smooth and fun-filled as possible. You'll also be able to view parades and fireworks from a special priority section. There is a consecutive six-hour minimum for VIP Tour Guides, and they're able to fully customize your day, including park hopping and private transportation!
If you're looking for a truly unique and personalized adventure at the Magic Kingdom, one of these tour options is sure to please. From the silly fun of the Family Magic Tour to the technological marvels of the Keys to the Kingdom Tour, you'll never remember this as just another day at the park!
*Each tour operates on a unique schedule and may only be offered certain days of the week. Character appearances and offerings are subject to change.
Comments
Posted on Feb 27 by

.(JavaScript must be enabled to view this email address)

:
Great article! Once I thought I saw that there was a behind the scenes tour, which started at 7am at Epcot, which was for adults and older children.
Posted on Feb 27 by

.(JavaScript must be enabled to view this email address)

:
Hi Ken! Thank you!
Epcot's current behind-the-scenes tour, The UnDISCOVERed Future World, begins at 9 AM and is for ages 16 and up. It focuses on Future World, with history and "how'd they do that" type stories. There are some great backstage opportunities in this tour, including a look at the staging area for Illuminations.
I'll try to do more stories on the other theme parks' VIP and backstage tours!
Posted on Apr 10 by

.(JavaScript must be enabled to view this email address)

:
My family and I will be at Walt Disney World December 17-30. We want to do the keys to the kingdom tour while there but not sure if doing the tour the week of December 22 is best when there is fewer crowds or Christmas week since you will be on your own tour that crowds hopefully won't be an issue Please let me know your opinion. Thank You.
Posted on Apr 10 by

.(JavaScript must be enabled to view this email address)

:
Unfortunately you may not have much choice on when to take the tour since they pause all Behind-the-Scenes tours during the busy holiday time. Last year the tours were paused beginning mid-week before Christmas and did not resume until after the New Year.
Just start checking 180 days out to see what days they will be offering the tour before the cutoff date, and make your plans for one of the first days after your arrival.
Leave a Comment