Blog
Party at Sea!
Author: Cara Goldsbury | Comments: 0 | Categories: DISNEY CRUISE LINE
Disney Fantasy has some of the best adult-only areas afloat. Set off by itself on Deck 4, those age 18 and over (note the drinking age onboard is 21) enjoy Europa nighttime entertainment district featuring sophisticated bars and trendy lounges inspired by European travel. Here is what you can expect from it's five nightclubs:
La Piazza. This central lounge is reminiscent of Italy's outdoor plazas with a vintage carousel theme. It's a great place for cocktails around the bar or in a cozy booth for two. There's even a classic Vespa with a sidecar for decoration.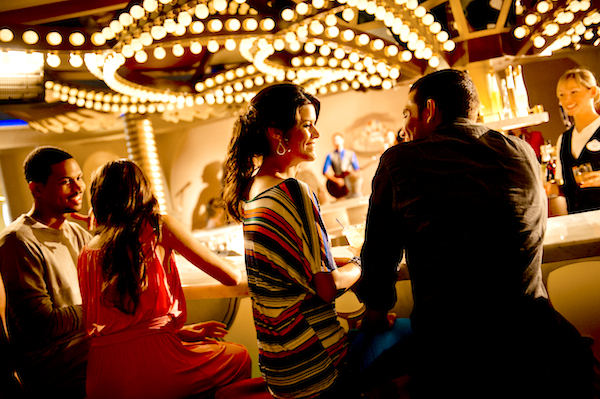 O'Gill's Pub. The ship's sports bar is fashioned after an Irish neighborhood pub with an atmosphere of dark woods, brass accents, and great Irish beers. Enjoy a pint while catching the big game on high-def televisions.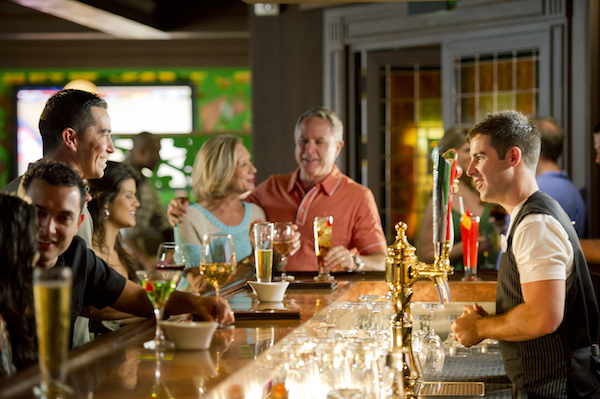 Ooh La La. A whimsical French boudoir ambience with velvet-tufted walls, Victorian furniture, and Louis XIV-style chaise lounges, this hot spot puts on the sparkle along with champagne and fun cocktails. Much like Pink on the Dream, it's a gal's dream-come-true with a "jewel box" feature bar mimicking diamond facets. During daytime hours wine and champagne tastings are offered here on select days; there's even a chocolate tasting one day at sea.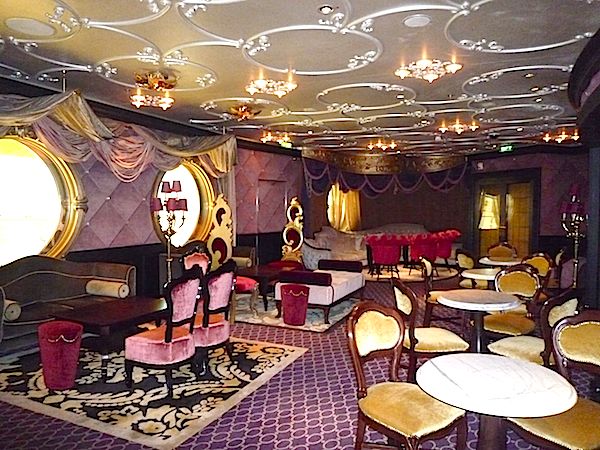 Skyline. Much like the Skyline bar on the Disney Dream only a bit larger, the ever-changing city skylines featured are: Paris, London, Athens, Barcelona, Florence, St. Petersburg, and Budapest. Here too the music changes by city, and the drink menu reflects signature concoctions from each. During daytime hours mixology classes are offered on select days.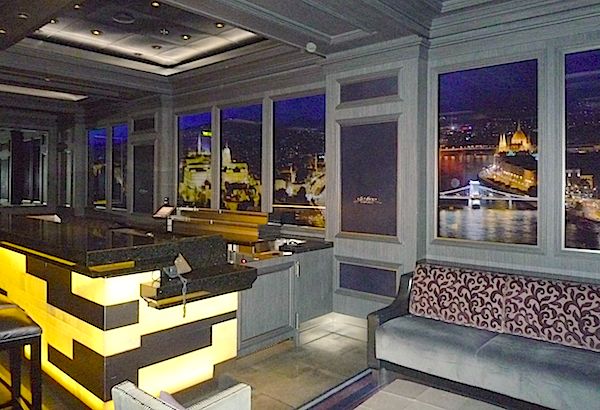 The Tube. It's 1960s London where guests lounge on mod furniture, hang out in the red English phone booths, dance the night away on an illuminated Union Jack dance floor, and sip on London-inspired drinks. This is definitely the most hopping place onboard.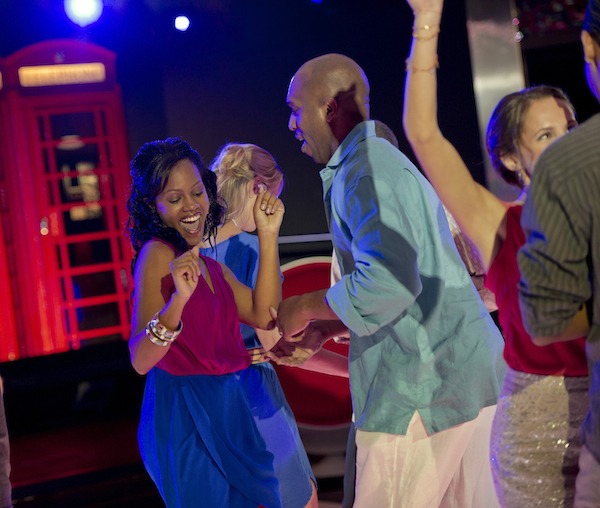 Let Us Help You in Planning an Extraordinary Luxury Disney Vacation!
Our expert Glass Slipper Concierge® travel advisors' unrivaled knowledge of Disney Destinations can only be matched by their passion for delivering white-glove service. We're committed to personalizing a completely unique, luxury Disney vacation experience that surpasses every expectation for each of our clients. Please submit an online consultation request to begin.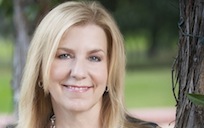 Cara Goldsbury is the author of The Luxury Guide to Disney Vacations and The Luxury Guide to Walt Disney World Resort. She is Chief Executive Concierge at Glass Slipper Concierge®, a travel agency specializing in Disney vacations, and has appeared as a leading Disney expert on two Travel Channel specials, Disney Splurge! and Disney Royalty. She has also been cited numerous times in national news articles, in such notable publications as Forbes Traveler, as an expert on the Walt Disney World® Resort.
Comments
There are no comments for this entry yet. Be the first!
Leave a Comment