Blog
Memorable Meals Disney Style
Author: Cara Goldsbury | Comments: 4 | Categories: DISNEY DINING REVIEWS
After more than two decades enjoying Walt Disney World's restaurants I wanted to compose a list of my all-time favorite dishes. Hopefully they may become your favorites also:
Yachtsman Steakhouse's Prime New York Strip Steak cooked to perfection and served with yummy potato gratin made with Carmody cheese, topped with a rich and creamy peppercorn-brandy sauce.
50s Prime Time's Sampling of Mom's Favorite Recipes. Yes, I'm a child of the 50s and nothing is more nostalgic than a platter filled with the best fried chicken around, fall off the bone pot roast, and good old meatloaf served with sides of mashed potatoes and gravy.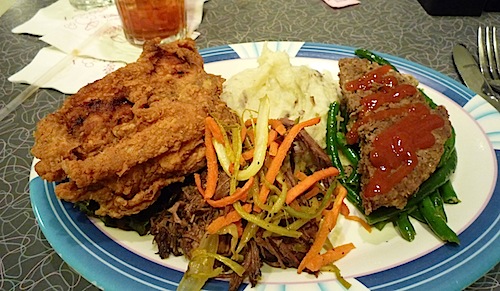 California Grill's Grilled Pork Tenderloin, perfectly pink in the center and spiked with a zinfandel glaze. But the dish's pièce de résistance is the accompanying and renowned goat cheese polenta.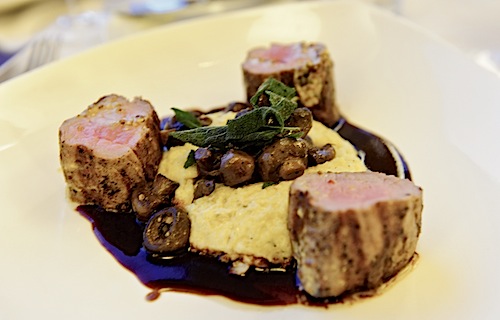 Narcoossee's Lobster Spring Rolls chunked full of tender, fresh lobster and served with sides of spicy mayonnaise and soy-orange dipping sauce. Phenomenal!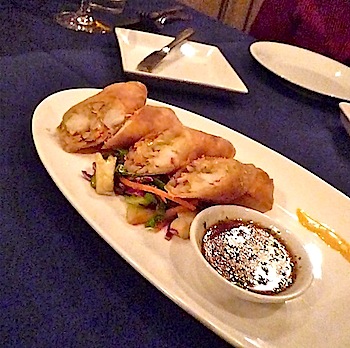 Via Napoli's Carciofi Bianca White Pizza with fresh grilled and chopped artichokes sprinkled with heady truffle oil. Wood-fired, thin yet chewy, and cooked to smoky excellence, it's topped with a tasty blend of pecorino and mozzarella cheese, and just a touch of garlic. This is the stuff dreams are made of.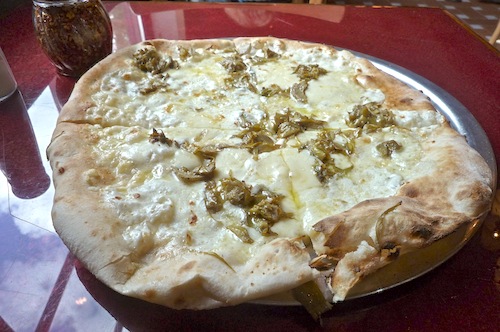 Portobello's Rigatoni Calabrese, a dish I fell in love with on my first visit over 20 years ago. It's still my favorite and features Italian sausage, Kalamata olives, mushrooms, tomatoes, and escarole. The pasta is perfectly al dente and the sauce is just the right touch of richness without being overwhelming.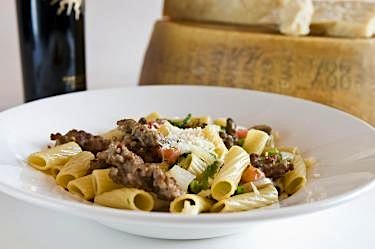 Artist Point's Cedar Plank Roasted Salmon, always fantastic, topped with ever-changing sauces (my last tasting was on a bed of new potatoes, roasted fennel, crispy truffle slices, and a Pinot Noir beurre rouge).
Comments
Posted on Mar 19 by

.(JavaScript must be enabled to view this email address)

:
O my goodness, I've had 5 out of 7 of these and they're amazing! I can't wait to try the Grilled Pork Tenderloin next time I go to California Grill. Awesome picks!
Posted on Mar 19 by

.(JavaScript must be enabled to view this email address)

:
You'll love the pork tenderloin at Cal Grill! Let me know what you think when you have the chance to try it.
Posted on Mar 19 by

.(JavaScript must be enabled to view this email address)

:
Cara - l LOVE this post! These are some of the best meals on property and I know all of your clients will love these meals.
One memorable meal that I would add to this list is the Jiko filet mignon and mac and cheese! I wrote about it on my blog here:
http://thedisneypoint.blogspot.com/2012/01/foodie-friday-blog-hop-jikos-famous.html
Posted on Mar 19 by

.(JavaScript must be enabled to view this email address)

:
I thought about adding it, but since the mac 'n' cheese has to be special ordered as the side now I hesitated a bit. But you are definitely right on. It's a spectacular dish![removed]document.theform.submit()
Leave a Comment