Blog
Local Flavors: Sustainable Dining at Walt Disney World® Resort
Author: Natalie Reinert | Comments: 5 | Categories: DISNEY DINING REVIEWS, WALT DISNEY WORLD®
When it comes to eating, some might call me picky. My cooking strategy centers around "fresh, local, and organic," and, because I live in the sort of neighborhood where that is the trend, my dining out choices are much the same.
But when I go to Walt Disney World® Resort, I know that I'm going to be breaking my diet. I'm going to eat things with corn syrup and preservatives and artificial colors. (I'm definitely going to eat school bread and Mickey waffles, and ordinarily I eat gluten-free, so that tells you how badly I behave!)
So whenever I find the opportunity to revert back to my healthy, earth-friendly ways while on a Disney vacation, I rejoice. And it isn't just about skipping the fries at lunch.
Sustainable dining at Disney isn't easy to find, although with a company with such an ambitious environmental strategy as The Walt Disney Company, I don't doubt it's going to improve over time. After all, they've already embarked on huge preservation schemes (one third of Walt Disney World Resort's 43 square miles is nature preserve), energy conservation efforts (the 170,000 LED bulbs of Cinderella Castle's Holiday Dream Lights use the energy of four coffeepots), and maintain the largest number of Green Lodging-certified hotels in the state of Florida—every resort on property!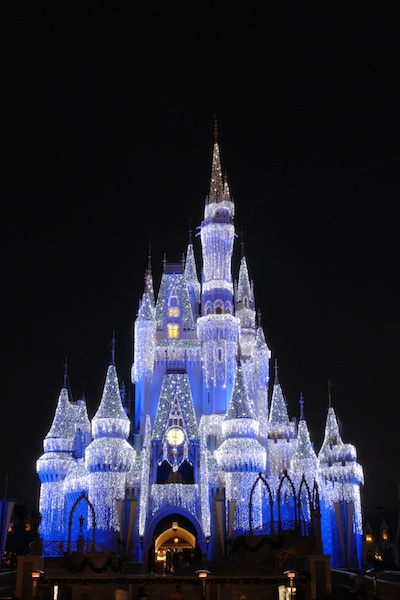 So I'm hoping that future dining options at Disney destinations will include more local, sustainable options, in keeping with this model of environmental stewardship. I already know they can do it well, because the first restaurant at Walt Disney World to be designed around sustainable dishes is just plain fabulous.
I'm talking about The Wave… of American Flavors, at Disney's Contemporary Resort. With a revolving menu to reflect the changing seasons, The Wave takes advantage of Florida's incredibly diverse agriculture and aquaculture to provide inspired dishes made with locally sourced ingredients.
Local offerings might include Rock Shrimp Crab cakes, which are made with a deep-sea crustacean that was considered inedible until a shrimper in nearby Titusville, Florida, discovered that when cracked open, broiled, and brushed with butter, the previously discarded "peanuts" tasted more like lobster than shrimp. The fishing industry at Port Canaveral, (the home port of Disney Cruise Line®, of course!) was never the same. It's hard to beat fresh seafood, in my book, and whether I order the rock shrimp or the sea scallops, I always rave about my meal.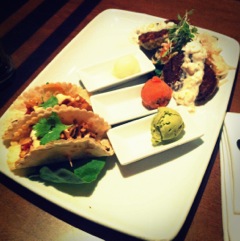 In season you might also find Zellwood, Florida Corn Soup— the corn that inspired Zellwood's Sweet Corn Festival, a Central Florida tradition held just a short drive away from Walt Disney World! There's also locally sourced vegetables, Florida-grown fruit, and even local pork.
The Wave's beer list is just as earth-friendly, pouring from the Orlando Brewing Company, Florida's only USDA-certified organic brewer and the first brewery to bear the state's "Fresh From Florida" logo.
For a uniquely hyper-local dining experience, how about eating food that you can see being grown in an attraction? The Land pavilion at Epcot offers Garden Grill. Glide past Mickey-shaped cucumbers, hydroponic tomatoes, and sustainably-raised fish on the Living With the Land attraction, and then have a portion for dinner! The restaurant rotates slowly, as well, giving diners a peek at the different ecosystems (and into the farmhouse windows) of the first section of the boat attraction.
And since Garden Grill is also a character dining spot, featuring Mickey, Chip and Dale, and Pluto, it's a feel-good choice for everyone in the family, even if they're too little to worry about where their green beans were sourced!
Scattered around Walt Disney World there are local options for your grown-up choices, too, with Florida beers popping up on beverage menus and even a brewpub, Big River Brewery, serving up their own suds at Disney's Boardwalk Resort.
I usually visit these dining locations at least once per trip. It allows me to feel a little better about all those Mickey Premium Bars, Dole Whips, and churros I can't stop myself from eating. But hey… it's vacation, right?
Comments
Posted on Mar 13 by

.(JavaScript must be enabled to view this email address)

:
This information is really interesting - I love that you didn't just name a few dishes but actually gave facts about their local histories! I had no idea about the corn festival! I *love* the Garden Grill, btw. It's one of my favourite character restaurants and just fave restaurants in general. I've been dying to try The Wave!
Posted on Mar 13 by

.(JavaScript must be enabled to view this email address)

:
I need to try the Garden Grill again. It's been years. I think the food has changed since I was there last.
Posted on Mar 24 by

.(JavaScript must be enabled to view this email address)

:
The Wave is such a can't-miss location for me. It's like the restaurants that I like here in Brooklyn… I love the farm-to-table feel!
The Zellwood Sweet Corn Festival is not as famous as the Plant City Strawberry Festival, but it's a central Florida tradition in its own right!
Cara—I have heard really good things about the vegetarian options at the Garden Grill as well. I'm heading there on my next trip to the World to check it out. I'm not a vegetarian but I love me some veggies.
Posted on Jan 28 by

.(JavaScript must be enabled to view this email address)

:
Natalie-
Thanks so much for this write up!! We will be traveling to Disney next week with my 9 month old (and tons and tons of family). I've been a little nervous about the dining options, because I -like you- am very farm to table focused, and our son eats only fresh, local foods (which I prepare myself). I totally get that we won't be on that road in Disney.. but do you have any other suggestions for other stops around the park that are similar to the ones mentioned in this article? I plan on packing some home-made purees, but he's pretty much on table food at this point. I'm not so nervous about feeding him items that aren't local; I'm more apprehensive about the added sodium and preservatives that's in mass-produced products.. so anything fresh-ish would be great! (I'm a chef and nutritional therapist, so I'm probably a little more neurotic than most moms haha!)
Thanks so so much!!
-Celeste
Posted on Jan 28 by

.(JavaScript must be enabled to view this email address)

:
I find that most of the Signature Restaurant offer sustainable fish choices in particular California Grill - also Coral Reef at Epcot. Local and organic choices are usually at least one option on many of the Signature Restaurant menus, particularly California Grill and Flying Fish (Flying Fish will close as of the February 1st for renovations). The Wave is a big standout.
Leave a Comment