Blog
Walt Disney World® Resort WOW Experiences!
Author: Cara Goldsbury | Comments: 0 | Categories: WALT DISNEY WORLD®
Although so many things at Walt Disney World® Resort seem special, a handful of experiences really take the cake. Plan on at least one or two of the following excursions to make your stay extra-unique, a memory to last a lifetime.
Swim with the Sharks
Take the ultimate dive at Epcot® in their 6-million-gallon indoor aquarium at The Seas with Nemo & Friends Attraction with more than 65 species of marine life, including sharks, turtles, eagle rays and diverse tropical fish. With DiveQuest you become part of the show and are guaranteed calm seas and no current with unlimited visibility. Even more fun, your family and friends can view your dive through the aquarium's giant acrylic windows. Guest must be at least 10 years of age and must provide proof of SCUBA certification to participate. $175. Call (407) WDW-TOUR for information.
Catch a Wave
If the ocean is a bit too intimidating, learn to "Hang 10" from the experts in a safe and controlled environment at Disney's Typhoon Lagoon Water Park with waves up to six feet and up to four rounds of surfing. Since lessons begin before park opening hours, guests must furnish their own transportation to the park because buses are not up and running quite so early in the morning. Cost is $150. Offered Monday, Tuesday, Thursday, and Friday beginning in the wee hours of the morning. Participants must be at least eight years old and strong swimmers. Maximum of thirteen people per class. Surfboards provided. Call (407) WDW-PLAY or (407) 939-7529 for reservations.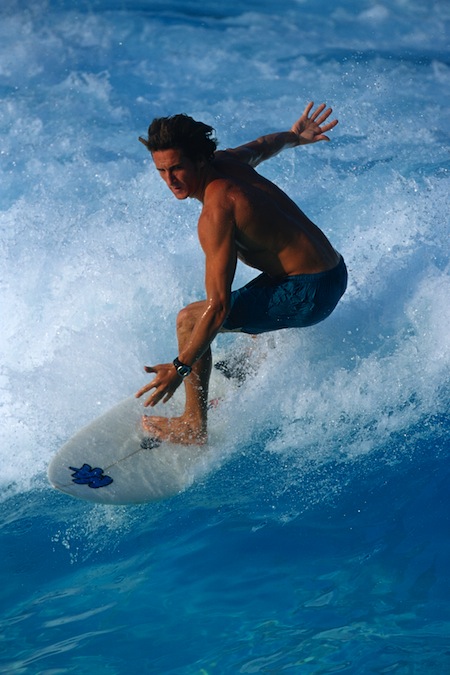 Celebrate Your Special Day
Step aboard a pontoon boat complete with driver, bag snacks, and beverages, and for an additional charge balloons, ice cream, cake, and banner at any of the Walt Disney World® Resort marinas for an especially memorable birthday cruise around Disney's waterways. Boats carry a maximum of eight for $292 or ten for $346. Decorations are an additional $25, and cakes may be ordered from resort in-room dining. Call (407) WDW-BDAY or (407) 939-2329 for reservations.
Get the Royal Treatment
Talk about luxury for kids! Little princesses and princes dressed in all their finery can enjoy tea in the Garden View Lounge at Disney's Grand Floridian Resort & Spa with Princess Aurora. Enjoy sing-alongs, story-telling, and a parade, all for the princely sum of $250 (price for one child and one adult). Each little princess receives a tiara and a My Disney Girl Princess Aurora doll; little princes get a princely crown and a bear. Sorry, but children must be accompanied by an adult, who will only get tea. Reservations can be made 180 days prior by calling (407) WDW-DINE or (407) 939-3463.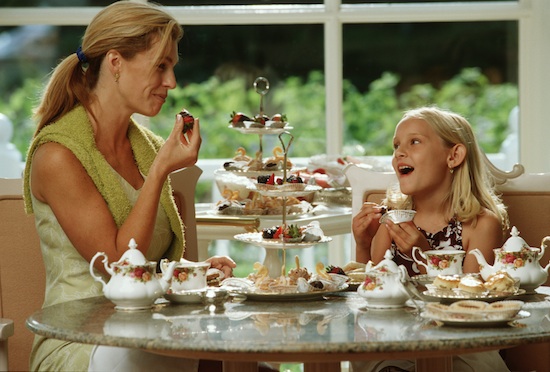 Adults can participate in their own high tea here sans the tiara and all the hoopla from 2:00 to 4:30 p.m. with a wide assortment of teas, scones, tarts, trifle, pound cake, pâté, tea sandwiches and, of course, champagne. Come after 3:00 p.m. when tea is accompanied by live entertainment in the Grand Lobby.
Hit the Water
For true action head to Disney's Contemporary Resort, where waterskiing, kneeboarding, wakeboarding, and tubing are offered for $165 per hour including boat, driver, and instruction (boats carry up to five guests). Morning guided Personal Watercraft excursions on Bay Lake and the Seven Seas Lagoon or afternoon freestyling Personal Watercraft fun in a roped-off area the size of three football fields are $135 per hour per watercraft holding up to three people with a combined weight under 400 pounds (only four personal watercraft are allowed on the water at any one time). Regular parasailing packages begin at $95 per flight for a single and $170 for a tandem, including eight to ten minutes in the air and 450 feet of line. Premium packages begin at $130 for a single and $195 for a tandem, including ten to twelve minutes in the air and 600 feet of line. Participants must weigh at least a total of 130 pounds and no more than 330 pounds total weight. For reservations call (407) 939-0754.
Hunt for Treasure
Children ages four through ten board their own pint-sized ship, don their mouse-ear pirate caps, and depart Disney's Grand Floridian's marina to sail the Seven Seas Lagoon. At each "port of call" a.k.a. the surrounding Magic Kingdom® Park resorts, a new treasure hunt awaits with all booty divided between the adventurers. A similar Albatross Treasure Cruise can be found at Disney's Yacht Club Resort. $36 per child. Grub included. Call (407) WDW-DINE, or (407) 939-3463, for reservations.
Indulge in Your Very Own Yacht
For the ultimate in luxury, charter Disney's 52-foot Sea Ray Sedan Bridge yacht, the Grand I, moored at Disney's Grand Floridian Resort & Spa marina, perfect for pampered VIP guests. Available for a morning spin, a sunset cruise, or the ultimate viewing location for the Wishes fireworks show. Your own captain and deckhand are included and the boat is large enough for up to eighteen people.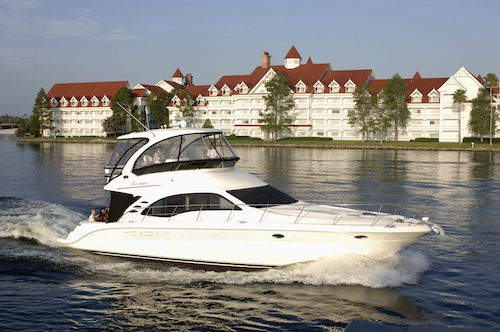 Perhaps the perfect elegant evening would include a sunset gourmet dinner onboard complete with private butler service followed by champagne while viewing the fireworks extravaganza. If your party is a large one, you'll have to be content with appetizers and drinks since a plated dinner is available only for three people or less. Or consider an afternoon excursion exploring the nearby resorts on the Seven Seas Lagoon and Bay Lake with a bevy of snacks to keep the appetite at bay. Sail past the beaches of Disney's Polynesian Resort and the Grand Floridian's Wedding Pavilion, check out the geyser on the shore of Disney's Wilderness Lodge, and watch the parasailing action around the Contemporary Resort. Basic cost is $520 per hour. Call (407) 824-2682 for reservations and information.
Experience a Culinary Feast
At Victoria and Albert's Chef's Table at Disney's Grand Floridian Resort, chef Scott Hunnell prepares a feast just for you. Your table is located in the restaurant's kitchen and seats from one to ten, but it's exclusively yours once booked. Up to thirteen courses are served over four hours, each tailored to your tastes. If you're smart, you'll choose the wine pairings where each course is coupled with a specially chosen vintage.
Spin Through the Wilderness.
On Disney's Wilderness Back Trail Adventure enjoy Florida's natural beauty on a Segway X2, a treaded model with all-terrain tires, on a two-hour trip around Disney's Fort Wilderness Campground and Wilderness Lodge. Begin with a short training session, then ride the along numerous nature trails and the shores of Bay Lake. Visit the stables and take a quick trip around Wilderness Lodge. Descriptions of foliage and wildlife along the way is an added benefit. $90 per person. Call 407-WDW-TOUR or (407) 939-8687 for reservations.
Take Tea with Alice
Children simply love the Wonderland Tea Party held at Disney's Grand Floridian Resort & Spa, hosted by Alice in Wonderland characters. The one-hour event includes games, storytelling, sandwiches, and apple juice "tea" along with their very own photo with their special hosts. $43. Held Monday through Friday at 2 p.m. Strictly for children ages four to twelve. Call (407) WDW-DINE, or (407) 939-3463, for reservations.
Watch Disney's Nighttime Extravaganzas on a Fireworks Cruise
Depart from the docks of Disney's Yacht Club and Magic Kingdom Resorts for a special viewing of either the Wishes fireworks display at the Magic Kingdom or Illuminations: Reflections of Earth at Epcot. Anchoring at the perfect viewing spot facing the Magic Kingdom or under the International Gateway Bridge at Epcot, you'll settle in just minutes before the nighttime spectacular begins. There's nothing quite as magical as a view over the glistening water of Disney's best fireworks presentations. A driver, beverages, and bag snacks is included, but wine, champagne, hors d'oeuvres, cheese and fruit platters, dessert, even chocolate covered strawberries can be ordered ahead from Private Dining, perfect for a special floating party. Boats carry a maximum of eight for $292 or ten for $346. Call (407) WDW-PLAY or (407) 939-7529.
For the perfect family cruise reserve space on the Pirates and Pals Fireworks Voyage, departing from the marina at Disney's Contemporary Resort. Upon arrival, snacks and beverages are served with Captain Hook and Mr. Smee who join the fun for a meet-and-greet. Then off to board your pirate vessel with a mischievous pirate named "Patch", who guides everyone through the unpredictable waters of the Seven Seas Lagoon while leading sing-alongs and Disney trivia games. Back on the dock, after viewing the Wishes fireworks show, it's a surprise visit by none other than Peter Pan, ready to pose for photos and sign autographs. Offered Friday through Monday for $54 per adult and $34 per child ages 3-9. Call (407) WDW-PLAY or (407) 939-7529.
Wet a Line
Take a private guided bass fishing excursion on one of Disney's many lakes and canals. You'll fish for trophy-size catch onboard a 21-foot Tracker pontoon boat for up to five people, or tournament style Nitro Bass boats for one or two people and return home with a good tale about the one that got away. $235 (afternoon) and $270 (morning) for a 2-hour trip. $455 for a morning 4-hour trip. Call (407) WDW-PLAY or (407) 939-7529.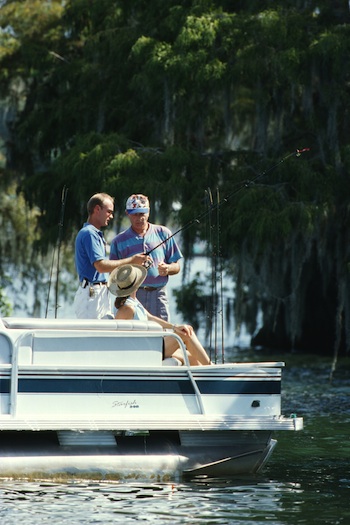 Cara Goldsbury is the author of The Luxury Guide to Walt Disney World® Resort. She is Chief Executive Concierge at Glass Slipper Concierge and has appeared as a leading Disney expert on two Travel Channel specials, Disney Splurge! and Disney Royalty. She has also been cited numerous times in national news articles, in such notable publications as Forbes Traveler, as an expert on the Walt Disney World® Resort.
Comments
There are no comments for this entry yet. Be the first!
Leave a Comment