Blog
Disney Cruise Line Port Exploration - George Town, Grand Cayman
Author: Cara Goldsbury | Comments: 0 | Categories: DISNEY CRUISE LINE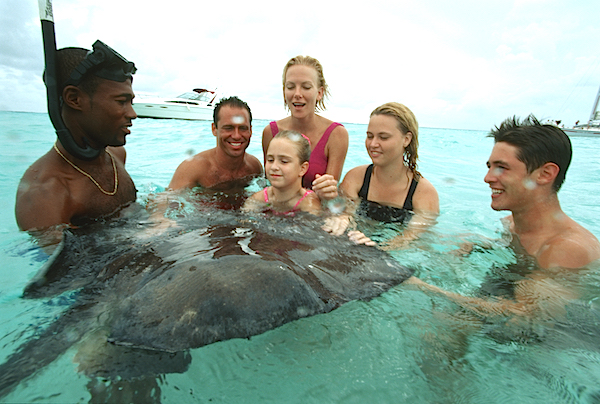 The Grand Caymans are known for tidy little George Town where you'll find crystal clear turquoise water, excellent scuba diving, and almost 300 banks. And on several Disney Cruise Line itineraries you'll enjoy a stop here. Like many Caribbean ports, George Town can be bit overrun, but nevertheless it's a favorite stop, one that you'll need to access via tender. The water here is exceptional, so if possible plan an activity that includes a dip in its crystal clear beauty.
Your tender will drop you right smack in the middle of town where you'll find shops galore. If there's time consider lunch at Rackam's Waterfront Bar and Grille, just a half block past the pier (hang a left). Nothing fancy, but you can't go wrong with the views or the food; favorites include the fresh snapper escovitch, fish 'n' chips, and conch fritters.
Family Day at Tiki Beach. If relaxing on a lounge chair on a beautiful beach is your idea of a perfect day then Tiki Beach is the place for you. Only a 10-minute drive from the pier, arrive at this section of Seven Mile Beach and be treated to fruit punch or rum punch drink before settling in on your beach chair for 2.5 hours. If you need a bit more activity then you may choose from a variety of water sports equipment available for rent at an additional charge. No roughing it here where there are restrooms, a changing area, and fresh-water showers as well as a restaurant and bar. On your way back you'll have the option of staying in town to explore.
Two-tank Dive Tour. Like Cozumel, Grand Cayman is a must for those certified to dive. Experience the Cayman Wall, famous for its variety of colorful coral and marine life, as well as a second dive site that may include a shipwreck or another reef. Be sure to pack and bring along your dive card.
Catamaran, Reef, and Kittiwake Snorkel Sail. Board a catamaran from the Seven Mile Beach area and sail to two snorkeling spots. First the USS Kittiwak shipwreck, sunk off the coast to become a dive and snorkel spot, then a shallow reef where there are schools of tropical fish and marine life. Relax later on the beach at Sea Grape Beach Club.
Adventure to the Stingray City Sandbar. If you are going to swim with stingrays an excursion to this beautiful sandbar is one of the best. Board a 65-foot, custom-built double deck, power catamaran and enjoy panoramic views and ocean breezes on your 40-minute journey across the North Sound to the world-famous Stingray City. Before entering the water you'll will be briefed about boat and safety protocols and how to safely interact with the rays. Southern stingrays live in 3 to 6 feet of water on a natural sand-bar located just inside the fringing reef making conditions perfect for viewing these amazing southern stingrays in their natural habitat. While in the water the instructors will encourage the stingrays to the surface making it easy to touch them and take photos.
Let Us Help You in Planning an Extraordinary Luxury Disney Vacation!
Our expert Glass Slipper Concierge® travel advisors' unrivaled knowledge of Disney Destinations can only be matched by their passion for delivering white-glove service. We're committed to personalizing a completely unique, luxury Disney vacation experience that surpasses every expectation for each of our clients. Please submit an online consultation request to begin.
Comments
There are no comments for this entry yet. Be the first!
Leave a Comment