Blog
Best Disney Baths
Author: Cara Goldsbury | Comments: 0 | Categories: AULANI VACATION PLANNING , DISNEYLAND® RESORT, WALT DISNEY WORLD® , WALT DISNEY WORLD® HOTELS
There are some incredible baths to enjoy at Disney resorts, particularly in their famed Signature Suites. After a long day at the parks or on the beach, throw in some bubble bath, lie back, and just relax. Here are the best of the best.
Adventureland Suite, Disneyland® Hotel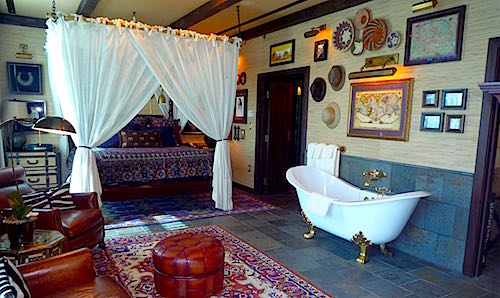 Here, in this exciting Disneyland® Resort suite, you'll find a claw foot tub right in the middle of the safari-style master bedroom surrounded by expedition helmets and explorer maps, a four-poster king bed draped in mosquito netting, slate floor covered with Oriental rugs, crocodile-stamped leather easy chairs, and luggage-style end tables! And if you get tired of soaking here, head to the suite's rock-lined steam/rain shower/whirlpool tub complete with rain forest sound effects.
Big Thunder Suite, Disneyland Hotel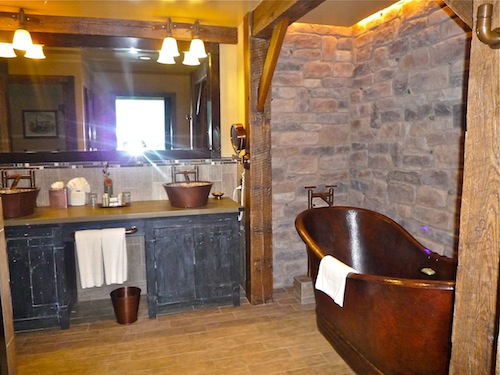 As sensational as this suite is, it's the master bath that really stands out. Enter through a sliding barn door to find a freestanding copper tub set in a stone surround alcove, pebble-lined steam shower, above-counter copper sinks, and a TV concealed within the vanity mirror.
Fairy Tale Suite, Disneyland Hotel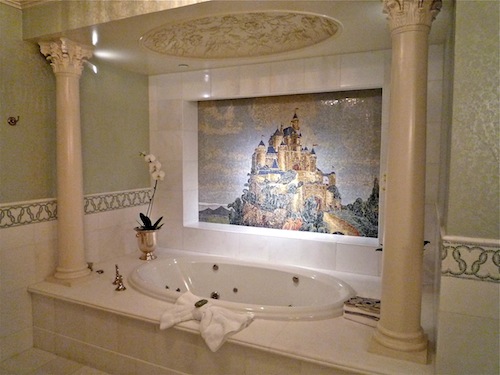 In this romantic suite sleeping only two is a massive white marble bath featuring a mosaic of Sleeping Beauty Castle spread over a fantasy whirlpool tub flanked by Corinthian columns. Shooting stars twinkle above double sinks with a makeup vanity nestled in-between; mosaics adorn the marble flooring; a luxurious steam shower is encased in frosted glass; and a separate room houses the bidet and commode. To top it all off, the vanity mirror disguises a built-in, almost magical TV.
Royal Assante Suite, Disney's Animal Kingdom Lodge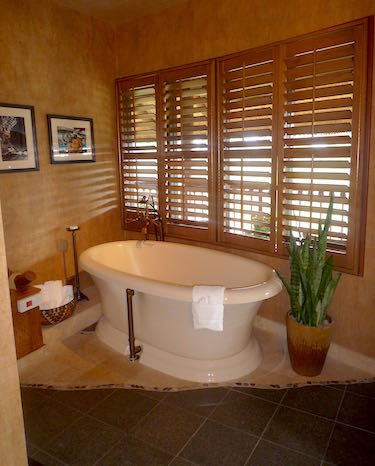 At Disney's version of an African safari lodge is one of the grandest suites at Walt Disney World® Resort with panoramic views of the main savanna teeming with exotic wildlife. It's master bath offers a delicious freestanding soaking tub set below arched ceilings just off the master bedroom with its mosquito net-draped king bed composed of tree trunks.
Lei Hulu Suite, Aulani, A Disney Resort & Spa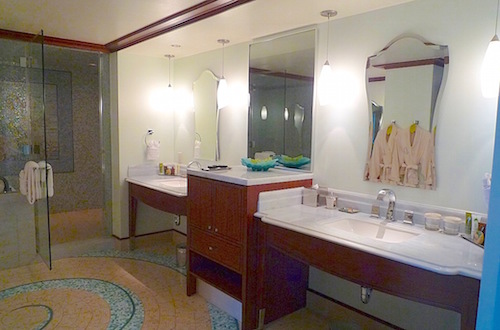 This contemporary Vice-Presidential suite comes not only with the beauty of Hawaii, but with a master bath to write home about. Aquatically themed with Italian mosaic tile covering the walls and floor, there is an wet area with whirlpool tub and steam shower featuring body jets and rain showerhead.
'Ahu 'Ula Suite, Aulani, A Disney Resort & Spa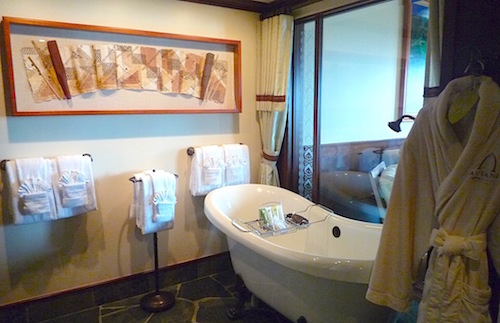 Exotically decorated in lush King Kamehameha red and gold tones, Aulani's Presidential Suite's bath features lava flagstone and mosaic flooring, a large steam shower with rain head, and a freestanding bathtub that looks out on the bedroom through a large picture window.
Let Us Help You in Planning an Extraordinary Luxury Disney Vacation!
Our expert Glass Slipper Concierge® travel advisors' unrivaled knowledge of Disney Destinations can only be matched by their passion for delivering white-glove service. We're committed to personalizing a completely unique, luxury Disney vacation experience that surpasses every expectation for each of our clients. Please submit an online consultation request to begin.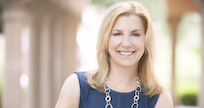 Cara Goldsbury is the author of The Luxury Guide to Disney Vacations and The Luxury Guide to Walt Disney World Resort. She is Chief Executive Concierge at Glass Slipper Concierge®, a travel agency specializing in Disney vacations, and has appeared as a leading Disney expert on two Travel Channel specials, Disney Splurge! and Disney Royalty. She has also been cited numerous times in national news articles, in such notable publications as Forbes Traveler, as an expert on the Walt Disney World® Resort.
Comments
There are no comments for this entry yet. Be the first!
Leave a Comment