Blog
Adventures By Disney® Greek Odyssey
Author: Cara Goldsbury | Comments: 0 | Categories: ADVENTURES BY DISNEY®, DISNEY SPRINGS™, WALT DISNEY WORLD®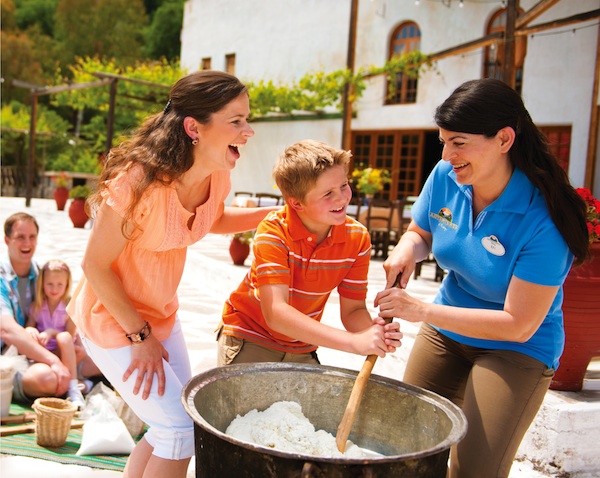 There's nothing quite like the flavor of Greece and this Adventures By Disney® vacation certainly hits the highlights. Begin your odyssey in Athens where your home is the Hotel Athenaeum Intercontinental. Visit the iconic sites of the Acropolis, the Parthenon, and the Panathenaic Stadium, the site of the first modern Olympics, where Junior Adventurers take part in a mini marathon. Dinner this evening is in a taverna in the heart of the Plaka district with traditional Greek music and dancing. The next day is a visit to the ancient site of Delphi to see the stunning Temple of Apollo and the Delphi Museum followed by lunch overlooking the Gulf of Corinth.
Then off to the Greek Isles, first to Santorini and its famous caldera with a stay at the Vedema Reosort. Enjoy a local winery where Junior Adventurers become grape stompers. Sail the caldera on a day charter with stops for a volcano hike and a dip in the blue Mediterranean with lunch at a fishing village on the water's edge. A guided walking tour introduces you to the captivating cliffside village of Oia then visit the bronze age archeological site of Akrotiri, often referred to as the "Minoan Pompeii". Dinner this evening is at a local taverna in a delightful mountain village.
Board a high-speed ferry to Crete for the seaside resort of Porto Elounda, your base for kayaking to the Venetian island fortress of Spinalonga, touring the Palace of Knossos, and soaking up the Cretan culture and the art of tsaziki-making. You can even ride a donkey or hike in a mountain village then later learn how to make cheese. Your last evening's farewell dinner takes place in an olive grove with Greek musicians as entertainment.
Comments
There are no comments for this entry yet. Be the first!
Leave a Comment