Blog
May 09 Disney's Grand Californian Hotel® & Spa Unveils Magical, Hotel-Wide Renovation
Comments: 0 | Categories: DISNEYLAND® RESORT
An exciting, hotel-wide refurbishment brings new magic to the deluxe Disney's Grand Californian Hotel® & Spa at the Disneyland® Resort, with completely redesigned guest rooms plus a refreshed lobby, pool area and concierge-level lounge.
Location, location, location. It doesn't get much better than Disney's Grand Californian Hotel & Spa with a back-door entrance leading straight into Disney California Adventure® Park. Nature is the theme at this 6-story hotel fringed by pine trees and constructed of cedar and redwood, an accolade to turn-of-the-century Craftsman style. And with a complete hotel renovation ending just months ago its better than ever!
The jaw-dropping, spiffed-up lobby is hung with Mission-style chandeliers and strewn with stylish furnishings. It definitely is a favorite meeting place for guests. Each afternoon and into the evening is storytelling and live entertainment in and around the lobby's focal point, the cavernous fireplace and its roaring fire lit year-round. In addition, each of the three pools have been redesigned with a variety of natural stones and brick hand-laid by master stone masons.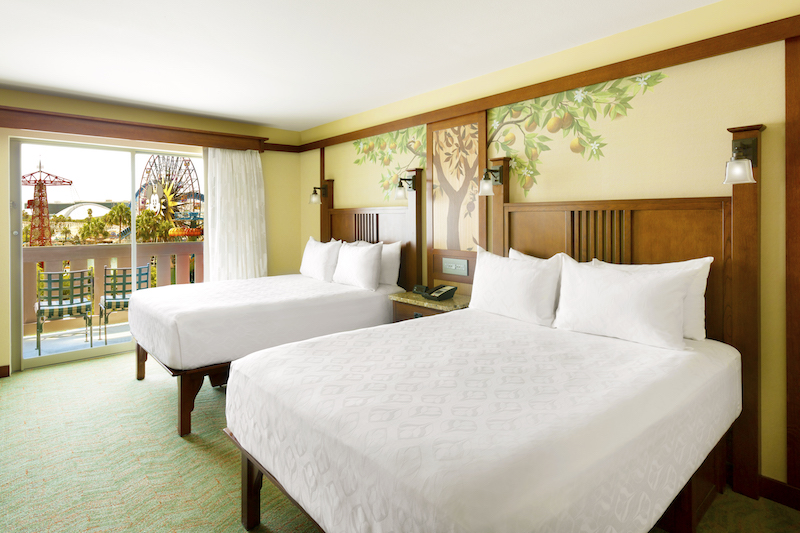 Totally renovated as well were all guest rooms in a new and refreshing contemporary approach. There's even a small sofa in place of the table and chairs in many of the rooms, and in some a sleeper chair as well. Some of the Arts and Crafts-style look remains in the Tree of Life wall mural behind the beds headboard and the lantern lighting. Bedding, made with white sheets and lacking the color pop of a bed runner, is either two queens or a king, but no longer is there a bunk bed choice. A granite-top bureau and desk along with a cabinet holding a small refrigerator and Keurig coffeemaker round out the furnishings. Unlike the Disneyland® Hotel rooms, these rooms do come with a balcony with varying views: Standard View of the front of the resort; Wood's, Garden, Courtyard View of the courtyard, pool, or gardens; Downtown Disney® District view, a somewhat noisy option; or a Premium View of Disney California Adventure Park which can also come with quite a bit of noise from the park.
Double sinks in a taupe granite vanity with a large, backlit vanity mirror sit outside of a commode and tiled shower area (note that there are no longer bathtubs in many of the rooms; bathtubs are on request only). Additional amenities include H2O spa bath products, robes, hairdryer, lighted makeup mirror, full-length mirror, 55" smart TV, turndown service, and electronic safe.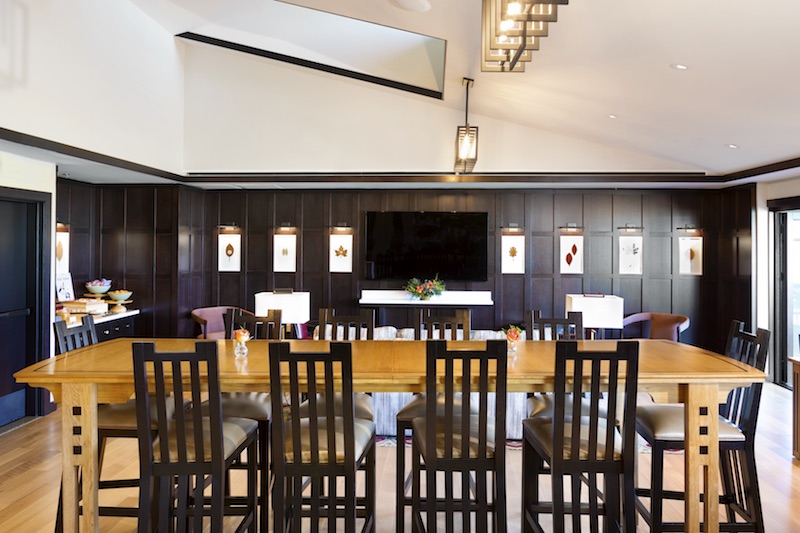 Guests of concierge may access The Veranda concierge lounge located on the 6th floor of the resort, a perfect spot to hang out and enjoy the multiple food services available. It too is newly renovated with lovely and comfortable furnishings. Wall-to-wall windows open onto the balcony with views of the tree tops and the evening fireworks show. Specialty Presidential and Vice Presidential suites as well as concierge guest rooms include access to concierge; standard one, two, and three-bedroom suites do not although concierge can be added at time of check-in for an additional fee.
Breakfast consists of luncheon meats and cheeses, hard-boiled eggs, bagels, coffeecake, croissants, muffins, fresh fruit, hot oatmeal, cereal, and juice. Afternoon snacks are substantial with fresh fruit, goldfish crackers, goat cheese caprese salad, tea sandwiches (smoked salmon, egg salad, turkey and provolone, BLT chicken salad), chips and salsa, raisin scones, fruit tarts, lemon shortbread, apple tarts, assorted cookies, and Smucker's Uncrustables. In the evening enjoy artisanal cheeses, crackers, breads, fruit, crudités and dip, and two hot dishes such as buffalo chicken rangoon, pineapple barbecue chicken pizza, chicken nuggets, black bean empanadas, egg rolls, etc.. Beer and wine are served by the lounge hosts at both afternoon and evening services. Bottled water is available for the asking, and an espresso machine adds to the enjoyment. Evening desserts served from 8:00 until 10:00 p.m. include chocolate chip and oatmeal cookies, macaroons, petit fours, and chocolate-covered strawberries.
One of the most enjoyable aspects of the lounge is the balcony that runs the length of it with a view of the monorail zipping through the hotel courtyard as well as the Disneyland® Park fireworks. Additional amenities includes nightly turndown service, Bose Wave music system, and in-room check-in.
Comments
There are no comments for this entry yet. Be the first!
Leave a Comment