Blog
Dec 27 An Adventure in Italy, Disney-Style; Final Chapter
Author: Cara Goldsbury | Comments: 1 | Categories: ADVENTURES BY DISNEY®
Ahhh….Venice! Honestly I think it might possibly be the most beautiful place in the world. It's my third time here, and I'm still in awe of it.
We caught the Eurostar from Florence to Venice yesterday morning. So simple, with Adventures By Disney handling our luggage by bus; our only requirement was to step onboard for the two-hour train ride in first class comfort.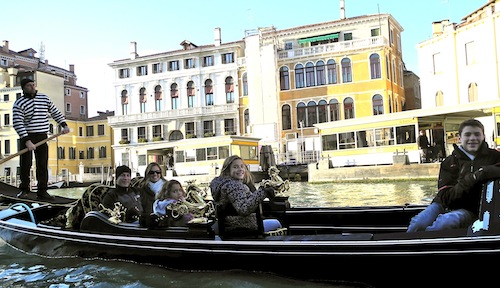 Just a short walk from the train station we hopped on gondolas for a dreamy ride through the canals of Venice where at the end we met our local tour guide for a walk through the narrow streets and beautiful piazzas that make up this wonderful city. After a stop in an enchanting courtyard where "Marco Polo" was waiting to give the Junior Adventurers a history lesson in his adventures and pass out the daily trading pins (each one cuter than the last), we ended at St. Mark's Square with the bells ringing out the hour. True magic!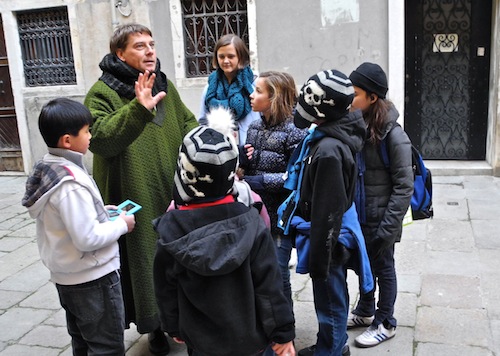 Our hotel in Venice is the lovely Luna Hotel Baglioni in a primo location a 1-minute walk off St. Mark's Square. On this go-round our room is palatial with rich red carpeting, Old-World-style furnishings, roomy bath, and even a stand-up balcony with a side view of the Grand Canal. Heaven! Couldn't ask for much better (and certainly won't at this hotel).
Today is the last day of the journey and one that is bitter-sweet. The winter light is phenomenal and the day dawns gorgeous and sunny but with a definite chill in the air. If I hadn't overslept I would have been treated to Venetian mask-making this morning after a walk led by Courtney and Marco through the Rialto fish and vegetable market. Sorry to have missed one of the highlights of the trip. However, wandering the streets of Venice on our own instead was a pretty good option. Exciting new discoveries around every corner, losing your way by getting lost in the ambience—that's what is really wonderful about this city.
I've extoled the virtues of an Adventures By Disney vacation, and my overall impression I've come away with is a great one. I can't say enough good things about the Adventure Guides, the care that has been taken to make sure we are all having a fabulous time, the overall quality of the tour. But I do have a few suggestions of how this tour might have been improved:
Number one, lose the Bernini Bristol in Rome. First impressions are important and this hotel doesn't make a great one. The public areas are a bit frumpy and worn, I felt as if we were in a dormitory with loud doors slamming until well after midnight, and we ended up each evening far away for dinner and closer to the Piazza Navonna where the most charming restaurants all seemed to be.
Secondly, plan the group dinners in a local restaurant instead of at the hotel. Why not dinner at a restaurant just a short walking distance away? We are in an exotic, foreign country for goodness sakes. Who wants to eat in the hotel?
And last but not least, under no circumstances should ABD accept the minimum, bottom-rung room for their guests. At the very least everyone should be guaranteed a second tier room. I know for sure that this is the exception and not the norm, but it only takes a night or two in a postage-stamp size room to develop a bad attitude about the planned accommodations.
Our farewell dinner is tonight. It's been fun, informative, and quite delightful. I doubt if I'll ever buy another groupon, or sign up for group therapy, and certainly never consider the thought of group sports, but this trip has me thinking that another group tour might be somewhere for me in the future. I'm sure it was sheer luck that the group got along so well, but Disney really does that to you sometimes.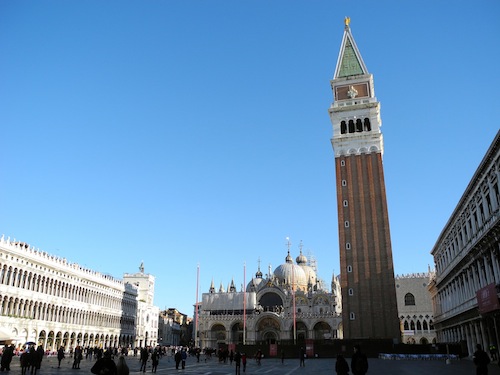 Comments
Posted on Jan 03 by

.(JavaScript must be enabled to view this email address)

:
I have enjoyed your blog so very much. I have used the same hotel in which you stayed in Venice for some clients and they really enjoyed the location as well as the old world ambieance. Florence is one of my favorite cities to walk around and enjoy…great food also! I hope one day I might could take my grandchildren on a trip like this. Thank you for writing and sharing your wonderful adventure. I loved the pictures also! Happy New Year! Deb
Leave a Comment