Blog
"Wow" New Look Onboard the Newly Reimagined Disney Wonder
Author: Cara Goldsbury | Comments: 3 | Categories: DISNEY CRUISE LINE
Having just sailed along on the revamped Disney Wonder, I am more than pleased with the almost total refurbishment. It's simply not just a few changes here and there. Instead nearly every square inch of the ship has a new look, except for the staterooms which were renovated in 2015 and still looking fresh. Here is my top list of the big "wows" onboard.

Concierge Lounge and Sundeck
With no news before sailing, unless I somehow missed it, of the addition of a concierge lounge and sundeck, imagine my surprise when I saw it beautifully perched above the Quiet Cove Pool. It's a great new addition and seems to be the answer to further justify the pricey suites onboard, which have also been updated in a look similar to suites onboard the Disney Dream and Disney Fantasy. And the additional suite benefits such as Frette linens and towels, pillow choices, and Elemis toiletries seals the deal.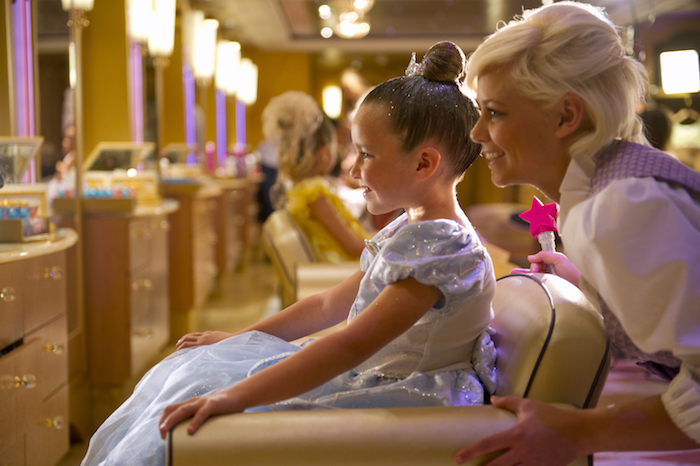 @Disney
Bibbidi Bobbidi Boutique
The oh-so-popular Bibbidi Bobbidi Boutique has come to the Disney Wonder, the last Disney Cruise Line ship to follow suit. Tucked away in almost a hidden spot on Deck 10, it's a glittery, girly glamour spot loaded down with over-the-top gowns and golden dressing tables perfect for little princesses. What happened to the pirate's makeover? Never fear! The boutique changes into The Pirate League when girls and boys alike transform into swashbucklers in anticipation of Pirate Night onboard.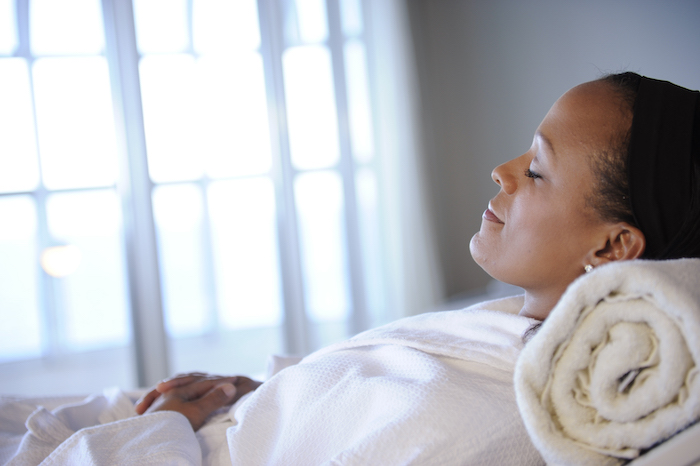 @Disney
Senses Spa & Salon
A top-to-toe, much needed new look has converted the ship's spa into a posh hotspot. Unwind in one of thirteen treatment rooms with soothing, heated beds and relaxing music, with three set aside just for couples featuring a sitting area and whirlpool. Or for a nominal fee gain access to the relaxing Rainforest Room with sensory showers and steam room (a complimentary dry sauna is in each of the locker rooms), however, due to its diminished size, it felt quite overcrowded, with not a heated tile lounge bed to be found for most of the day at sea without a wait in line.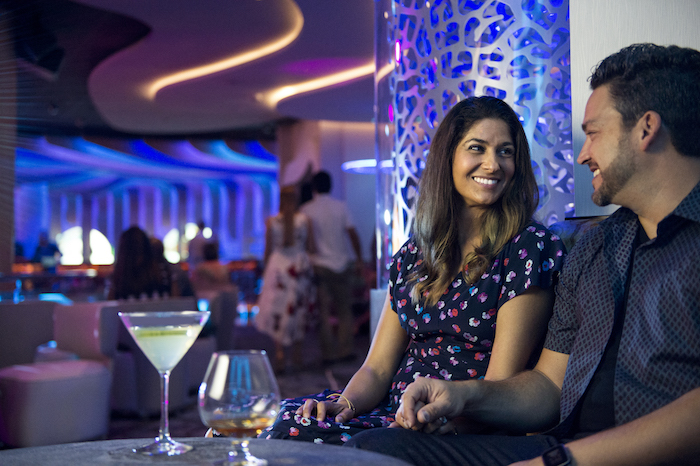 @Disney
After Hours
Disney's adult entertainment areas are some of the best at sea so I was quite thrilled to test out After Hours, the replacement for the old Route 66. The big news is that it now has a British-style pub, Crown & Fin, with British and specialty beer, even evening snacks.
Azure, a stylish nightclub, replaces Wave Bands, the perfect place for all kinds of happenings late in the evening including a DJ-driven dance spot, adult magic and comedy shows, karaoke, and hilarious game shows (during the day and early evening this spot is used for family-friendly activities).
And then there's my favorite spot, Cadillac Bar, with live piano music and personable bartenders, the perfect place for a memorable evening at sea. Here you can also find fun tasting classes throughout the voyage, including wine, tequila, whiskeys, and more.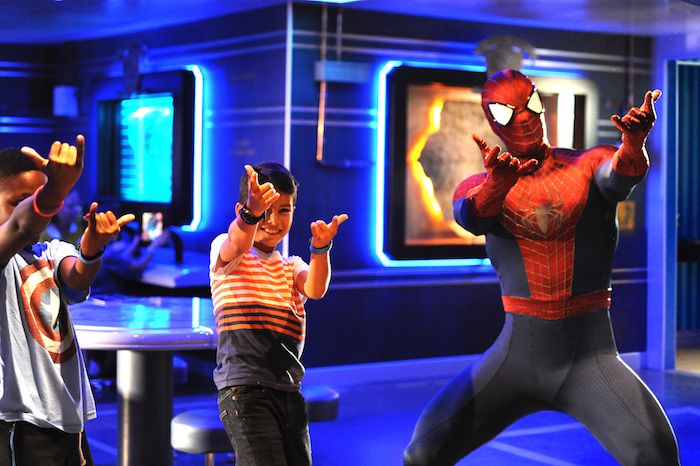 ©2017 MARVEL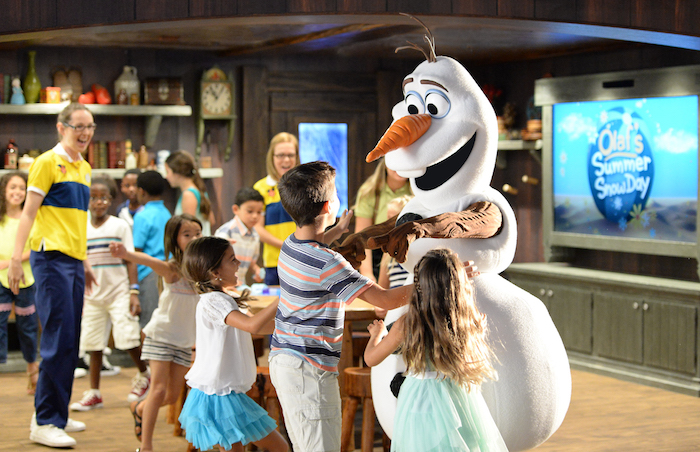 @Disney
Marvel Super Hero Academy and Wandering Oaken's Trading Post
Disney's Oceaneer Club has a great new look, with Marvel Super Hero Academy being the star. Young trainees will learn the value of teamwork, bravery, and problem solving through hands-on play and programs, and Spider-Man, Captain America, and other Marvel Super Heroes make appearances to interact with children. And the addition of Wandering Oaken's Trading Post allows the kids to get more of their "Frozen" fix at Frozen Adventures. Interactive games while peeking through snowy windows along with meet-and-greets with Anna, Elsa and Olaf make for one popular stop.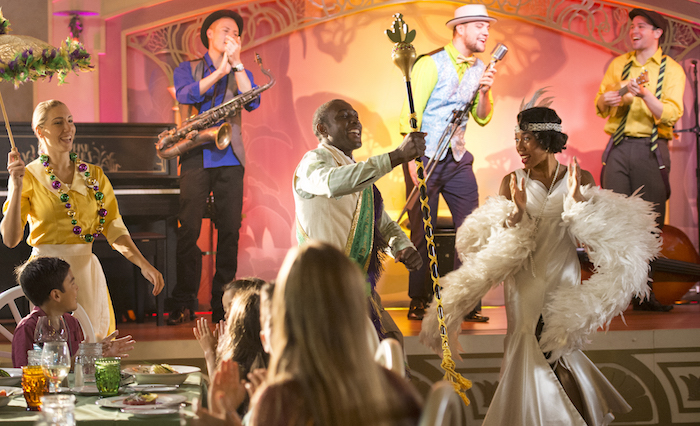 @Disney
Tiana's Place
This new onboard restaurant–inspired by Princess Tiana in The Princess and the Frog and replacing Parrot Cay–is one hopping place. Each evening you'll find live Dixieland music and a supper club atmosphere with Southern-style cuisine. I could have used a bit of a break between sessions since two hours of music does tend to bite into table conversation. Still, it is lively with Tiana circling the room and the street party parade being the best part of the festivities.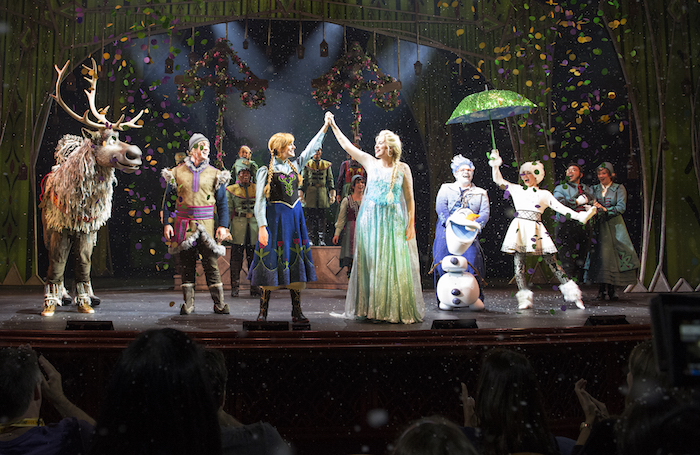 @Disney
Frozen, a Musical Spectacular
The bar has indeed been raised in this, the newest musical presentation onboard Disney Cruise Line, so come prepared for one fantastic show! From the snowy world of Arendelle, the hilarious snowman, Olaf, and all your favorite "Frozen" friends, it's one big "wow" from start to finish. And with Anna and Elsa, whose spectacular voices are simply haunting, along with incredible special effects, state-of-the-art projection technology, super puppetry, even snow flurries, it's Disney's best yet.
Let Us Help You in Planning an Extraordinary Luxury Disney Cruise!
The expert travel advisors at Glass Slipper Concierge® will work with you to create the perfectly planned Disney cruise of a lifetime, making sure nothing is left to chance. Please submit an online consultation request to begin.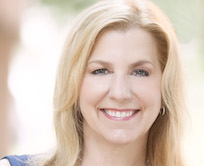 Cara Goldsbury is the author of The Luxury Guide to Disney Vacations. She is Chief Executive Concierge at Glass Slipper Concierge®, a travel agency specializing in selling Disney vacations, and has appeared as a leading Disney expert on two Travel Channel specials, Disney Splurge! and Disney Royalty. She has also been cited numerous times in national news articles, in such notable publications as Forbes Traveler, as an expert on the Walt Disney World® Resort. Visit her Luxury Travel & Life blog at CaraGoldsbury.com.
Comments
Posted on Jan 31 by .(JavaScript must be enabled to view this email address):
Totally agree with your comments on the Disney Wonder refurb! We just returned from sailing aboard the Wonder and it was incredible! Of course the service was amazing as well. They took especially excellent care of our special dietary needs and food allergies (with a party of 7, there were A LOT). I recommend planning ahead for anyone who's in the same boat (sorry for the pun). I have images of the dining room menus and photos of some of the entrees at Oh My Nosh
Posted on Jan 31 by .(JavaScript must be enabled to view this email address):
Thanks for your input Michelle. Good to know how well Disney Cruise Line worked with you on your dietary needs and allergies. Great blog, by the way!
Posted on May 05 by .(JavaScript must be enabled to view this email address):
Ultimately, a dilemma that I'm passionate about. I have looked for data of this caliber for the previous various hours. Your internet site is greatly appreciated.
Leave a Comment