Blog
Top 3 Walt Disney World® Resort Dining Memories
Author: Ryan Ogilvie | Comments: 0 | Categories: WALT DISNEY WORLD® , WALT DISNEY WORLD® DINING
Readers of the Glass Slipper Concierge® blog are no strangers to just how luxurious the Walt Disney World® Resort can be, and cuisine is no exception to the rule. I thought it would be fun to share my top dining memories at locations around the resort that deliver an experience above and beyond one that is expected of any "normal" restaurant.
Le Cellier Steakhouse
Here is a place I return to time and time again (sometimes more than once in a trip.) Truly an unforgettable experience.
Located at Epcot® in World Showcase Canadian Pavilion, you'll find that before you even enter the building you are blown away by its exterior modelled on the Château Laurier in Ottawa. Fun fact, thanks to a bit of Disney magic—even though the building looks to be six stories it is actually only three!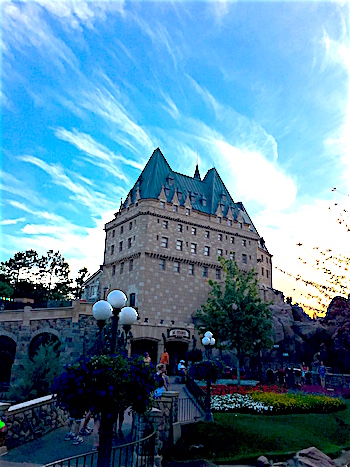 Inside is a cellar-like ambience set in a romantic château with stone arches and low lighting. Disney does what they do best here—you'll soon forget you are actually in a theme park.
Onto the menu, arguably up to par with some of the better "traditional" steakhouses. Appetizers range from the mouth-watering, white wine steamed mussels to the famous Canadian cheddar cheese soup.
It is rare to compliment what is sometimes known as the "free appetizer" but I can promise you this: the bread here is to die for. While the breadbasket comes with three different choices (each representing a different regional speciality from Canada), it is the pretzel bread of which you will be crying out for more. I have only sampled a few of the appetizers here despite eating at Le Cellier well over 10 times, and I'm afraid the pretzel bread is to blame.
The entrées are just as delicious as the appetizers. While my personal favourite on the menu is the Black Angus boneless rib-eye (pictured below), the filet mignon partnered with mushroom risotto and truffle-butter sauce is well favoured at Le Cellier and worth a strong consideration. And, in case you are wondering, my opinion on how to order your steak is "go rare or go home!"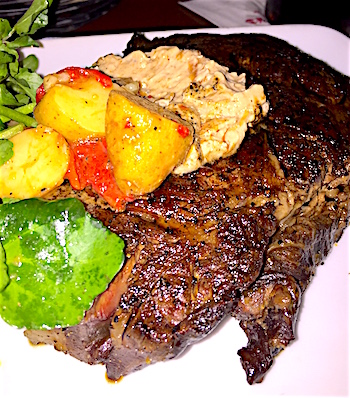 To polish off your meal (if you have any room left), Le Cellier has a good selection of desserts on offer ranging from Camembert cheesecake to maple crème brûlée. However, my award for best dessert goes to the chocolate whisky trifle with malted milk panna cotta, caramel popcorn, whisky-caramel sauce and buttered popcorn gelato. Outstanding!
I could honestly sit here and write for hours on why you have to visit Le Cellier, but if I still haven't convinced you then consider the wide choice of delicious alcoholic beverages, including this rather tasty chocolate martini.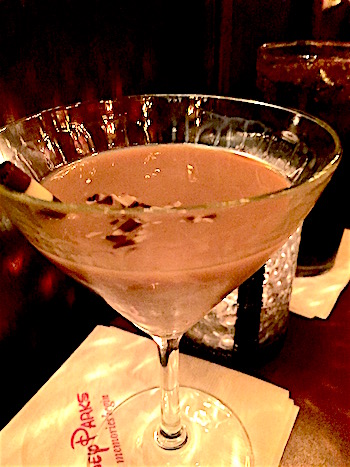 The BOATHOUSE
One of the only restaurants at Walt Disney World Resort that encourages you to shout when you say the name, this relatively new dining spot is a shining star at Disney Springs™.
Judging from the exterior you may mistake The BOATHOUSE as just another waterfront restaurant on Walt Disney World Resort property, but I guarantee you will regret it if you give this one a miss. If the weather is nice I recommend requesting a table out on the wooden deck overlooking the water. The views are fantastic, and because there are just a few tables in this area your dining experience will feel more personal.
The baked crab stuffed lobster is an absolute winner (this coming from someone who has travelled around much of Europe and sampled plenty of freshly caught local seafood.) I could tell from the first bite that the crab and lobster were super fresh and the asparagus on the side was the perfect complement to the dish.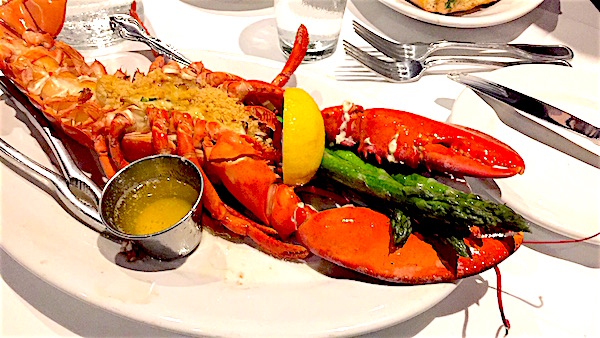 If you aren't choosing seafood here you are on the wrong path; however, the steak sandwich is quite good, and I have heard that other options on the menu such as the filet mignon and pork chops are excellent.
I've tried both the key lime pie in a Mason jar and the double chocolate Bundt cake from the dessert menu. While the key lime pie wasn't the best I've had in Florida (lots of tough competition), the unique way it is presented makes it a must try.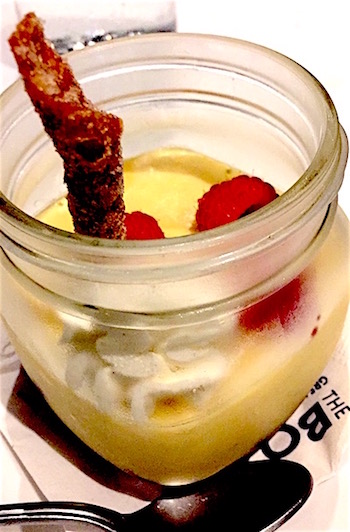 While there is a strong selection of wine on the menu, I was disappointed with the limited choice of speciality cocktails. That being said, it's worth asking that the bartender create something to your liking.
This restaurant has to make it on your list of places to visit when you are next in Walt Disney World Resort. Don't take my word for it . . . when I was here in November I just missed the entire Disney executive team (including CEO Bob Iger) who visited earlier in the day for lunch. How's that for a glowing recommendation?
Be Our Guest Restaurant
No, not California Grill, Hollywood Brown Derby, Jiko, or Victoria & Alberts. While these are incredible, and I would absolutely recommend you visit all of them at some point, there is a good reason why I favoured Be Our Guest Restaurant at Magic Kingdom® Park on this list. It truly is a Disney restaurant!
Sure, the food might not be as good as some of Disney's Signature Restaurants, but I guarantee that if you are a Disney fan this place will have you smiling for the entire duration of your meal. The enchanting atmosphere rivals anything around, especially if you are a fan of Beauty and the Beast.
On arrival the Beast's Castle greets you in the distance, and two magnificent doors lead to the entrance of the castle itself. You'll then be seated in one of three dining rooms: The Ballroom, Rose Gallery, and the West Wing. While I've dined in all three, I have to say The Ballroom is my favourite though the West Wing runs a close 2nd. In The Ballroom you will see simulated views of the French mountains where it is gently snowing outside. The experience is even more magical during the holidays when a giant Christmas tree can be seen standing by the windows.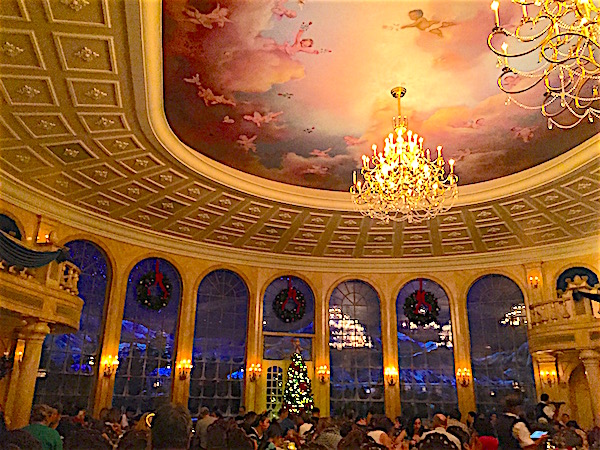 The West Wing also features the enchanted rose and cool effects that I won't spoil for those who haven't eaten here yet.
Now, while the appetizers are nothing to write home about, both the potato leek soup and mussels Provençal are fantastic. I must confess to trying all of the mains here apart from the catch of the day, which obviously changes regularly. Everything on the menu is great, but my personal favourite is the sautéed shrimp and scallops with lobster, mushrooms, and seasonal vegetables in a creamy lobster sauce. If you aren't a seafood fan then go for the roasted lamb chop or the layered ratatouille.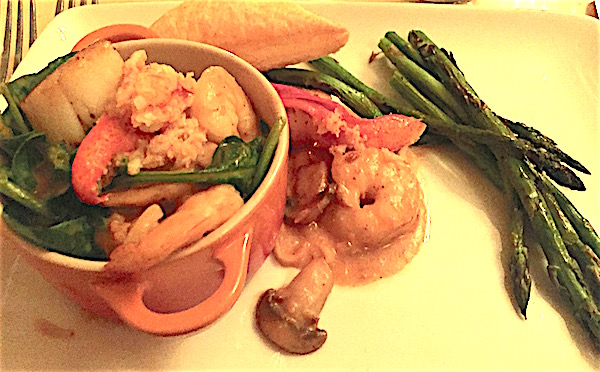 I love the way that desserts are presented at Be Our Guest, wheeled out on a traditional dessert cart. Take a look, choose what you like, and then your server hands you your choice of a delicious sweet. My personal favourite is the Éclair à l'Orange with custard filling.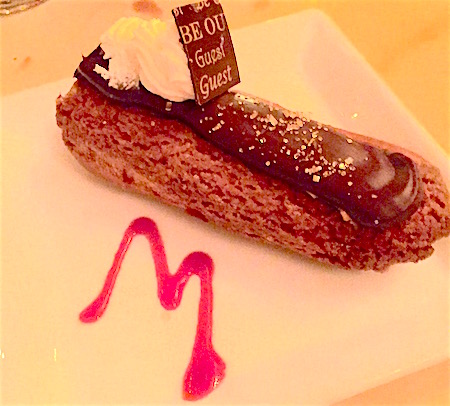 One thing I would recommend. Dine here for the first time during the table service dinner instead of the counter/quick service breakfast or lunch. At dinner the atmosphere is far more magical, especially after the sun goes down. You'll also get to finish your meal (should you so wish) with a great photo opportunity with Beast, another reason to enjoy a meal in this magical setting.
While these are just three of my favourite restaurants, I would love to hear some of your favourites in the comments below.
Ryan Ogilvie has been travelling to Walt Disney World Resort since he was 3 and his love of Disney and theme parks inspired him to create ThemeParkTrader.com, a site dedicated to bringing theme park news from all over the world. He also produces a weekly podcast with the co-founder of Theme Park Trader Dan. He also spends way too much time on Twitter (mostly talking Disney) and you can find him @ryanogs.
Comments
There are no comments for this entry yet. Be the first!
Leave a Comment