Blog
Proposed Reopening Dates for Walt Disney World® Resort
Comments: 0 | Categories: WALT DISNEY WORLD®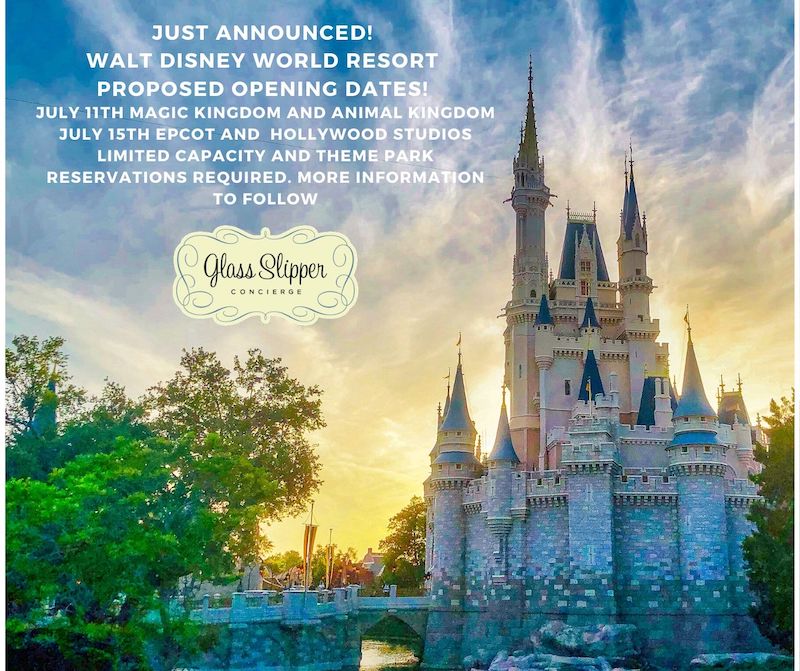 Glass Slipper Concierge wants you to be the first to know of Walt Disney World Resort reopening July 11, 2020. Many of you would like to visit "The Most Magical Place on Earth" very soon, and we are here to advise you on the resort and parks "new normal" with accurate details.
To ensure the safety of Guests and Cast Members, you'll find that Disney policy will look different than usual. However, we all know what Disney does best in always offering that special "magic" to all visitors, and you can count on the same feeling of wonder to continue.
While Disney continues to evolve to meet the demand of a changing world, it's essential to know that Disney has Four Keys to their success with Safety the #1 priority, followed by Courtesy, Show, and Efficiency. You can rest assured knowing that Glass Slipper Concierge will handle your vacation with the utmost care and safety in mind.
While masks for Guests ages three and older and temperature screening stations will be mandatory to enter the parks, a Disney vacation is like no other and will continue to be just that. You can look forward to top-notch entertainment and customer service, and perhaps most wonderful of all…lower crowds.
Glass Slipper Concierge will watch for any policy changes and use this knowledge to adjust and modify your plans as necessary. As always, you will travel to Disney with a perfect itinerary to experience the resorts, parks, and the many fabulous offerings that make for a magical Disney vacation. We will continue to keep you updated and thank you for entrusting your Disney vacation to the advisors at Glass Slipper Concierge.
Comments
There are no comments for this entry yet. Be the first!
Leave a Comment