Blog
Disneyland® Resort: A Cool Place for a Summer Visit
Author: Natalie Reinert | Comments: 0 | Categories: DISNEYLAND® RESORT, WALT DISNEY WORLD®
As Floridians we're no strangers to heat. In fact, we kind of like it. But it's all about the proper climate control, and our New York City apartment doesn't have air conditioning. So when we decided to get out of the city during what is typically its hottest week of the year, we didn't go for our usual getaway back home in Florida. No matter how hot you like it, Central Florida in July is a very toasty place.
Instead, we're heading to the west coast!
Disneyland® Resort in Anaheim, California, often gets overlooked by east coast families looking for some magic in their vacation. But while Disneyland Resort might be physically smaller—160 acres to Walt Disney World® Resort's legendary 43 square miles—there is a lot of fun packed into those Anaheim acres.
And a lot less heat and humidity.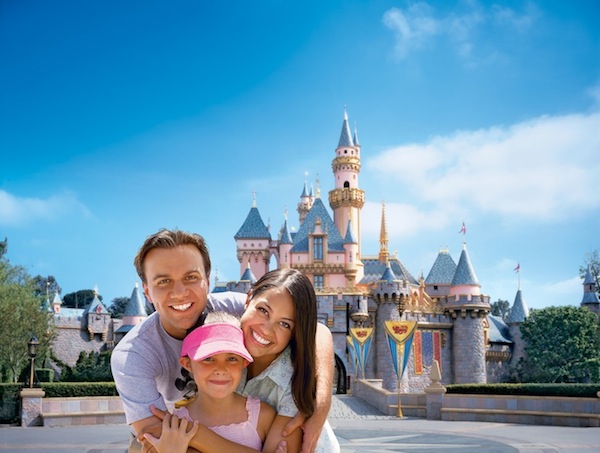 Orlando's summer heat and subsequent thunderstorms are legendary, and rightly so. Fed by average daily temperatures upwards of 90 degrees, and humidity levels in the seventy-percent range, these storms are at their peak in July. A daily brush with severe weather is common in Orlando; all the rest of the day, the blazing sun and humidity combine for heat indices above one hundred degrees. And then the storms blow in. This can make for some rapid exits from theme parks, outdoor attractions, and swimming pools! And while it might not last, storms sometimes continue into the evening, putting a damper on your day's plans.
Don't expect too much cool-down at night, either—nighttime temperatures usually hover in the mid-seventies.
Meanwhile, in Anaheim, summer weather is a bit more peaceful. Daytime temperatures average in the low/mid 80s, with cool nights in the 60s, influenced by the chillier Pacific breezes. Measurable precipitation is almost unheard of with average July rainfall of only 0.05 inches. It's much easier to picture a leisurely morning in the theme parks, an afternoon soaking up that sun by the pool, and a pleasant evening back in the parks or at Downtown Disney® District with that sort of forecast!
It isn't just the weather that makes Disneyland Resort an appealing summer choice over Walt Disney World Resort, either. While there's no denying that Walt Disney World Resort's description of "the blessing of size" has resulted in an incomparable vacation destination, all that size means a lot of transportation and travel time. If you just want to relax and not worry about catching buses, ferries, monorails, or taxis, Disneyland Resort might be the answer.
For sheer walkability, it's hard to beat Disneyland Resort, especially if you are staying at one of the Disney-owned and operated hotels. Disney's Grand Californian Hotel® & Spa, Disney's Paradise Pier® Hotel, and the iconic Disneyland® Hotel are all located in a cluster around a pedestrian-only shopping district called Downtown Disney District.
Like Walt Disney World Resort's Downtown Disney®, the area is host to a variety of innovative shops and restaurants. Unlike Walt Disney World Resort's which is surrounded by vast parking areas and served by buses and ferries from Disney hotels, Anahiem's Downtown Disney District is a few steps from the hotels' front doors, and even boasts its own monorail station.
And, of course, the two theme parks, Disneyland® Park and Disney California Adventure® Park, are all right there. With entrances adjacent to Downtown Disney District (and even a special private hotel entrance in Disney's Grand Californian Hotel) these parks really do not get any more convenient to pedestrians.
And Disneyland Park and Disney California Adventure Park are both crammed with attractions, entertainment, unique dining, and fun for all ages. Disneyland Park, the only Disney theme park that was actually overseen by Walt Disney, is frequently described as "intimate" and "charming," with its smaller buildings and cozier feel than Florida's grand Magic Kingdom® Park. Although some of their attractions may overlap, Disneyland Park is definitely a different experience from the Magic Kingdom, while Disney California Adventure Park boasts a variety of entertainment and attractions, plus the spectacular nighttime World of Color show, for a whole new theme park experience.
So if you're considering a Disney experience this summer, but aren't quite sure you're ready for the Florida weather, or the sheer scope of a Walt Disney World Resort vacation, consider Disneyland Resort. Calmer weather, a more walkable scale, and two fantastic theme park ... it's a great choice for families that just want to relax amidst all the magic.
Comments
There are no comments for this entry yet. Be the first!
Leave a Comment