Blog
Feb 22 Fitting Fitness Into Your Disney Vacation
Author: Megan Biller | Comments: 0 | Categories: runDisney, WALT DISNEY WORLD®
The time has come. Your resort package and dining reservations are complete. Your bags are packed. You have made note of the must-do attractions at each park.
You are ready for your Walt Disney World® Resort vacation!
But what about working out while on vacation? Many choose to enjoy their vacation (which I am all for). After all, you will be doing a LOT of walking through the parks! (World Showcase in Epcot® alone is over a mile in length!) However, if you are training for an upcoming race, or just want to take a little time to yourself to get your sweat on, have no fear! There are many ways to fit fitness into a Disney vacation!
Fitness Centers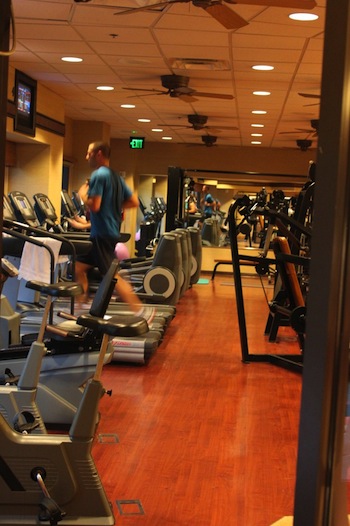 Most deluxe resorts have fitness centers available to guests. These fitness centers include free weights, weight machines, treadmills, bikes, stair climbers and ellipticals. You also receive access to the sauna, showers and restrooms. You can request a personal trainer or schedule a massage for an added fee, a great vacation splurge! Most fitness centers are open 24 hours a day and are free to resort guests (staying at that particular resort) or a day pass can be purchased for those staying at a different resort. Note: Guests must be at least 14 years of age for entrance to the fitness center, and those under 17 years of age must be accompanied by an adult.

In-Room Workouts
Perhaps you don't have a lot of time, or want to get in a quick workout while the kids are asleep. There are a lot of exercises you can do in your resort room! Body weight exercises such as squats, lunges, planks and pushups are easy to do in your room. Another option is to throw a resistance band in your suitcase, a great way to get in some strength training! Plyometrics are another idea to work up a sweat quickly - high knees, butt kicks, jumping jacks, tuck jumps - the possibilities are endless! Think of some of the exercises from your favorite group class or workout DVD and create your own workout in the comfort of your resort room!

Running Paths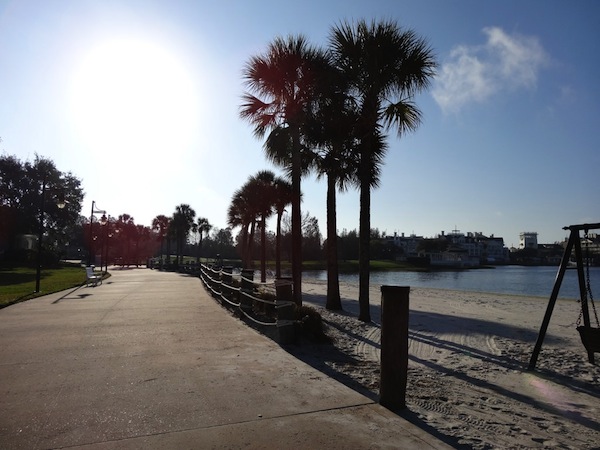 If you are in the midst of training (or need to run off all the great food you've been enjoying), there are many places to run at Disney! As stated above, treadmills are available at the fitness centers, but I love running on property! Each resort offers running/walking paths. Although most are less than a mile in length, it is a fun way to take a look at the resort property! Some great locations include Disney's Boardwalk Entertainment District where you can run along the boardwalk, past Disney's Yacht & Beach Club Resorts and even toward Disney's Hollywood Studios®! Disney's Grand Floridian Resort & Spa and Disney's Polynesian Resort include a great running path between the two (Running past the Wedding Pavilion is so much fun!). Disney's Port Orleans Resort - Riverside, Disney's Port Orleans Resort - French Quarter, Disney's Caribbean Beach Resort and Disney's Coronado Springs Resort also have great running paths where you can wind along the various buildings and water areas. Go out and explore! Note: There is a lot of traffic on the roads, so it is recommended you stay off the main roads while running. (Unless you are participating in a runDisney event of course!)
Even on a vacation as magical as Disney, there are ways to keep your fitness alive! But as always, focus on your family first. The smiles are priceless!
Megan Biller plans magical Disney vacations as an agent with Glass Slipper Concierge. Check out her blog Running Toward The Prize.
Comments
There are no comments for this entry yet. Be the first!
Leave a Comment